Why Do People Hate Lilly Pulitzer?
The brand, in its collaboration with Target, provoked ire—proving that, in the right circumstances, even sundresses can be part of the culture wars.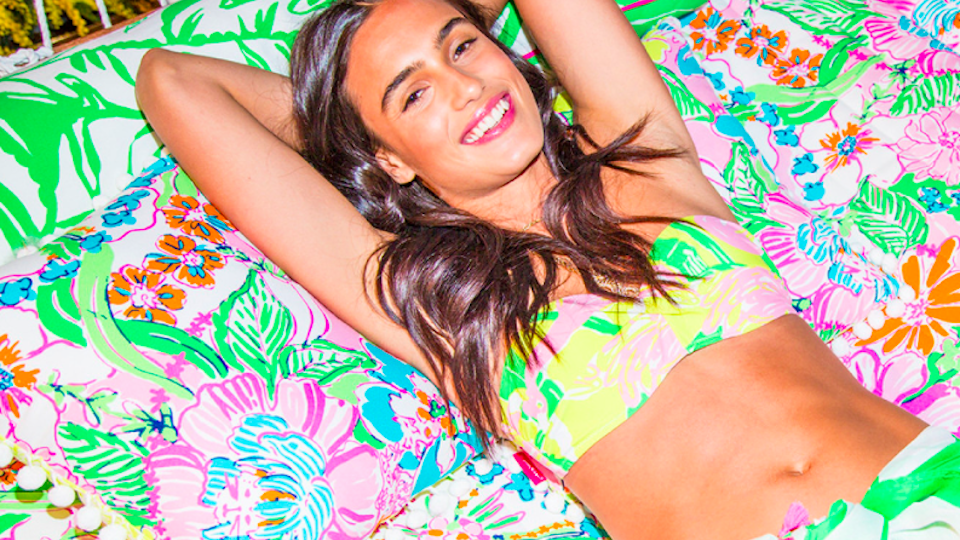 In January, the clothing-and-lifestyle brand Lilly Pulitzer announced that it would collaborate with Target, releasing a collection of 250 pieces of apparel, accessories, and home decor by way of the discount chain. This weekend, the results of that collaboration were put up for sale in Target stores and on its website. Both of these events would seem to be innocuous: yet another instance of the discount retailer's collaboration with a high-end fashion brand, of luxury goods made accessible to the masses, of fashion (relatively) democratized. A win-win! Actually, a win-win-win!
There was something different, however, about this particular launch. #LillyforTarget ended up, remarkably … angering people. Lots of people.
The collaboration angered, first of all, fans of Lilly Pulitzer, whose clothes have doubled as a "preppy uniform" for decades. It angered Target customers who tried, and failed, to grab $40-ish "Lillys" during a sale that was meant to span several weeks and instead spanned mere hours. It angered Target executives, who were disappointed in the performance of the chain's website during the sale and indignant that the products they'd intended for their customers were being resold on eBay for more than twice the original cost.
Most interestingly, though, #LillyforTarget provoked the vitriol of fashion critics and business-minded brand-watchers. "I have never seen a woman wearing Lilly Pulitzer who would not have looked better in a ratty flannel bathrobe," the business writer Megan McArdle confessed. The fashion critic Robin Givhan noted that "the classic Lilly Pulitzer dress comes in shrill shades of yellow and pink that are vaguely infantilizing. They are clothes that can be shrunk down and worn by 7-year-old girls without changing a single design element—if there were actual design elements to change. But there are not." (As she summed it up: "Lilly Pulitzer is not fashion. It is clothes.")
The subjects of all this consternation, it's worth remembering, are sundresses. So why would clothing—cotton shifts that swirl with pastel-perky pineapples, shorts studded with insouciant little sea stars—provoke such anger? What is it about "Lillies" that encourage such devotion among their fans and such ire among their detractors? How did palm-leaf patterned jumpsuits get so divisive?
Here are some guesses.
First, in part, it's the aesthetics of Pulitzer's clothes. Which are, with their festively flora-fauna-ed prints, the sartorial equivalents of the people who can't stop talking about the juice cleanse they're on. They are perky, insistently so. They are self-absorbed, aggressively so. Your retinas aren't currently up for seeing some bubble-gum-pink toucans, their bills interlocked in an explosion of avian paisley? Lilly Pulitzer does not care. Lilly Pulitzer does not even think to ask.
The broader criticism, though, is the performance of identity that the Pulitzer brand represents. "Lilly" is not about luxury; it is about privilege. There is an important distinction between the two, Givhan notes. The brand, she writes, "suggests an advantage of birth. The clothes stir up scrapbook notions of ancient family trees, summer compounds, boarding school uniforms, and large, granite buildings inscribed with some great-great-grandfather's name. Lilly Pulitzer represents something that money cannot buy."
Which is another way of saying that Pulitzer's clothes evoke not just wealth, but class. They speak to a status that is conferred rather than earned, and that cannot—with apologies to hard work and good luck and all the other vehicles of the American dream—be fully democratized. The garments are evidence in that sense not (just) of conspicuous consumption, but rather of privilege as it plays out as an economic system. They nod to, and then politely ignore, Thomas Piketty. Those whimsy-dripping pineapples, those indolent peacocks, the designs that are often described as "eye-popping"—they are evidence not just of "resortwear" gone mainstream, but also of the ease of living enjoyed by those who can use the term "resortwear" unironically. These are clothes that are worn by people for whom life is, in relative terms, a permanent vacation.
A common phrase you'll hear associated with Pulitzer is "uniform"—as in, as Givhan put it, "part of a preppy uniform that announces itself from fifty paces," or, as the Boston Globe put it, "a uniform of the well-heeled WASP." Which is ironic, of course: Uniforms are about the constriction of freedoms, and preppiness and WASPiness are, in general, about the freedom that comes with privilege. And clothing, furthermore—"fashion," in haughtier moments—is most optimistically about the freedoms of self-expression and self-reinvention. It recognizes very little distinction between faking it and making it. If you have the money and the inclination, you can stock your closet—and swath your body—with Alice + Olivia and Thakoon and Marc Jacobs and Marchesa, or with very convincing knockoffs. You can balance them out, as the fashion magazines have taught you to do, with items from H&M and Zara and Forever 21. We live in an economy of sartorial abundance; one outcome of that is that "style" is something we have come to associate with freedom.
But Pulitzer's clothes are, again, "uniforms"—which are, on the whole, designed to free their wearers from the burdens of free thinking. And this is perhaps the main source of the ire about Pulitzer's clothes: The garments suggest a kind of willful conscription, celebrating what happens when wealth and status are accompanied by an insistent rejection of creativity. It was, and to some extent still is, popular to deride women for being "basic," which is to say for loving pumpkin-spice lattes, Ugg boots, Gucci handbags, and other predictable outcomes of commercialized femininity. "Basic" is a terrible epithet in many ways, but it is also, as far as "Lillys" are concerned, an instructive one: Pulitzer's clothes are, in this sense, the worst kind of basic. They promise class and community and the relief of conformity. They are marketed to people of privilege. Worst of all, though, they suggest that the best thing one can do with one's privilege is to use it to go on vacation.
Which brings us back to Target—which, through its collaboration with Pulitzer, promised to extend this fraught notion of privilege to its customers (or its "guests," as the chain prefers to call them). It was, of course, a false promise. And this was apparent to all the people who criticized the partnership. Pulitzer's clothes, beyond the perky and the pastel, revel in their paradox: The whole point of the "Lilly" brand is that what it is selling cannot, in fact, be bought.