Are LeBron James' Subtweets Bad for Basketball?
Following the social-media feuds—imagined or otherwise—of NBA stars has become the newest frontier in sports fandom.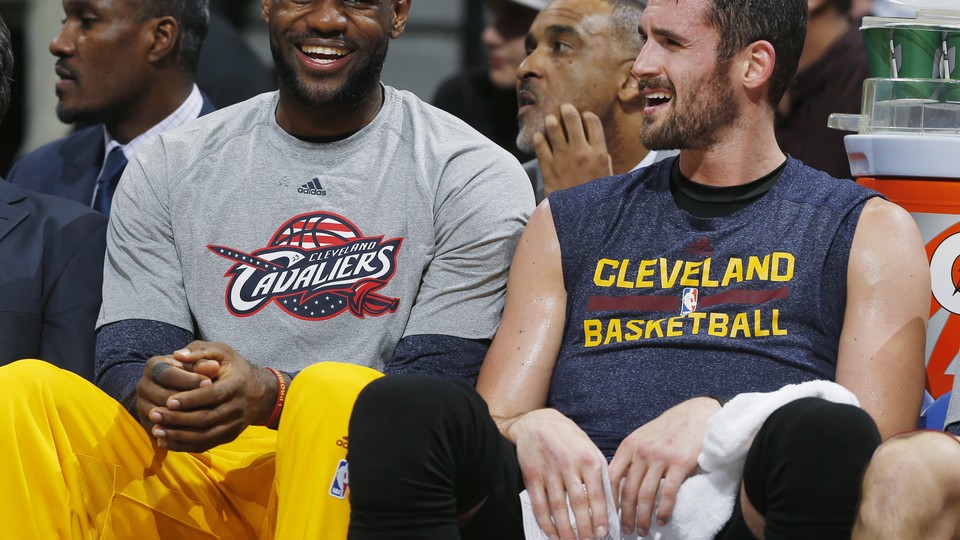 On March 22, the Cleveland Cavaliers soundly defeated the Milwaukee Bucks 108-90, in the middle of a string of victories that has the basketball team primed for a possible run to the NBA finals this spring. After the game, the Cleveland star LeBron James posted a picture on Instagram of him celebrating with his teammates, something he's done frequently since rejoining the Cavaliers last year. "Clique Up!!" the caption reads, with James flanked by many of his teammates. Notably missing was Kevin Love, an All-Star forward who had played a forgettable game that night.
Feuds (real or imaginary) between superstars are hardly a new concept within the NBA or any other major sports league, but social media has given them a notably adolescent tenor. The NBA news beat has become a 24-hour cycle that never dies down, even during the off-season, with an unending current of anonymously sourced rumors and player reactions to said rumors existing alongside more serious reporting and analysis. If a player of James' stature posts some inscrutable tweet or photo that feeds into a narrative of behind-the-scenes tension, there's a beat reporter in a locker room asking players about it the next day. The cycle is vicious enough that it's hard to know if it affects play on the court: Are Kevin Love's numbers down this year because of the media scrutiny, or is the scrutiny only there because his numbers are down?
The Cleveland Cavaliers came together at the start of the 2014 season being hailed as an insta-superteam, with James returning home after winning championships with the Miami Heat, and Kevin Love netted in a blockbuster trade with the Minnesota Timberwolves that James supposedly stumped for. But Love hasn't fit in with the team as many predicted he would, and as a result has shouldered some blame for the Cavaliers' slow start to the year. Meanwhile James, who sometimes seems a de facto coach and general manager in Cleveland, seems to have taken to obliquely calling him out on Twitter.
Stop trying to find a way to FIT-OUT and just FIT-IN. Be apart of something special! Just my thoughts

— LeBron James (@KingJames) February 8, 2015
In high school, this is called a "subtweet." NBA reporters are slightly more thorough than teenagers, so they made sure to ask James if his message was specifically directed as Love. "It's not a coincidence, man," James confirmed, after initially dodging the question. The drama brings to mind the film Clueless, with James the intense Cher Horowitz (Alicia Silverstone), desperately trying to get the shiftless Tai (Brittany Murphy) to fit in, even though Tai just might just prefer to hang, harmlessly and happily, with the burnouts instead.
Drafted by Cleveland out of high school in 2003, James is clearly a player who places a high value on community and close friends—his agent Rich Paul has known him since the two were teenagers, he often vacations with teammates, and he said his emotional return to Cleveland last year had much to do with his connection to the state of Ohio, where he grew up and still lives. His Instagram feed is clogged with pictures of him and his teammates, whom he often dubs a "clique" or "the crew." Sometimes Love's face is among the crowd, but he's been missing often enough that reporters started asking questions, and Love, to their delight, didn't mince words.
"You know, we're not best friends, we're not hanging out every day, but we see each other every day, whether at the practice facility, whether on the road or going to a game, so I think our relationship is also evolving," Love told ESPN Radio's Mike and Mike when asked about James' Instagram feed. "That's part of the NBA, and as I've said all along, as long as it's for the greater good, then it's fine, and I'm sure he's going to have me in the next picture. We'll see."
Just as a helpful reality check: LeBron James will be paid $21.57 million this year by the Cavaliers, and Kevin Love $15.72 million, and both will command more on the market at the end of the season (although Love is the only one who's seriously considered a risk to leave Cleveland). After a slow start, the Cavaliers have been one of the hottest teams in the NBA in 2015 and are widely tipped to at least make the Finals, a remarkable turnaround catalyzed by James and Love joining the team. So by all means, fans shouldn't really care who's showing up in whose feeds or selfies.
And yet. The backchat continues, and fans will have no shortage of material to obsess over as the possibility of Love leaving Cleveland at the end of the season draws ever closer. Asked on The Dan Patrick Show to pick an MVP for the season, Love opted for Russell Westbrook, his former college roommate (they went to UCLA together) who plays for the Oklahoma City Thunder. LeBron was having a similarly great season, he admitted, but he "took those couple weeks off," Love said, referring to an injury James nursed over the Christmas break. The only problem with that rationale? Westbrook has lost even more games to injury this year.
"Kevin has his own opinion," James shrugged to reporters the next day. "No one should fault him for that."
The Cleveland situation is just one of many basketball dramas partially playing out over social media. Last season, the Indiana Pacers started out as the best team in the NBA before going into a nosedive that was blamed on dark locker-room strife. At one point, two players who were supposedly at odds posted a picture of a cheerful-looking fishing trip, but the team still crashed out of the playoffs and sent one of its best players packing in the off-season under somewhat fishy circumstances (pun sadly intended).
When it comes to dissecting the wild world of hoops rumors, it's easy to dismiss such frivolity as distracting people from the core of James Naismith's beautiful game, but the appeal of being a sports fan has always extended beyond what happens in the game—the personalities are as crucial as the performances. Even more so than its rival American sports, the NBA is a game where individuals exert incredible influence: Though team play and camaraderie is crucial, the difference between keeping Kevin Love and losing him could be Cleveland's championship chances next season. So if you were a Cleveland fan, wouldn't you be scanning every Instagram and parsing every tweet?