The Return of Tyler Durden
Nearly 20 years after the novel's release, Chuck Palahniuk's Fight Club antagonist is back—in comic-book form.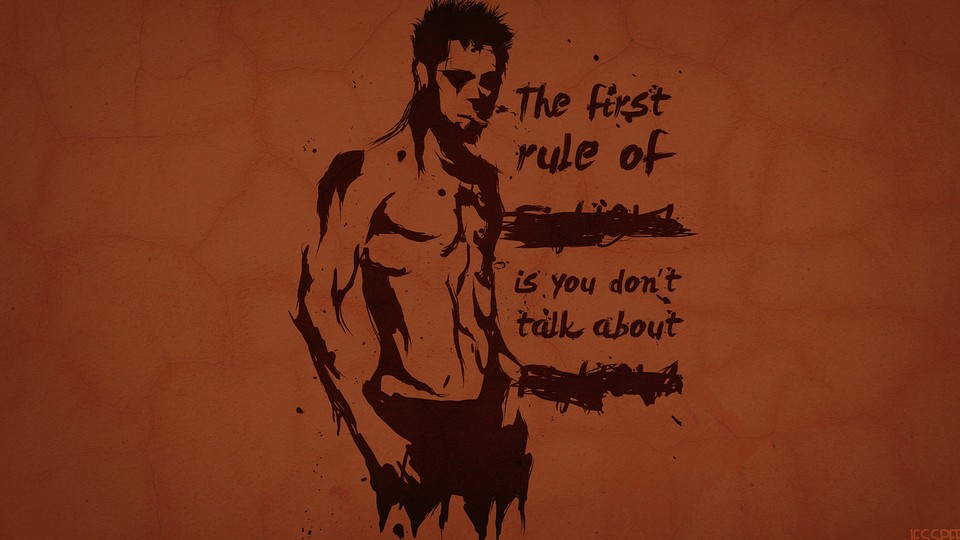 In 1996, Chuck Palahniuk spun a seven-page short story into his first full-length novel. Three years later, the director David Fincher immortalized Fight Club's manic protagonists on film with the help of Edward Norton, Brad Pitt, and Helena Bonham Carter. Surpassing cult status with its anti-consumerism message, the story captured the frustrations of the worker bees getting through the day's soulless pursuits. And it struck a chord: Real fight clubs sprung up around the world. "Tyler Durden Lives" became familiar graffiti. A new, widely quoted lexicon was born. Today, everyone knows the first rule of fight club.
At turns deeply poignant and very funny, Palahniuk's freakish fables capture a twisted zeitgeist and add an oddly inspirational and subversive voice to the contemporary canon. For those shackled to tired routines and coping mechanisms, his Fight Club characters offer the DIY rules for rebirth. This month, the story gets its own resurrection in the form of a 10-issue comic-book series titled Fight Club 2, out May 27. Penned by Palahniuk and illustrated by Cameron Stewart (Catwoman, The Other Side) the first installment picks up the narrative 10 years later, on the ninth wedding anniversary of the narrator and his partner Marla. In the post-9/11 present, a hyperactive, Internet-obsessed, war- and recession-weary America apparently needs Tyler again.
Palahniuk's always been masterful at forcing readers to face their own ugliest aspects, eclipsing irreverence with outright offensiveness. What's comedy without morbidity? Palahniuk's as much an undertaker as he is an author. The 1996 book concluded with the narrator shooting himself in the face in the hope of killing his alter ego, Tyler Durden. He was left in what he called heaven, actually a mental hospital, with Marla writing him from earth and orderlies still secretly worshipping him. Exerting artistic license and eerie prescience, Fight Club the film instead left the narrator and Marla holding hands atop a building as the skyline around them rumbled with the nearby demolitions of major skyscrapers—an attempt to usher in a dark age where commerce is crippled. (Dark Horse Comics will drop a rare adaptation of content from the Fight Club novel's end as a primer, for Free Comic Book Day on May 2.)
Issue #1's 25 pages serve mostly to set the stage for a new round of delusional delight. Addressing the somewhat-eternal nature of Tyler Durden's catalyst ethos, Palahniuk has indicated that this fantastical element will live on in Fight Club 2. In it, the narrator is finally given a name: Sebastian. Marla fakes her way through the support groups where she and Sebastian first kindled their broken bond to now lament their non-existent sex life. With prolific consumption of medications, Sebastian's libido has been suppressed alongside his alter-ego Tyler. At home, Sebastian has become a failure of a father, even worse than his own, feuding with a neighbor over an annoying dog while his son attempts to make gunpowder using a mix that contains the animal's excrement.
And a dark romance deepens. Once again, it's Marla who acts as the instigator, when she replaces Sebastian's pills with placebos to unleash the libidinous Tyler, who shares a full-page sex scene with her, intercut with images of a head-on train collision and the flaming Hindenburg. Marla offers the comic cliché, "What's the worst that can happen?" Palahniuk soon treads familiar territory with the aid of arson, and readers learn that Tyler's been emerging at regular intervals weekly all along, via hypnosis, "to run the world."
Fight Club 2's restrained text and smart segues show an intimate collaboration between Stewart and Palahniuk. More than a dozen novels later, it's thrilling to experience the 53-year-old writer in the playful new format. (His latest book, Make Something Up: Stories You Can't Unread, comes out May 26.) Palahniuk has said that the choice of comic-book form stems from his desire not to sully either the book or film's legacy and from a belief that a new medium was the only wise option. Already, he's relishing the format's expansive boundaries: In addition to the primary cover by David Mack (Kabuki), several variant covers are planned, and Palahniuk has designed scratch-and-sniff bookmarks with a different smell per issue—not all of them agreeable. An opening letters-style page invites readers to "guerrilla market the shit out of Fight Club 2" by placing the phrases "Tyler Lives" or "Rize or Die" in creative places for a chance to win swag.
As the visual artist, Stewart hasn't drawn any of the characters to resemble the major Hollywood actors, so the pages feel fresh and slightly unfamiliar. Surreal and visceral elements that Fincher employed to further his adaptation—the narrator's imagined mid-air plane collision, or ruptured bags of liposuction fat—are mirrored here by a gore-spattered dream sequence that the cartoonish style fits perfectly. Palahniuk also appears to fancy the challenge of inserting his symbolism and stylistic refrains into the comic-book form. The color red—Marla's car, roses, half a pill, fire, bruises, select speech balloons— interrupts the otherwise blue-gray palette. In one panel, a bible-verse tattoo alludes to God telling Noah about his plan to destroy the corrupt earth.
Fight Club 2 promises to flesh out its back-stories and characters, and with nine issues to follow, much remains open to speculation. But Tyler's return here and now feels aproppriate. America's certainly no less materialistic two decades later, and a generally frenzied sense of day-to-day stress and survivalism allows ample room for apathy and little time for mindful ways to make oneself and the world better. Even reduced to a periodic reminder, Tyler's antagonism forces introspection. At best, it offers the hope of resurrection.