The Qu'osby Show
The new Funny or Die series Halal in the Family seeks to mock Islamophobia, but has a troubling definition of what it means to be a 'normal' Muslim.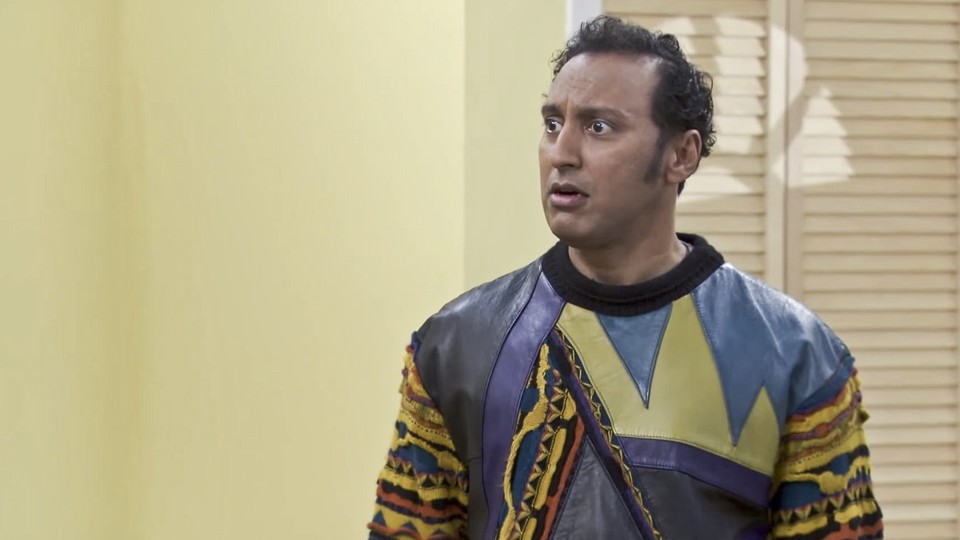 The first scene of Halal in the Family, a new Funny or Die web series, opens with a family sitting in a suburban living room with lemon-colored walls and a drab couch as the focal point. The set isn't the only element transporting viewers back into an episode of All in the Family or The Cosby Show: There's a laugh track, a multi-camera setup, over-the-top acting, and an ugly-sweater-clad father. There's one key difference though: This sitcom family is Muslim. The Daily Show correspondent Aasif Mandvi's new comedy is a parody of TV classics, but it's also a uniquely modern show that centers on a batty family called the Qu'osbys, who navigate the kinds of discrimination and stereotypes faced by many of the two million Muslim Americans living in the U.S. today.
The show's four episodes—all currently online—tend toward the preposterous and exaggerated, with storylines involving FBI moles, sharia law in high school, and a haunted terrorist training camp. "We have created something that is not only funny but also has a strong message against intolerance and fear mongering, and racism," Mandvi told MTV in a recent interview. The show uses goofy humor to confront unnervingly real issues like FBI surveillance and nationwide mosque protests head-on, and it largely succeeds at being clever and provocative while generating laughs. Halal in the Family doesn't claim to be a definitive fix, remedying all misperceptions about Islam and Muslims in the media. But in its effort to address years of misunderstanding, the show risks further cementing the very stereotypes it's ostensibly trying to deconstruct. In going to great lengths to prove they're just like every other American, Mandvi's characters obscure their Muslim identity in the process and dilute the otherwise positive efforts of the project.
Mandvi stars as Aasif Qu'osby, the ignoramus father whose jovial candor makes him every bit as lovable as he is embarrassing. In the first episode, "Spies Like Us," Aasif suspects his son's white math teacher, Wally, is an FBI informant when he says he volunteers at a mosque. Fatima invites Wally to join them for dinner saying, "We're having Aasif's favorite: deep fried pork chops with bacon sauce!" The cheeky humor and satirical packaging of the premise is clear, but proclamations like these push Halal in the Family into murky territory, reinforcing the most troubling stereotype of all—that the more "religious" a Muslim is, the more dangerous he or she is. In another episode, Aasif says, "Why would I want to build a mosque? I'm not trying to start any trouble." Jokes like these might be lost on many, in an era when religious practice is an indicator of extremism in the eyes of law enforcement, and activists like Ayaan Hirsi Ali are propagating the idea that many tenets of Islam are reprehensible and should be separated from modern understandings of the faith.
Still, the web series is meaningful in an industry that tends not to feature many Muslim stories in the first place. Halal in The Family is the product of a concentrated and drawn-out effort by Mandvi and his supporters. The series originated as a sketch by another name on The Daily Show four years ago, and emerged from a collaboration between Mandvi and his Daily Show writing partner Miles Kahn. Mandvi opted to put it up online instead of pitching it to TV networks, giving his team full creative control and allowing broader access to his message. The series enjoys financial support and guidance from a list of high-profile advocacy groups and non-profit organizations including the Brennan Center for Justice, Muslim Advocates, and MTV's Look Different campaign. Mandvi also launched a crowdfunding campaign on Indiegogo to raise additional funds and received an enormously positive response. The strong backing and public support is a testament to the significance of Mandvi's endeavor—having a Muslim family at the center of its own series adds representation that is noticeably missing from the pop-culture landscape.
But Halal in the Family assumes too much if it expects its viewers to largely be in on the joke, or at least to be able to separate fact from fiction. Islamophobic sentiment and misinformation about Muslims is prevalent in the U.S., a trend Mandvi himself discussed in a recent interview with Al Jazeera America. An anti-Islam group recently won a ruling in a federal court to run offensive ads across subway cars and buses in New York. One such ad features a black-and-white image of a man in a checkered scarf and reads, "Killing Jews is Worship that draws us close to Allah, That's His Jihad. What's Yours?"  A Muslim advocacy group filed a complaint last week on behalf of two hijabi women who were asked to move out of camera view during the taping of the daytime talk show The Real. This sort of messaging has chilling repercussions. A recent Pew Research Center poll found that the majority of Republicans and nearly half of Democrats surveyed felt that Islam was more likely than other religions to encourage violence. Hate crimes against Muslims are five times as common today as they were before 9/11.
Speaking to the implications of Islamophobia, Mandvi referenced the recent Chapel Hill shooting, where three young Muslim students were murdered in their home in what many believe was a hate crime. Examples like these are precisely the reason some might feel that Mandvi misses the mark, despite his good intentions. During the catchy and clever intro for the show, Aasif yells "We're not that kind of Muslim!" as he's being hauled away by FBI agents. Which prompts the question: What kind of Muslim is he referring to and, however jokingly, distancing himself from? The businessman who refuses a drink at an office party? The bearded student who prays in public on campus? The young headscarf-clad women who are active leaders in their local mosque?
By these standards, the three students who were brutally killed at Chapel Hill were "those" kinds of Muslim. They were active in the Muslim Student Association on campus, wore the hijab, and exhibited all the outward characteristics of Islam one could think of. These are the American Muslims who bear the brunt of Islamophobia and who are perhaps being alienated by  efforts like Halal in the Family. Mandvi is spot-on in attempting to unravel the idiocy in the idea that simply assimilating with "American" culture makes you "normal." But where Halal in the Family stumbles is implying that one has to be a certain kind of Muslim to be "normal," too.
Mandvi's audience may not be aware enough of the complexities of faith and practice, or even the current Islamophobic landscape, to fully grasp the extent of his satire. And if they're of the Netflix generation, their pop-culture repertoire likely doesn't extend far back enough to understand how All in the Family informs this series. Archie Bunker—a bigoted, blustering dolt—challenged audiences to see the ignorance in his racist, sexist purview. While Aasif Qu'osby is ignorant like Bunker, he's not sneering at the world around him. He's looking in a mirror. A protagonist who directs ire toward himself rather than at the flawed universe he lives in could be seen as sending a puzzling message to the people who are like him.
Mandvi said in his Al Jazeera interview that "there are many American Muslims out there who feel like there's an underrepresentation of this voice out there in the American media." To this end, Halal in the Family is a cultural milestone. He and his team deserve kudos for managing to be funny while fearlessly tackling problems like the broad surveillance of Muslim student groups, mosques, and leaders by law enforcement agencies after 9/11. (Halalinthefamily.tv uses the four episodes to provide a wealth of information and statistics on the specific issue each episode tackles.) But it's also worth noting that Muslims might also become more sympathetic characters in entertainment without their Muslim-ness, with all its political and cultural undertones, preceding them. Maybe one day a sitcom in the vein of Friends will feature a woman who wears the hijab, and it won't be indelicately discussed as a teaching tool.
Now that would be normal.