The Album Is Immortal
If anyone should be ditching the format, it's young, Internet-native musicians like Tyler, the Creator and Kendrick Lamar. Why do so many artists stick by it in the streaming age?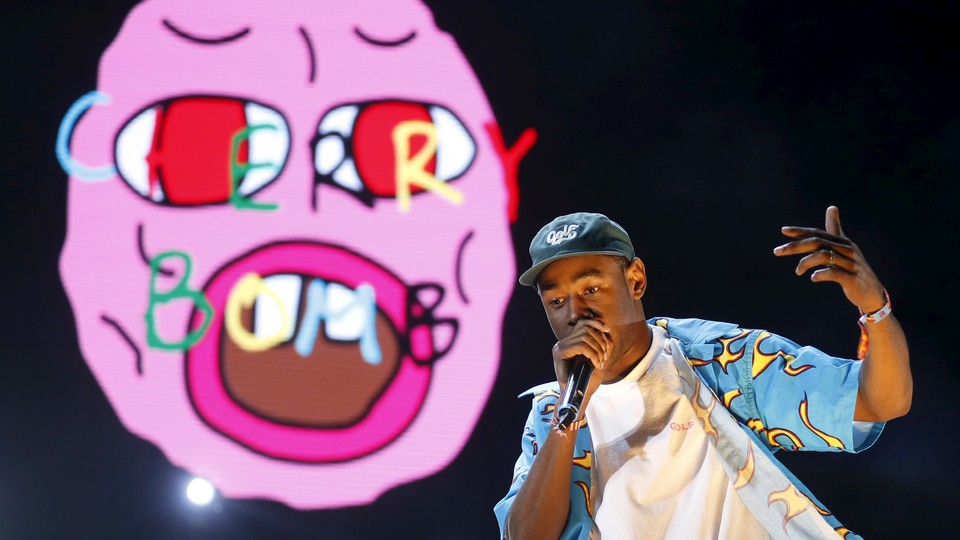 If the album isn't quite as dead as so many people have proclaimed it to be over the years, then at least it seems safe to say that it's in trouble. In 2014, only one album, Taylor Swift's 1989, sold more than a million copies. For many people, playlists, Pandora, and individual song streams and downloads have become the dominant ways of consuming music. Artists both large and small have responded by releasing tracks in piecemeal fashion onto Soundcloud or iTunes, or by dumping out 20+ song "deluxe editions"—available for free right alongside the regular editions on streaming services—that defy the notion of a contained, cohesive statement. And why not? With digital revenue outpacing CD sales as of last year, the physical constraints that led to the historical period when "the album" ruled—the time limit per disk, the brick-and-mortar distribution—are falling away.
And yet: Albums, really album-y albums—with careful sequencing, integral cover art, and recurring themes—keep getting made. There was Beyoncé's hugely successful self-titled record in late 2013, released at once without warning, with a music video for every track. There was Taylor Swift, who wrote a love letter to the album in The Wall Street Journal and then pulled 1989 from streaming sites that made it available for free. But perhaps the most surprising sign of the album's health came this week from Tyler, the Creator, a 24-year-old provocateur who theoretically should have no fealty to old ways of doing things.
Anyone terrified of the Internet's effect on music, or on the minds of young people, got their perfect bogeyman back in 2010 with the arrival of the Tyler's hip-hop collective Odd Future Wolf Gang Kill Them All, or Odd Future for short. On Tumblr and YouTube, the mostly teenage clan of Southern Californians posted raucous yet intoxicating songs whose lyrics often featured fantasies about rape and murder—and were rewarded with The New York Times writeups, a Comedy Central series, and endorsements from Eminem and Kanye West. In their lyrics and in their fame, they felt like a digital-era first: comments-section trolls come to life, made popular at the speed of tweets.
Many of Odd Future's songs came out in mixtape-like compilations, posted to blogs. But they also released, and still do release, full-fledged albums. Tyler, the Creator's debut one, Bastard—15 songs held together by an ongoing dialogue between the rapper and his therapist (played by Tyler)—turned out to be a landmark of rap in the new millennium. In the years since they emerged on the scene, the critical excitement has died down but Tyler's young fan base has grown and become more fervent. On Monday, he released his fourth album, Cherry Bomb, the ultimate old-school listening experience from the ultimate Internet brat.
"LISTEN FROM START TO FINISH. DONT TWEET OR NOTHING. JUST LISTEN. LOUD. IN YOUR ROOM OR CAR RIDE." That's Tyler on Twitter, telling fans how to consume Cherry Bomb. Later, after a semi-surprise release on iTunes and streaming sites and with no advanced listens made available to press, he chided the Internet rapid-response machine that developed precisely in response to releases like his: "ALBUM BEEN OUT FOR 30 HOURS HOW THE FUCK CAN YOU REVIEW IT. LISTEN TO IT FOR A WHILE." Elsewhere in his Twitter feed, he says that though physical copies of the album won't be available for weeks, fans should buy it on iTunes ("fuck streaming").
This isn't just special pleading; Cherry Bomb really does take close attention to really enjoy. That might seem like a funny idea given Tyler's ALL-CAPS writing style, cartoonish growl of a voice, and his propensity to sling the word "faggot" for shock value (at least it's meta this time: "critic faggots was shook / so I told 'em that I'll exchange the word 'faggot' with 'book'"). But he's made a surprisingly nuanced album that careens from noise avalanches to Golden Oldie's-style singalongs to gorgeous jazz instrumentals. It's more a collage of moments than a collection of songs, and some of those moments verge on brilliance, like on the psych-soul epic "Fucking Young / Perfect" and the explosive diss track "The Brown Stains of Darkeese Latifah Parks 6-12 (Remix)" (check out those parody-prog-rock titles). Appreciating them fully means appreciating their place in the track-listing; if heard as part of a Pandora mix, you'd press skip.
Tyler is not alone among musicians his age in proudly resisting the incentives to make playlist-friendly one-offs. The songs of Kendrick Lamar, 27, are so album-dependent that many fans' opinion of his single "i" flipped once they heard it in its To Pimp a Butterfly context: What felt like feel-good radio bait became a crucial spot of light in a dark journey. Odd Future associate Frank Ocean will release his own print magazine—the album of the journalism world—to go along with his upcoming Boys Don't Cry. Another member, Earl Sweatshirt, was so invested in the "right" way for people to consume his I Don't Like Shit, I Don't Go Outside that he chewed out his label in public for not totally complying with his rollout plan: "I feel like this is my first album. This is the first thing that I've said that I fully stand behind, like the good and the bad of it ... So for [Sony] to not treat as importantly as I was treating it was just like — I couldn't help but to feel a little disrespected, you know?"
Last year, Ian Astbury from '80s rockers The Cult told The Guardian that his band would likely never make another album: "iTunes has destroyed the whole idea of an album. It was a crucial part of the music industry between the 1970s and the 1990s, but it's been over for years now. It's simply an old format, it's just not up to date—and that's that." So why are artists like Tyler, who came of age in the iTunes era, still obsessed with the idea of a song set as a single statement, to be put out at one time and consumed as a whole? Part of it must be the same reason like why Netflix TV shows still have "seasons": Logistically and promotionally, batch-releasing makes sense. But part of it might be the elemental appeal of the format. Though albums aren't the only way of presenting music now, they still have clear artistic benefits, allowing musicians to express themselves on a wider canvas than a single song provides. It's hard to imagine that that will change, even as listening habits and technology continues to.