Meet Golf's New Superhero
Twenty-one-year-old Jordan Spieth didn't just win the sport's biggest tournament on Sunday; he shattered many of its records, too.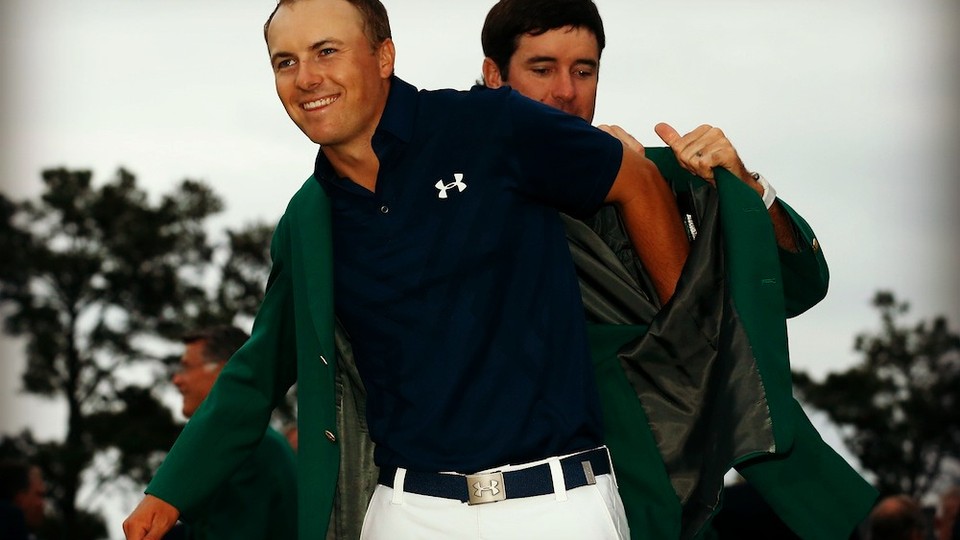 Before this weekend, a casual sports fan could be forgiven for not recognizing the name Jordan Spieth. The 21-year-old Dallas-born phenom, who dominated golf's most prestigious tournament, the Masters, didn't just score the legendary green jacket and a nearly $2 million bounty with his win at Augusta National Golf Club. He was also coronated as the sport's new crown prince with his record-breaking performance.
"He set the record for best 36 and 54-hole score," USA Today's Mike Foss noted, "and tied the best 72-hole score in Masters history" by finishing 18-under par. The golfer whose record he tied? Tiger Woods.
It's natural to hold Spieth up to the time-tarnished but still-legendary Woods, the sport's last transcendent superstar. By winning on Sunday, Spieth became the second-youngest player ever to win the Masters. That's second after Woods, of course, who was just five months younger than Spieth when he first won the tournament in 1997.
In some ways, Spieth also eclipsed Woods by joining an elite list of five players to lead the tournament from start to finish and by reaching the Masters' all-time low score of 19-under par during his romp on Sunday. Writing in The New York Times, Karen Crouse adds some nuance to the easy-par likening of Spieth to Woods:
He burns with Woods's intensity on the course, but off it, he has an affability, an easy accessibility, that calls to mind [Phil] Mickelson or [Ben] Crenshaw, a fellow Texan whose Masters farewell, after 44 starts and two wins, coincided with Spieth's coronation.

Summoning the ghosts of Ben Hogan and Byron Nelson, the World Golf Hall of Fame writer Dan Jenkins, another Texan, described Spieth as having 'the focus and will of Hogan, the likability of Nelson and the putting stroke of Crenshaw.'
Most importantly, Spieth's game is different from Woods'. Rather than crush the ball off the tee like Tiger famously does, as Brendan Porath observed, Spieth "may be shorter off the tee, but he fires lasers from the fairway." In an era of power-driving golf, one ushered in by Woods, Spieth's success relies more on being good enough at everything, from everywhere.
No matter how he does it, Spieth is a boon for the game, especially given his youth. "Rory McIlroy is still No. 1 in the world by a reasonable margin," the Associated Press reports. "Spieth is now No. 2. It's the first time players 25 or younger have been Nos. 1 and 2 in the world."
Writing in The Atlantic last year about the poor ratings for the 2014 Masters Tournament, which Tiger Woods missed due to injury, Jake Simpson summed up the fear "that there is no one who can even come close to replacing Woods' impact on golf's revenues, global popularity, or crossover cultural appeal."
But on Monday, USA Today reported a 23 percent spike in viewership over last year's final round, aided by Spieth's ascent as well as the return of Tiger Woods, who finished tied for 17th place. Spieth's biggest sponsor, Under Armour, which affixed 16 different logos to his Masters' apparel, also appeared to benefit from his record-breaking efforts.
Among golf's more zealous devotees, Spieth was a known entity long before Sunday. In addition to strong play in recent months and a second-place finish at last year's Masters, his greatness has seemed preordained for a while. Some observers point to Spieth's role in helping the University of Texas capture a national golf title three years ago.
But dig back even further and you'll find a local news feature on Spieth when he was just 14 years old. In it, Spieth explains to an interviewer, "My ultimate goal, when I came here ... I said I wanted to win the Masters."
"Most golfers just want to go to the Masters," the incredulous announcer remarks. "Very few actually think about winning it." But for the 21-year-old, it turned out to be not such an unlikely dream after all.