The Mystery of Kesha's Comeback
After a period away from the public eye amid a confrontation with her longtime collaborator, the pop star played a tiny rock venue in Washington.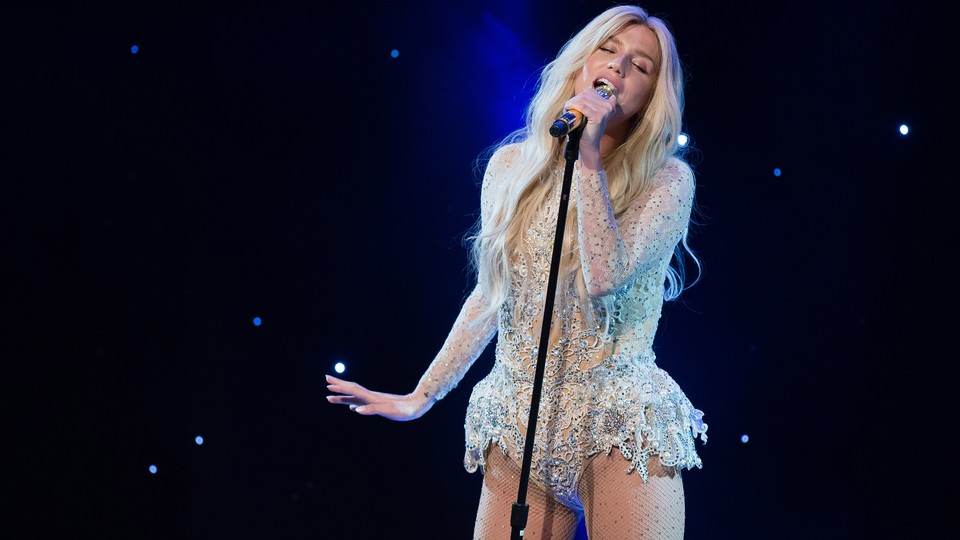 It's impossible to ever really know what a public figure is feeling, which is probably why it's a national pastime to speculate about it. That's doubly so in pop music, where a musician's songs sit alongside their "narrative"—both self-created and not—in most conversations. Kanye West has recently been spinning a story about being transformed by fatherhood, marriage, and an Adidas contract; Lady Gaga, everyone knows, is in her "normal" phase after her hype bubble burst; Beyoncé, if you believe the Instagrams, is enjoying the best life on Earth as a reward for her hard work and inherent flawlessness.
Kesha, formerly Ke$ha, real name Kesha Rose Sebert, is … well, it's hard to say. After reigning as a chart-topping A-lister for a few years on the strength of her high-octane and irreverent dance anthems—with a visual presence that relied on glitter, facepaint, and the middle finger—the image of her as a superhuman party warrior started to crack. A few singles underperformed in 2013; people in her camp started to grouse about her producer, Dr. Luke, being too controlling; she checked herself into rehab for an eating disorder; she dropped the dollar sign from her name. After spending much of 2014 out of the public eye, she filed a lawsuit alleging that Dr. Luke sexually and emotionally abused her, including a charge that he drugged and raped her. He countersued, saying she was just trying to get out of her contract.
Dr. Luke, real name Lukasz Gottwald, isn't merely a producer. He was an essential part of the Kesha story, the person who signed her at age 19 and who co-produced or cowrote basically most of her hits (not to mention other smashes from Katy Perry and Kelly Clarkson). Even before the abuse lawsuit, she and her mother had publicly confirmed fans' suspicions that Luke had been stifling her creativity and that she wanted to branch into different kinds of music. Now that the falling out is official, what does that mean for Kesha the performer? And where does a pop narrative go after such an ugly turn?
Last week, the Washington, D.C. rock club Black Cat announced that Kesha would play there on Tuesday night, and that tickets would go on sale at noon for $25 apiece. Following a couple of college-campus and benefit shows, the appearance was her first public U.S. performance since 2013, at a location that's nothing like the stadiums she'd previously been playing: dark and small, with a capacity of around 750 people. The Narrative loomed. Why was an ultra-famous pop star mounting her comeback in a tiny venue that usually hosts indie rock? Would she ditch all her Luke songs and play unreleased stuff? Follow the thread of her divisive Bob Dylan cover and go acoustic? Double down on her Last Rock Star image and put on a metal show? Say something about the controversies? Tickets sold out in under four seconds.
But from the opening moments of the show last night, it was clear that this was not to be the unveiling of Kesha 2.0. She came out performing the opening title track to Warrior, the 2012 album heavily shaped by Dr. Luke. Buff male dancers swung swords like samurais and the crowd, decked in glitter, headdresses, and unicorn tights inspired by Kesha's videos, roared. They'd keep roaring as the rest of the set offered basically anything a diehard could want: confetti, props, "Tik Tok" and "Timber."
Band members played guitar and keyboard, and for "Die Young"—a Warrior song that Kesha, at one point, tried to disown as something she'd been forced into singing—there was a drum. But for the most part, Kesha just made like an arena-pop performer, singing along with a backing track as her on-stage crew provided visual stimulation. She seemed thrilled to be there, swinging from the rafters and shouting out the local gay strip club. Besides countrified covers of Chris Brown's "These Hoes Aint Loyal" and Nick Jonas's "Jealous," the setlist was entirely of songs she'd already released; "Lover," the non-Dr. Luke track uploaded to Soundcloud last year, didn't make the cut.
After the concert, she tweeted "tonight was everything" and "touring gives me life," so maybe she chose to play a small stage with little advance warning just for the fun of it, and precisely to avoid the pressure of a potential career relaunch. She'll soon play another college venue in Baltimore, and then will entertain Los Angeles Pride. In terms of The Narrative, you could imagine these shows—all with guaranteed fanatical audiences—as psychically refreshing for her, as a reawakening of her fan base, or as an assertion that she's a fully complete artist independent of Dr. Luke, or as a statement that she wants to move past the drama. Or, like the many glitter-coated fans glad to be given an epic Tuesday night, you could forget the narrative and see a performer doing her job, and doing it well.