Josh Hamilton's Relapse Reveals Baseball's Double Standard on Drugs
The Los Angeles Angels slugger won't be suspended after relapsing. But rather than rejoice, his team wants him out.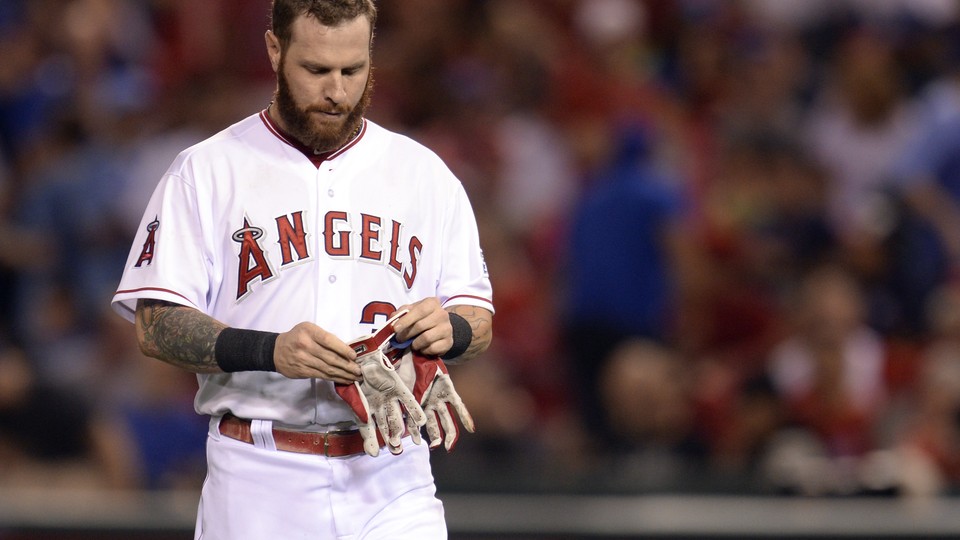 On Thursday, an arbitrator ruled that Josh Hamilton, who had notified Major League Baseball in February that he had relapsed with cocaine, would not be suspended for violating the league's drug policy. The ruling is a victory for Hamilton and, presumably, the Los Angeles Angels, whose starting left fielder will now be eligible to take the field as soon as he recovers from offseason shoulder surgery.
Rather than celebrate the ruling, the Angels reacted with dismay. "It defies logic that Josh's reported behavior is not in violation of the drug program," said team president John Carpino. A statement released by the team offered similarly little empathy. "The Angels have serious concerns about Josh's conduct, health, and behavior and we are disappointed that he has broken an important commitment which he made to himself, his family, his teammates, and his fans."
Why are the Angels sorry that one of their best players dodged a possible year-long suspension? The reason is money. Hamilton is scheduled to make $23 million this year as part of a five-year, $125 million contract he signed in December 2012, a salary commensurate with his then-undisputed status as one of the game's elite players. But since joining the Angels, Hamilton has been a major disappointment. Now 33 and coming off of a season marred by numerous injuries, Hamilton is basically an average player getting paid like a superstar. Little wonder that in an article published this February, Grantland's Jonah Keri ranked Hamilton's contract as the eighth worst in baseball.
Because baseball contracts are guaranteed, the Angels are forced to pay Hamilton's salary no matter how poorly, or how little, he plays. But had Major League Baseball slapped Hamilton with a year-long suspension, the Angels would not have had to pay him anything, freeing up $23 million to patch other holes on the roster.
The Angels are not the only team in baseball looking to do something—anything—to wiggle out of contractual obligations. Earlier this year, the New York Yankees announced that they wouldn't pay Alex Rodriguez, fresh off of a year-long suspension for using performance-enhancing drugs, up to $30 million in marketing bonuses triggered by reaching certain statistical milestones. Rodriguez, like Hamilton, is a fading star and off-field headache whose compensation—the Yankees still owe him $68 million on the $275 million contract he signed after the 2007 season—vastly exceeds his current level of production.
But unlike Rodriguez, whose history with performance-enhancing drugs was unknown until after signing his contract, Josh Hamilton's struggles with addiction have been well documented for years. Selected first overall by the Tampa Bay Devil Rays in the 1999 Major League Baseball draft, Hamilton's abuse of drugs and alcohol became so severe that he left the sport just four years later. After finding sobriety, Hamilton returned to the major leagues in 2007 and emerged as a star with the Texas Rangers a year later. Even then, Hamilton's fragility remained ever-present. A 2008 Sports Illustrated article documented how, as part of his recovery, Hamilton carried no more than $10 in his pocket to avoid temptation and didn't socialize with teammates at restaurants. And when the Rangers won the American League championship in 2010 and 2011, the team celebrated with ginger ale in the clubhouse—a gesture of solidarity with their recovering alcoholic star. Even then, Hamilton suffered alcohol relapses in 2009 and again in 2012 during his tenure with the Rangers. That Hamilton—like all addicts—was a risk for relapse was surely not lost on the Angels when they made him one of baseball's highest-paid players just months later.
The Angels' reaction to Hamilton's non-suspension isn't just about Arte Moreno, the team's billionaire owner, wanting to recuperate money he wishes he hadn't spent on Hamilton. It's also about a team acknowledging that they'd prefer to punish a player for suffering from a disease, one whose effects would likely be ameliorated by resuming his routine on the baseball diamond.