Is Playing Younger the Only Way for a 40-Year-Old Actress to Get on TV?
The premise of Sutton Foster's new TV Land sitcom reflects a depressing truth about Hollywood casting: It's not friendly to middle-aged women.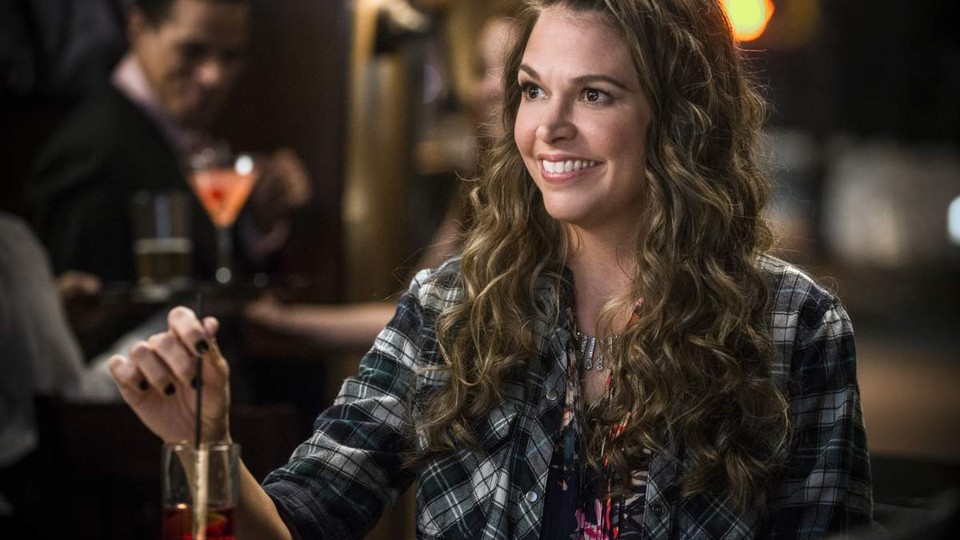 Sutton Foster is one of the world's most charming comic actresses—a two-time Tony-winner who's among Broadway's biggest draws and did marvelous work on the canceled-too-soon ABC Family comedy Bunheads, which ran for one season in 2012. She's also 40 years old, and this unremarkable fact is enough to serve as the premise for her new sitcom Younger, which debuted Tuesday on TV Land. Foster plays Liza Miller, a 40-year-old divorcee who is looking to re-enter the workforce after taking time off to raise a kid, and who quickly realizes the best way to get hired as an entry-level publisher's assistant is to pretend to be 26 years old.
It sounds ridiculous, but the premise is a depressingly apt reflection of Hollywood's approach to casting, particularly when it comes to TV. Casting a male actor in his late 30s as the star of a new show would barely raise an eyebrow, but there are very few compelling lead roles for an actress Foster's age even in the expanding television landscape. On Bunheads, she played an actress with a misspent youth just finally starting to settle down in a small town and admit she'd never be a star; on Younger she can't even admit her age without being laughed out of job interviews by the mean 20-something women looking to hire someone out of college.
So give credit to TV Land, and to creator Darren Star (Sex and the City), for building a show around Foster; it's just too bad almost all of its humor leans into the overblown culture clash between her and the social media-obsessed, oversexed younger generation that's suddenly bossing her around. Liza gets the idea of pretending to be in her 20s when a younger man hits on her at a hip bar in Greenpoint, Brooklyn; after a makeover she's swiftly hired at a publishing house where she's answering to Kelsey (Hilary Duff), a 26-year-old rising star, and has to fetch people coffee and figure out how to use Twitter. What's a Generation X-er to do?
TV Land is a curiously ironic network for Younger to end up on, considering that until a few years ago, it was an obscure cable network devoted only to repeats of classic sitcoms from the 60s and 70s. Its first forays into original programming retained that throwback feel—Hot in Cleveland united Betty White with other sitcom stars of yore like Jane Leeves, Valerie Bertinelli, and Wendie Malick, and will end its run this month after six forgettable seasons. Other attempts to bring back the 80s—creating sitcoms for Fran Drescher and Kirstie Alley—were flops, and Younger marks a foray into more mature "basic cable" territory, with a few mild swear words and a lot of bawdy humor.
That's hardly surprising considering the show was created by Star, who sparked a TV revolution in the 90s with Sex and the City's frank bedroom chat. But much of the humor on Younger feels painful rather than forthright. A recurring joke in the pilot revolves around Liza's pubic hair, and the younger generation's lack thereof. Similar themes recur throughout—everyone in their 20s is apparently part of an oversharing monoculture, participating in fake, social-media trending topics like "Topless Tuesday," which is as stupid as it sounds. Kelsey is portrayed as a beacon of maturity because she isn't having sex with her dull boyfriend every night; "Thad masturbated next to me all night, but I did not let him break my concentration," she reports proudly to Liza, as if she has crossed some invisible barrier of maturity.
With every painful generation-gap gag, Younger feels all the more dated and eager to prove some grand point, when all it really needs to do is rely on the inherent charm of its ensemble. Duff hasn't been a regular in a TV show since her teen idol days on Disney's Lizzie McGuire, but she lends depth to a character who could otherwise be a shrill stereotype. Debi Mazar is winning as always as Liza's hip best friend, and Nico Tortorella (who played an emo serial killer on The Following) is a convincing love interest for Liza and somehow doesn't seem stupid for believing that she's only 26 years old. The overarching plot of Liza's deception manages to be surprisingly gripping, given how ridiculous it sounds on paper.
Even without all that, Younger would still be likable thanks to Foster, who could probably play an 18-year-old or an 80-year-old without too much trouble. She sells Liza's internal strife over aging out of the workforce much better than she sells the lame social-media jokes. As she proved on Bunheads, she's at her best when given some well-written banter rather than cheap, saucy punchlines; given that Younger has an arresting premise that blends secret-keeping and social-climbing, it'd be best to lean into the soap and stay away from gags that cry out for canned laughter. TV Land is making the right steps towards maturity with Younger, but it should stop trying to desperately prove it can be hip and cool at the same time.