If You Seek Amy
In the third season of the brilliant Inside Amy Schumer, the comedian's presence is indelible, even when she barely appears at all.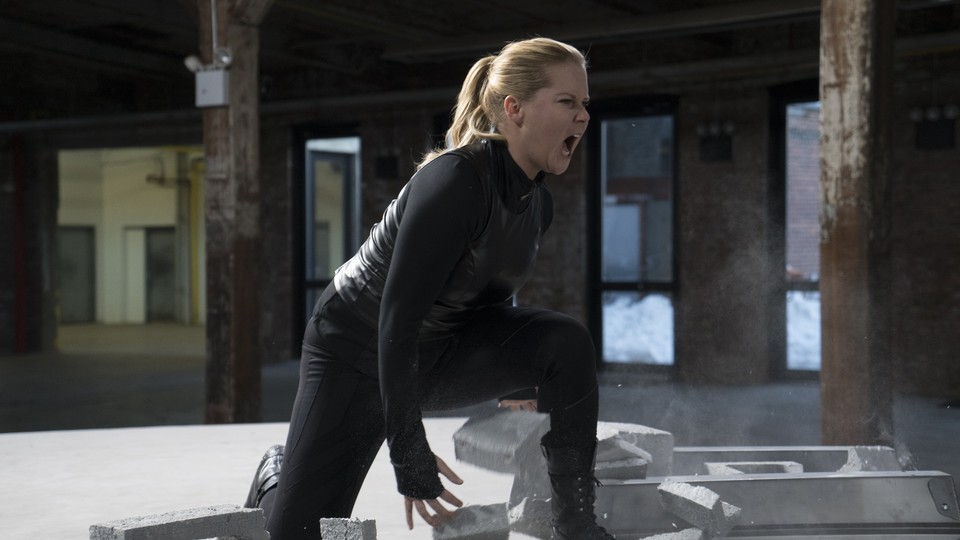 With Inside Amy Schumer, the comedian doesn't even need to appear in a sketch to make her presence felt. A gem among Comedy Central's lineup, Schumer's Peabody Award-winning show returned Tuesday night for a third season, continuing its dual mission of taking on the kind of material many would deem too sensitive for basic-cable comedy and challenging the form of the sketch show in exciting, cinematic ways. Most personality-driven shows exist almost entirely on the backs of their stars, and Schumer is no exception. But unlike the recently concluded Kroll Show, the wonderful Key & Peele, or the unforgettable Chappelle's Show, Schumer doesn't feel the need to dominate the show, whether appearing in every skit or rarely popping up at all. Either way, she makes her presence felt by tackling increasingly ambitious topics, including college rape and Hollywood's marginalization of older actresses.
The centerpiece sketch of Tuesday's premiere, "Football Town Nights," presented as a faithful spoof of NBC's departed classic Friday Night Lights, from the atmospheric opening credits to the shot-for-shot recreation of some of its most familiar visual motifs (the coach listening to the radio in his car, or slamming his fist against the locker-room wall after his team blows it on the field). Josh Charles does a pitch-perfect job in the Kyle Chandler role, while Schumer plays his supportive wife, clutching a glass of chardonnay that grows larger with every passing scene.
The joke within the sketch is brutally blunt—as the new coach in town, Charles lays down some rules for his high-school footballers, the most controversial of which is: "No raping." This stricture sparks cries of protests and a thousand questions about loopholes, and turns the whole town against him in a remarkable, uncomfortable, deliberately extreme examination of the horrifying knee-jerk defenses athletes convicted of such crimes receive on a regular basis. Inside Amy Schumer has always managed to navigate tricky territory without ever losing sight of what's funny, but as Schumer has grown as an actress and the show has continued to explore the visual potential of sketch, it's also begun taking greater and greater risks.
So there's Schumer on the sidelines, gently encouraging her coach husband while sipping goblets of wine, even wondering if he should give up on the whole "no raping" policy because it's made everyone so mad at him. No offense to Connie Britton, who did such wonderful work on Friday Night Lights in its five glorious seasons, but Schumer is cleverly poking at the stereotype of the supportive wife, the soundboard character we've seen in a thousand films and TV shows, who pours her husband a drink as he gets home, collapses on the couch, and delivers expositional dialogue about his inner struggle. Here's a sketch exploring the very real, very noxious issue of athletes and sexual assault, and there's only one female character in it. This is no oversight—Schumer (and her head writer Jessi Klein) knows exactly what she's doing here.
This theme recurs throughout the episodes sent out to critics—on Tuesday night, one sketch had Schumer running across Julia Louis-Dreyfus, Tina Fey, and Patricia Arquette at a boozy picnic together, bidding farewell to Louis-Dreyfus' "last fuckable day" before Hollywood consigns her to the pile of middle-aged actresses doomed to play non-sexual wives and mothers for the rest of their lives. Again, Schumer knows when to dominate a scene and when to hang back, and here she let the talent she'd assembled do all the work. Next week's episode features a sketch called "Plain Jane," where Schumer plays a Miami Vice-type undercover cop who's so unremarkable looking, criminals can't even see her when she's in the same room. Each time, Schumer takes on media stereotypes, but rather than just repeat the same joke about it over and over again, she finds surprising directions to go in.
This is pushed even further in the show's tour de force third episode, titled "12 Angry Men Inside Amy Schumer," shot entirely in black and white as a direct homage to Sidney Lumet's film. Schumer only briefly appears at the beginning and end. The rest of the episode is 12 jurors in their shirtsleeves, played by an all-star cast (Jeff Goldblum, Paul Giamatti, John Hawkes, Kumail Nanjiani, Chris Gethard, Vincent Kartheiser among them), debating whether Schumer is "hot enough" to have her own TV show.
For the entire episode, Schumer is nothing more than a picture hanging in a corner being debated by a panel of frustrated men, but her presence permeates the conceit. It's in the writing, which finds horrifying new ways to deconstruct Schumer's own insecurities about her appearance and the scrutiny she's constantly subjected to as a stand-up comic and TV star. All of which is part of the grand plot of the play being spoofed, where the jurors enter with preconceived notions but begin to admit their deeper insecurities as the hours drag on. In minimizing its figurehead, the show cleverly plays with sketch-comedy's dependence, to an extent, on the egos of its stars. Schumer's more-modest approach to inserting herself into her own show has hardly diminished its impact; if anything, it's amplified it.