How Fashion Co-Opted Coachella
The 16-year-old music festival in the California desert is being overshadowed by the parties, lounges, and extracurricular events organized by brands like H&M and Lacoste.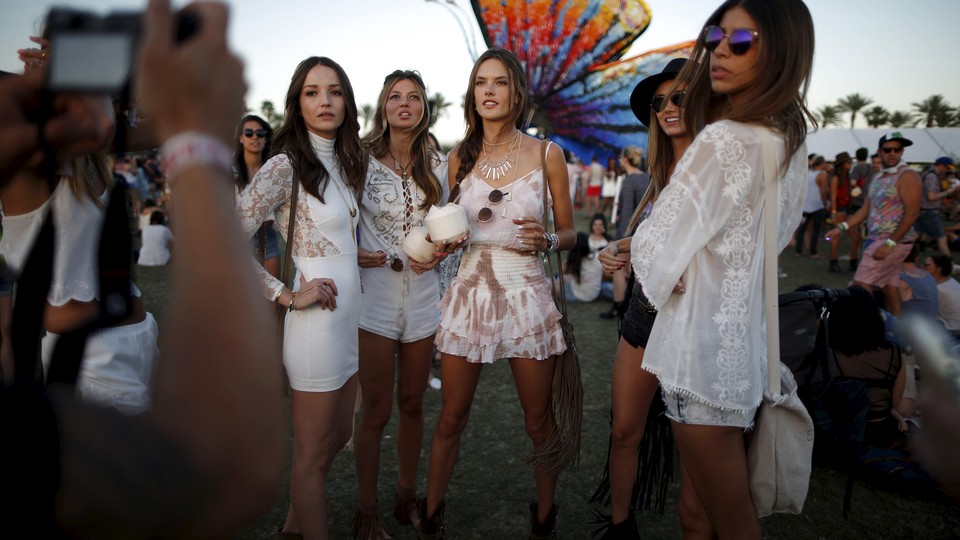 For the past five years, fashion houses, lifestyle brands, and beauty companies including H&M, PopSugar, Lacoste, and Kiehl's have been flocking to the Coachella Valley Music and Arts Festival. There, in the midst of the California desert, they've hosted pool parties alongside inflatable white swans, and resplendent brunches on tables decorated with tulle and succulent bouquets of flowers. They've created in-hotel lounges with brightly colored, branded throw pillows strewn atop couches, and escape-from-Coachella portrait studios, complete with braid bars and detoxifying misters.
Previously, these events were somewhat removed from the festival itself, acknowledged as extracurricular activities that occurred before the festival grounds even opened, or as the lesser-known acts sweated it out in the brutal midday heat. In 2013, PopSugar and Olay's "Relax and Refresh" lounge supplied dust-covered, sunburnt festival goers with beauty products to reinvigorate them, while giving attendees plenty of time to get through the gates to a space on the verdant Empire Polo Club lawns, where they could be assured of a prime viewing spot to see their favorite band.
But this year, a new trend has been unmistakeable. Attendees, clad in the eponymous Coachella uniform of floppy hats, cutoffs and something fringed, are opting out of the event that brought them to the desert in the first place, choosing instead to bounce from invite-only pool party to tented fashion show to free concert. "No-Chella," as it's become known, has overtaken Coachella.
"Coachella's been marketed within an inch of its life this year," said Ken Downing, the fashion director and senior vice president of Neiman Marcus, at a recent dinner in Los Angeles. Indeed, the festival, long one of the most high-profile events on the musical calendar, has been co-opted by the fashion industry, with brands looking for more and more opportunities to expand their Millennial clout.
This year, festival-goers didn't even have to activate their Coachella wristbands to see the likes of 2 Chainz, Chris Brown, Echosmith, or Chromeo, all of whom performed exclusively at parties hosted by McDonald's, Chevrolet, Hilton, SoHo House, and more during the first weekend of the festival.
Luxury and commercial fashion brands alike are going bigger and bolder each year at the festival, spending more and more aggressively and staging grander and ever more Instagrammable events. Hordes of young, attractive festival-goers strolling hand in hand across the polo fields, or posing with the ferris wheel in the shadow of the sun, have become a image fashion houses are eager to sell—proximity to the actual festival notwithstanding.
The Swedish retailer H&M, currently celebrating its sixth year as an official sponsor of Coachella, upped the ante this year by creating a co-branded, ready-to-wear collection called H&M Loves Coachella. As part of the partnership, H&M installed a retail store on the festival grounds, marking the first time in the festival's 16-year history that an outside retailer has been allowed to set up shop. The capsule collection includes crop tops, a fringe-lined robe, beaded shorts, and floral printed shirts, debuted three weeks ago, and is available in stores in 55 countries, as well as online.
"Coachella is known for its fashion as much at this point as it's known for music," said Marybeth Schmitt, the head of communications for H&M North America. She also noted that by selling the clothing online, H&M is "offering Coachella outside of Coachella."
Inevitably, as festivals grow they have to evolve, but such expansion isn't always popular. In January, the Washington Post proclaimed that "Coachella is dead," implying that complimentary spa services, DIY flower crowns and celebrity-studded carnivals have usurped it. Although the festival's always featured a mélange of up-and-comers alongside more established acts, there was a time (in 2006) when the alt-metal band Tool took the top spot on the main stage, leaving Madonna to perform in the dance tent.
Paul Tollett, the co-founder of Coachella, the president and CEO of its parent company, Goldenvoice, and a board member of its partner organization, AEG Live, started Coachella in 1999. He helped Pearl Jam book a 1993 concert at the Empire Polo Club, during a time when the band was boycotting venues controlled by Ticketmaster. After realizing its viability for larger events, he put together a two-day music festival. The first year, the festival lost about $800,000 and almost bankrupted Goldenvoice. But since returning in 2001, it's grown hugely in size and scope. Tollett claims responsibility for the music while Skip Paige runs the business and Bill Fold directs the festival.
But in recent years, the music has seemed less important to some than the outfits on display. "Coachella is a 'see and be seen' fashion moment—what fashion darlings are wearing is just as important as the headliners performing," said Caitlin Weiskopf, the executive director of ShopBazaar, an e-commerce site owned by the magazine Harpers Bazaar.
ShopBazaar hosted a pop-up boutique this year that featured luxury brands including Mansur Gavriel and Aurelie Bidermann. The store was one of the features this year at the SoHo Desert House, a private residence transformed into a lounge decorated with white muslin and reclaimed wood. Guests were encouraged to hang out by the infinity pool overlooking a lake, sip complimentary cocktails, and enjoy the live performances. Similarly picturesque scenes unfolded elsewhere in Palm Springs, which, it's worth noting, is located more than 20 miles from the festival grounds.
Marketers show no signs of losing interest in the event, something even Tollett can't deny. In an interview with The Desert Sun, Tollett made it clear that although he believes music is still king, art and culture will invariably start to eclipse it. "I get the main bedroom because music is still the (primary attraction)," he said. "But as soon as art takes it over, I'll pack my bags. I've got my luggage because it's starting to get there."
The festival, which expanded in 2012 to run over two successive three-day weekends, brings roughly 100,000 people per day to its grounds, and grossed $78 million in 2014, according to the trade publication Pollstar. Attendees spend at least $375 just on admission, and much more over the course of the event, but increasingly revenue comes not just from beer, but from blouses.
Coachella isn't the only festival that's facing insurgent fashion brands seeking to co-opt its prestige. The Austin-based South By Southwest festival has attracted luxury fashion brands from Bottega Veneta to Gucci in recent years. Even International CES, the consumer electronics trade show in Las Vegas, has showcased collaborations by Tory Burch for Fitbit and Swarovski for Misfit, launching wearables at a different, more fashionable market.
It's not just Coachella the fashion houses are after, but the time in between shows, when musicians are in town and tastemakers are looking for events to fill their time. In the days between the two festival weekends, 128 miles northwest of Indio, the city of Los Angeles is hosting a number of events. Dior joined forces with the Los Angeles County Museum of Art to screen the documentary Dior and I, complete with a star-studded red-carpet premiere, Burberry transformed the Griffith Observatory for its maiden "London in Los Angeles" runway show and party, and the Council of Fashion Designers of America paired with Refinery 29 to host a dinner for celebratory stylist Rachel Zoe. "I've never seen anything like this week," said the jewelry designer Jennifer Meyer. "We usually don't have events every night like they do in New York. This week is just crazy."
As Coachella grows in size and scope, so too does the festival's international appeal. For fashion brands, that means a burgeoning, potentially untapped audience and a probable boost in the bottom line.
"There's a season of festivals now," said Lisa Sugar, the founder and editor-in-chief of PopSugar, who sponsored a weekend-long cabana club at the Avalon Hotel in Palm Springs.  "Bonnaroo, Treasure Island, Glastonbury: It just keeps going. Some are more relevant than others, but Coachella was the one that started off the whole fashion and festival style. It begins there."