How 'Nothing Compares 2 U' Endured
Twenty-five years ago, Sinead O'Connor's cover of an obscure track written by Prince hit number one, becoming one of the best-known pop songs of the decade.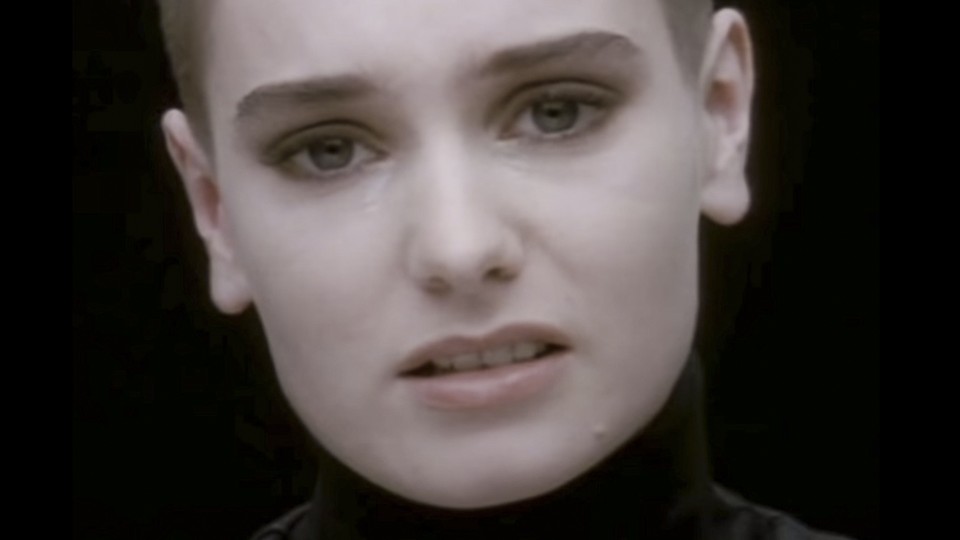 The video, 25 years later, is almost as recognizable as the song itself, even though it conjures up images of soft-focus karaoke backing tracks and a million drunken vocal renditions of heartbreak. The camera scans over a road flanked on either side by tall trees, while a figure clad in black walks across the screen. Then there's a misty shot of a bridge, a couple of pigeons flap their wings, and Sinead O'Connor's face comes into focus: shorn, oval-eyed, seemingly disembodied, and completely indelible.
"It's been seven hours," she sings, "and fifteen days/ Since you took your love away." Beneath her vocals, there's just the sound of a single synthesized string note, before the drum track kicks in on the seventh line, just as O'Connor's voice becomes an unmistakably Gaelic wail: "I can eat my dinner in a fancy restaurant/ But nothing/ I said nothing can take away these blues."
The song, released by O'Connor in 1990, hit number one on the Billboard 100 on April 21, holding the top spot for four weeks—an honor it shared with just two other songs that year, "Vision of Love" by Mariah Carey and "Because I Love You (The Postman Song)" by Stevie B." Unlike both of those tracks (with apologies to Mariah fans), it has endured. Rolling Stone
placed the song at #165
on the magazine's list of the 500 Greatest Songs of All Time, sandwiched between Queen's "Bohemian Rhapsody" and Ray Charles' "I Can't Stop Loving You"; on Billboard's
list of a similar name
, it came in at #87. O'Connor has never quite  managed to emulate its success, even though she's recorded eight albums since. Last month she stated on Facebook that she wouldn't be performing the song anymore, saying "I finally ran out of anything I could use in order to bring some emotion to it." And that's her prerogative, because if anything is responsible for the success of "Nothing Compares 2 U," it's O'Connor's interpretation of it, which enshrined the song as one of the great emotional pop performances of the 20th century.
"Nothing Compares 2 U," for all its lush restraint and lilting pathos, was written in the mid-1980s by an artist named Prince. The musician had assembled a band called The Family as a side project and an outlet for his prolific songwriting abilities, and the song appeared on its first and only album as a
futuristic soul ballad
, with
Close Encounters
-inspired synth jams and an inspired saxophone solo. It's an intriguing recording to listen to, but by no means does it sound like a future VH1 staple. Singer Paul Peterson channels the exaggerated regret of the lyrics—
Tell me baby, where did I go wrong?
—but his delivery is too polished, and too deliberate. As far as feeling bummed out goes, he gives the impression that his weekend has possibly been ruined, but not so much his entire life.
O'Connor, by contrast, offers something more guttural. She's angry; she practically snarls at the camera and seethes as she recalls a doctor's foolhardy advice to go out and try to have fun, but a few seconds later she's desolate again, almond-eyed and hollow. She casts her eyes down at the ground then looks up again, half confrontational, half lost. Wearing a black turtleneck, and against a black backdrop, her head appears to be floating. When she sings, "Nothing can stop these lonely tears from falling," the passivity of the statement aches. Then, the "nothing" of the chorus is emphasized and bisected as she jumps an octave, underscoring its emptiness.
Then, around the 3:20 mark, after a few shots of O'Connor stalking around Paris in an overcoat, something extraordinary happens. As she sings, "All the flowers that you planted, mama, in the back yard, they all died and withered away," two tears well in her eyelids and fall slowly down her face. "I know that living with you baby was sometimes hard," she yelps, "but I'm willing to give it another try." In
her own words
:
The close-up of me singing "Nothing Compares 2 U" was supposed to be only one part of the video. But the song reminded me of my mother, who had died three years previously … I made an emotional connection, which I was not expecting—it didn't hit me when I was recording the song. It only kicked in when I was being filmed. So I was sitting there, thinking about me mother, and trying hard not to bawl my eyes out.
The moment is unrivaled in music video history when it comes to raw emotion, but the song itself is serves as an example of the power of interpretation. Produced by Nellee Hooper, who later worked with The Smashing Pumpkins, Bjork, Madonna, and Gwen Stefani among others, it made an understated ballad out of a funk-pop song, and a star out of its singer, who enhanced her notoriety two years later when she tore up a photo of Pope John Paul II on Saturday Night Live. O'Connor might not sing it anymore, but the work is ultimately timeless—a confession of pain that defies its saccharine lyrics to offer instead one of pop's most honest performances.