The Play That Took Me Inside My Autistic Son's Head
The Curious Incident of the Dog in the Night-Time uses visual elements to immerse audiences in the world of a teenager with autism.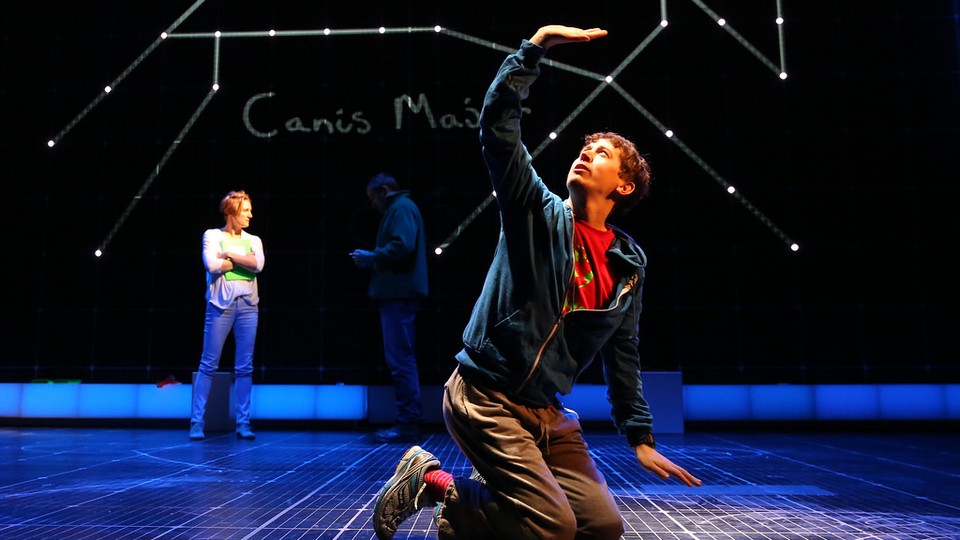 For 16 years we've been locked outside my firstborn son's head. Sam is a boy, fast becoming a man, whose sense of the world around him is defined by his own fixed point on the autism spectrum. He can rarely conceive what's expected of him in social situations, and by that I mean a setting as routine as a family dinner with his parents and his two brothers—let alone an environment as demanding as high school, or the adult world.
But for two hours recently, we got a glimpse at some of the chaos that might be raging in there, thanks to The Curious Incident of the Dog in the Night-Time—the innovative, high-tech theatrical adaptation of Mark Haddon's 2003 best-selling novel of the same name. The play, which was recently nominated for six Tony Awards, came to New York from London's National Theatre in a production directed by Marianne Elliott (War Horse). It takes an immersive approach to communicating the internal state of its hero, Christopher. Like Sam, Christopher is an autistic teenage boy who's often perplexed by the day-to-day demands of human interaction.
"People often say, 'Be quiet,' but they don't tell you how long to be quiet for," says Christopher at one point, attempting to explain the confusion he feels almost constantly. The show isn't without humor in the way it portrays the poignancy of the missed emotional connections between Christopher and his family and the people he meets, and the line drew a healthy laugh from the audience. But for me and Sam's mom, it lingered.
Unlike Christopher, who is rather on the voluble side for a kid on the spectrum—Haddon has stated that his book is more about cognitive differences than "any specific disorder"—Sam has been diagnosed not just with Asperger's but also "selective mutism," an extension of his social anxiety. If he's uncomfortable, he gets stuck, and he won't, or can't, talk. When he was overwhelmed at a new school full of high-functioning extroverts two years ago, his shutdown lasted all summer.
Haddon's book surely wouldn't have worked with an uncommunicative main character, and it goes without saying that a theatrical adaptation would have been out of the question. Even so, for years the author considered his beloved book to be "unadaptable." But the ingenious storytelling methods devised by Elliott, playwright Simon Stephens, and their choreographers and set designers are the primary reason the show succeeds. Christopher's anxious chatter isn't the only window into his mind—the design elements illuminate his turmoil, too.
The production team set the show inside a big black box. (It's the same team that premiered the play in London, with a different cast.) The three walls facing the audience are lit to look like graph paper; letters and symbols and mathematic equations cascade across them, sometimes defying gravity, streaming up from the floor to the ceiling. When Christopher is distressed, electronic music pounds and seizure-inducing hot white lights flash.
Long before he was diagnosed, we knew something was different about Sam. On a trip to Los Angeles just after the birth of our second son—Sam was a year and nine months old—we were stunned as we sat in a parking lot and he blurted out the letters on the sign in front of us: "S-T-A-R-B-U-C-K-S." We had no idea he'd already learned the alphabet. Soon, to soothe himself to sleep, he was reciting the alphabet forward and backward.
As he grew older, Sam's stony facial expression, so characteristic to the condition, would only rarely betray any kind of emotion. But we've come to understand that's a hard mask for his inner turbulence. Seeing it imagined onstage was a revelation. The play's bad-trip-at-a-rave depiction of Christopher's rampaging synapses represents a stark contrast with the theater industry's recent efforts to make shows such as The Lion King more accessible to kids on the autism spectrum, with softer volume and dimmer lighting.
In another of the play's inventive moments, when Christopher (played by Alex Sharp, a Broadway newcomer and recent Juilliard graduate) is having an out-of-body experience, his supporting cast members take their roles literally. They hold him up parallel to the ground so he can sprint around the walls, like another science-minded high schooler, Peter Parker, after his spider bite.
Curious Incident's creative use of visual elements is just one way the show communicates how many people on the autism spectrum experience seeing the world. In the book Life, Animated, Ron Suskind writes about his son's Asperger's and how the two were able to connect through Disney movies. Sam, too, has an affinity for animation: He creates amusing short films using a graphics tablet and a software suite, and has a remarkable facility for perspective. Temple Grandin, the animal behaviorist and autism activist, has written extensively about her own visual thinking, stating, "My mind is similar to an Internet search engine that searches for photographs." And Christopher might agree. "I see everything," he says in the play.
Most people gazing out the window on a train, he states, will acknowledge the general view: the grass, the cows, the fence. Then their mind will begin to wander. But if Christopher is on that train, he'll calculate the whole scene: 19 cows—15 of them black and white, four brown and white. Thirty-one houses visible in the village in the distance, plus one church without a spire. The landscape is highest to the northeast. It's exhausting just hearing him describe it, but it gives some sense of what it must be like to be so attuned to minute details.
The "curious incident" mentioned in the show's title is Christopher's discovery of a dead dog in a neighbor's yard. He wants to find out who killed the dog and left it there, but he's quickly marked as a suspect himself. The event prompts Christopher to uncover some upsetting family secrets related to his parents' reactions to their own shortcomings, and their despair that they can't properly care for their son.
The moments in the show that focused on the parents' frustrations were all too familiar for us. Ed, Christopher's well-meaning, working-class dad (played with lumbering sensitivity by Ian Barford), whips painfully between tenderness toward his child and fist-clenching fury over his inability to help him navigate the world. Ed and his estranged wife, Judy (Enid Graham), have become trapped by their own sense of discouragement, and find it hard to imagine a more hopeful future for themselves and for Christopher.
We've been there—we're forever backtracking there, it seems—with Sam. But we left the show buoyed, at least for the night. The show ends on an up note (spoiler alert): Christopher celebrates, in his own curious way, his successes. Against the odds, he's aced a major exam, survived a harrowing trip to London, reconciled with his mum and solved the mystery of the death of Wellington, the dog.
"Does that mean I can do anything?" he asks.
For the parents of a child on the spectrum, the true answer might not be the one we want. But it's our continuing job to help Sam understand his own mind. As much as we've struggled, seeing such an inspired interpretation of my son's baffling affliction gave us the gift of a necessary reminder: Sam, like Christopher, is the one trying to find his bearings at the center of his own curious world.