An Empty Stadium in Baltimore
The Orioles will play a home game on Wednesday after two days of postponements due to the riots, but it will be closed to the public.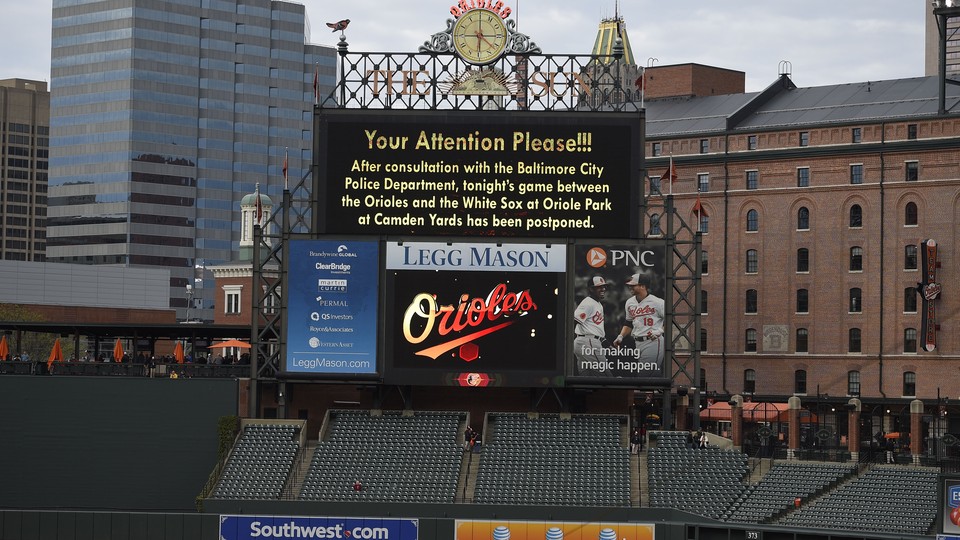 When the Baltimore Orioles host the Chicago White Sox at Camden Yards on Wednesday, it won't really feel like a baseball game. There will be no cheering, and no booing. Nor will there be heckling, hot dogs, or beer. There will be no fans in the stadium at all, in fact. After riots in the city forced the postponement of games for two straight days, Major League Baseball announced that the Orioles will play on Wednesday, but the game will be closed to the public.
For a sport that takes significant pride in its history, this may be a particularly sad first: An MLB official told me that after conferring with a historian and several longtime veterans of the game, the league was unaware of any prior examples in which fans have been deliberately barred from attending a game. Those with tickets to the game (or either of the ones postponed) can exchange them for a game later in the season, and they'll still be able to watch Wednesday's contest on TV. The league is also moving the Orioles' next three games to Tampa, where they'll be the "home team" against the Rays at Tropicana Field—a move typically made during emergencies caused by natural disasters, not civil unrest. When rioting erupted in Los Angeles following the Rodney King verdict in 1992, the Dodgers postponed four games until later in the season. More recently, the terrorist attacks of September 11, 2001, forced Major League Baseball to cancel games for a week across the country.
While it hasn't happened in baseball, soccer matches overseas have been played in empty stadiums, although those decisions are usually made to punish a team or its fans for bad conduct. MLB teams in small markets routinely play before crowds so tiny that the stadiums probably feel empty. But this is different.
Baseball, of course, doesn't matter much compared with the pain of parents who lost their son in the back of a police van. It probably isn't a concern to the families of officers injured in the riots, or to shop-owners who've watched their businesses get looted and torched. Nobody made that point more eloquently than the Orioles' chief operating officer (and the son of the team's owner), John Angelos, who wrote in a series of tweets on Monday that the systemic problems that led to Freddie Gray's death make "inconvenience at a ball park irrelevant." Here's a partial transcript, via Deadspin:
Speaking only for myself I agree ... that the principle of peaceful, non-violent protest and the observance of the rule of law is of utmost importance in any society. MLK, Gandhi, Mandela, and all great opposition leaders throughout history have always preached this proper precept. Further, it is critical that in any democracy investigation must be completed and due process must be honored before any government or police members are judged responsible.

That said, my greater source of personal concern, outrage and sympathy beyond this particular case is focused neither upon one night's property damage nor upon the acts group but is focused rather upon the past four-decade period during which an American political elite have shipped middle class and working class jobs away from Baltimore and cities and towns around the US to 3rd world dictatorships like China and others plunged tens of millions of good hard working Americans into economic devastation, and then followed that action around the nation by diminishing every American's civil rights protections in order to control an unfairly impoverished population living under an ever-declining standard of living and suffering at the butt end of an ever-more militarized and aggressive surveillance state.

The innocent working families of all backgrounds whose lives and dreams have been cut short by excessive violence, surveillance, and other abuses of the Bill of Rights by government pay the true price, an ultimate price, and one that far exceeds the importance of any kids' game played tonight, or ever, at Camden Yards. We need to keep in mind people are suffering and dying around the US and while we are thankful no on was injured at Camden Yards, there is a far bigger picture for poor Americans in Baltimore and everywhere who don't have jobs and are losing economic civil and legal rights and this makes inconvenience at a ball game irrelevant in light of the needless suffering government is inflicting upon ordinary Americans.
The MLB commissioner Rob Manfred said Tuesday that "after conversations with the Orioles and local officials, we believe that these decisions are in the best interests of fan safety and the deployment of city resources." With Governor Larry Hogan deploying the national guard and neighboring states sending in reinforcements, certainly Baltimore police officers have better things to do than protect 20,000 fans at Oriole Park. (Though playing baseball in a burning city is not without precedent, as the Daily Beast's Justin Miller noted.) On the other hand, why not simply postpone this game as well? What's the point of a baseball game without fans? The ballpark will be eerily quiet, a stark contrast to the unrest outside that will undoubtedly affect both the fans watching on TV and the players on the field. It's not how baseball is supposed to be, which suggests that the decision to play the game in an empty stadium is more than just a tactical move; it's a statement about the behavior of a fractured city.