Alabama Shakes Frees Itself
The band's sophomore album, Sound & Color, offers up sound experiments that are as wild as the voice over them.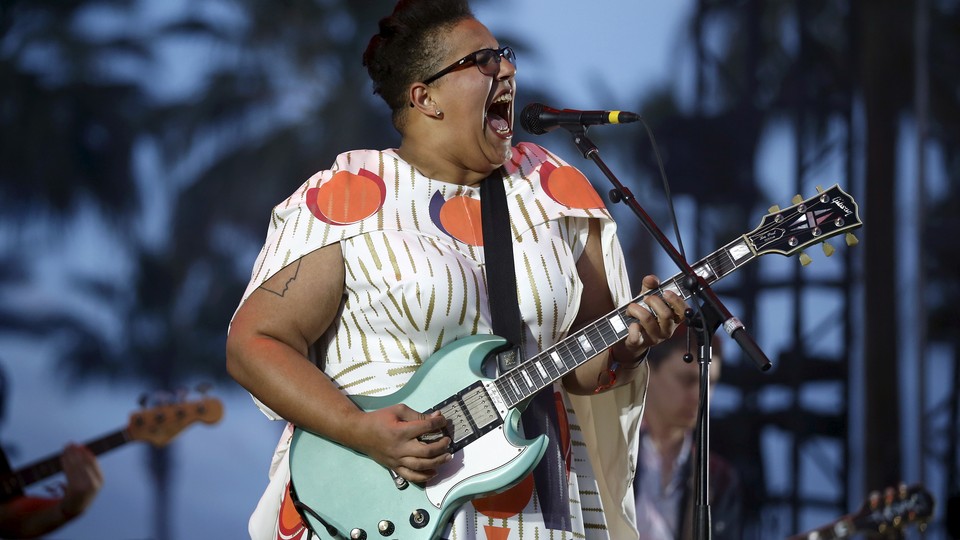 Brittany Howard has given a name to each of the many dance moves she does onstage with her band Alabama Shakes. Those moves include, according to The Guardian's profile of Howard, "the Reverse Raindance, the Matador, the One-Legged Foxtrot, the Pre-Apocalyptic Strut (completely different, she insists, from the Post-Apocalyptic Strut), the Full Body Seizure." You've got to wonder, listening to her band's new album Sound & Color, whether she has a similar taxonomy for the kinds of sounds her voice can make. Might she refer to the wheeze at the start of "Don't Want to Fight No More" as the Deflating Balloon? The quivering moan of the word "baby" on "Gimme All Your Love" as the Movie Villain Cackle?
Or maybe she doesn't overthink her gift. During the young band's already-legendary concerts, she taps into what she's called the "the spirit world"—"latching on to a feeling, riding it, trying not to come out of it. You stop thinking, you're just performing—that's the spirit world." The ideal of a total-abandon performance, of being in the zone like an athlete, isn't a new one for musicians. But it's one that seems especially powerful in relation to Howard, a singer who rasps and booms in styles that recall icons from Robert Plant to Nina Simone. How many of her wild swings in pitch, her murmured asides, and her asymmetrical phrasings come out of careful, creative planning? How many result from pure improv?
There was little need to ask the same questions about the rest of the band's sound on Alabama Shakes' 2012 debut, Boys & Girls, which sold an impressive 500,000 copies in the U.S. It was retro rock in the Kings of Leon model, placing classic and Southern soul sounds into a tight, polished packaged that captured the attention of NPR playlist-makers and Jack White. There are lots of bands working in the same mode all over the country, writing songs as or nearly as catchy; for the most part, it was Howard who made this one stand out.
But on its sophomore album, Alabama Shakes sounds delightfully unglued. The title-track opener drifts by with vibraphones, Howard crying that "a new world hangs outside the window," and no traditional crescendo. The message: something freer, jazzier, and possibly more difficult is on offer. When creaking funk riffs and a disco beat snap into place for the follow-up track, "Don't Wanna Fight," it's reassurance that the band hasn't abandoned pop, but it's also a sign that where Boys & Girls prized consistency, Sound & Color prizes diversity. The songs to come include punk, psychedelia, and slew of more unplaceable moments.
The experimentalism pays off when it's executed with the same crazed passion as Howard's vocals. "Gimme All Your Love" is a two-parter: first comes stop-start thundering, alternating shouts and guitar stabs with lullaby-like interludes. In the second half, the tempo picks up and the band starts jamming over a bright organ line, and it feels like the satisfaction of some primal, universal hunger. Another highlight, "Miss You," opens with a 50s-prom backing as Howard delivers some uncharacteristically specific lyrics—"I'm gonna miss you and your Mickey Mouse tattoo / and you'll be leaving in your Honda Accord"—before she and the arrangement froth up in waves of noisy desire.
Other songs don't gel as well. The punk salvo "The Greatest" was apparently intended to be a ballad but, according to the band's publicity material, it got a genre makeover because "it wasn't clicking." The conflation of interesting style with interesting songwriting is a problem throughout, especially on the Sun Ra-indebted "Gemini," which sounds neat in theory—Alabama Shakes: Space Voyagers—but at more than six and a half minutes long, just bores.
But for a band with an asset like Howard, some misfires in the name of ambition are no vice. Hearing her in new contexts is exciting; it makes you realize how cool it would be to have a Howard singing above house, or prog, or any number of styles. The most tantalizing piece of work is the closer, "Over My Head," where Howard harmonizes in rounds with herself over a minimal soundscape of handclaps and keys. It's gospel meets Kid A, but it doesn't feel like arty affectation. It feels like a band realizing that with a voice as weird and powerful as Howard's, they can do anything at all.