Wu-Tang Clan and Hip-Hop's Obsession With the Art World
A $5 million auction is the wrong way to prove rap is worthy of respect.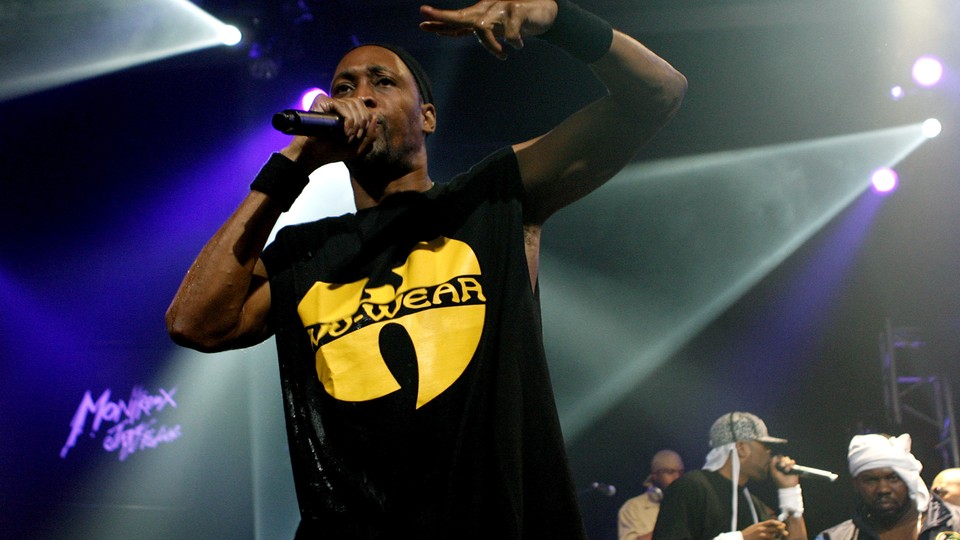 If the Wu-Tang Clan's RZA gets his way, you'll probably never hear the rap group's latest album, Once Upon a Time in Shaolin. The sole extant recording of its 31 tracks sits locked away in a hand-carved nickel and silver container inside a cedar box swathed in black cow leather in Morocco, waiting to be sold off by the auction house of Damien Hirst and David LaChapelle for a minimum bid of $5 million. The songs' copyrights aren't for sale, though; the plan is for the band to wait 88 years before officially releasing the record, meaning that fans will have to wait to find out via whatever will have replaced iTunes in 2103.
All of this has been called a stunt, but it's also trying to be a statement. "In an age where the work of musicians is increasingly perceived as being as accessible, affordable, and expendable as a box of paperclips, acknowledgement of the profound artistry required to write a moving verse, produce a transformative album, or navigate a formidable career, is often reduced to an unread liner note," reads an online message from RZA and Paddle8 auction-house cofounder Alexander Gilkes. "Such a scenario in the art world—if the only Picassos to be seen were postcards—is unimaginable."
You can see Once Upon a Time in Shaolin as another musician's rebellion against the streaming age, akin to Bjork keeping her album from Spotify and saying "It's not about the money; it's about respect," or Hot Chip selling each copy of its forthcoming record with different, one-of-a-kind packaging. But as Flavorwire's Jonathan Sturgeon points out, you can also see it as part of a a different trend: rap's fascination with high art. Last year, Jay Z performed his painter-referencing "Picasso Baby" at Pace Gallery for six hours with the assistance of the performance artist Maria Abramovich. Kanye West increasingly compares himself to masters of the canvas. And judging by Genius's Rap Stats feature, which indexes rap lyrics, he's not alone: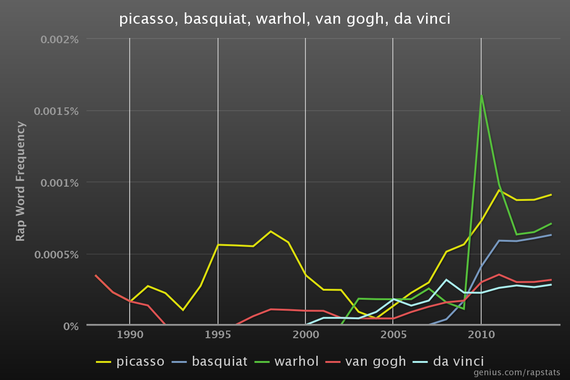 Rap rose from an economic underclass and has often been maligned by highbrow tastemakers as crude or unmusical; more than three decades into its existence, it seems natural for it to want the same reverence given to Western culture's most vaunted creators. That certainly seems to be the rationale behind Once Upon a Time in Shaolin. On Monday, a 13-minute sampler of it played at the Museum of Modern Art's PS1 outpost for some journalists, art-world types, music-industry professionals, and radio-contest winners; on stage, according to Sturgeon, a Paddle8 representative told the audience that the release would now be "anchored forever in the realms of fine art."
Which is nice, except for one thing: Rap already is art—a creative outlet that expresses big truths and provokes aesthetic responses. Wu-Tang, with its post-modern mashup of comic-book tropes, kung-fu sounds, and vivid tales of urban struggle, has long been one of the poster kids for that idea. If each CD costs a lot less than an original painting, that's because it's an entirely different item; musicians get as rich as major painters when their products become common, not scarce. Besides, artists like Picasso owe much of their cultural prominence to reproductions like the postcards that RZA and Gilkes scoff at, and many fans say it's an affront for a band that once spoke for the streets to reserve its latest project for rich elites.
While West is as sure as anyone that he's a capital-a Artist, he's actually taken the opposite route from Wu-Tang lately. On Monday at Oxford University (where he said, as is typical, he could be "Picasso or greater"), he flipped rap's historical material hunger on its head while talking about wanting to make couture clothes for the masses. "There should never be a $5,000 sweater," he said. "You know what should cost $5,000? A car should be $5,000. And you know who should work on the car? The people that work on the $500,000 cars. All the best talent in the world needs to work for the people. And I am so fucking serious about this concept that I will stand in front of anyone and fight for it. Because I was 14 and middle class. I know what it felt like to not get what I have."
Wu-Tang, meanwhile, is buying into old ideas about excellence being affiliated with price-point and exclusivity and connections. There's been a lot of criticism of the 88-year plan, and on Tuesday, Wu-Tang rapper Method Man called it "stupid." Band leader RZA shot back on Twitter saying that the scheme means "corporations can't buy [the album] & mass produce it," though it's unclear how that jibes with his previous statement that Once Upon a Time will remain "unheard and never to be released." Maybe it's all a hoax, and maybe the band will leak its new songs tomorrow. Otherwise, regardless of what Once Upon a Time in Shaolin sells for, the answer to whether it's an artistic masterpiece sits in those boxes in Morocco, and may not be answered for 88 years.