Television Loves Female Presidents, as Long as They're Republican
Americans have yet to elect a woman as commander in chief, but the small screen has played with the idea for almost a decade.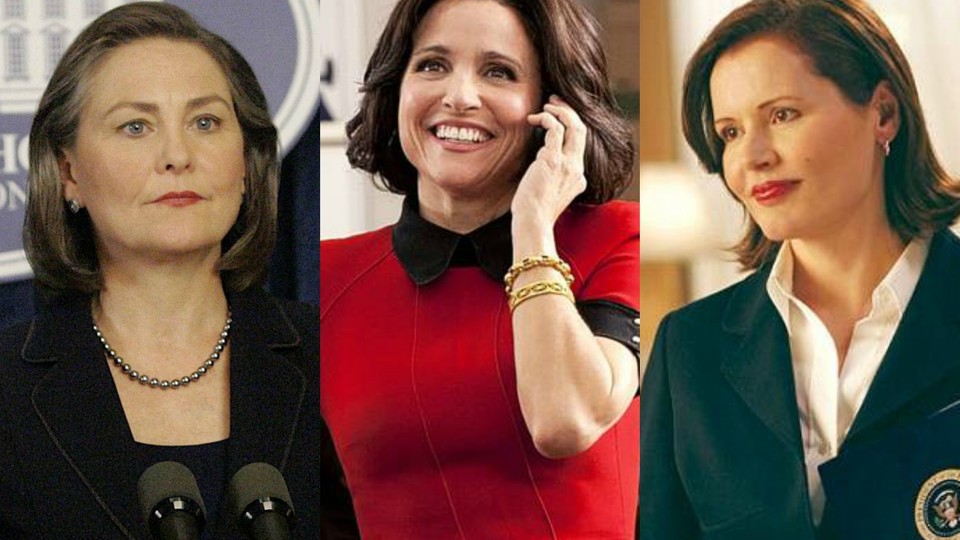 Croatia has done it. Latvia, the Philippines, South Korea, Switzerland, and Liberia have done it, too. When it comes to electing a female head of state, America still has a way to go, but almost 10 years ago, the short-lived ABC series Commander in Chief introduced the idea to television audiences via a character played by Geena Davis. Since then, NBC's political thriller State of Affairs has become the sixth show to feature a woman in situ in the Oval Office, while Scandal's latest season has teased the idea of the First Lady running for president. The trope's reappearance feels especially timely: With many expecting Hillary Clinton to announce her candidacy for the 2016 race, the possibility of a female president in the U.S. looms large.
While television is leaps ahead of the nation, writers and producers have struggled with the same public ambivalence surrounding the concept of a female president as pollsters and politicians have. Although a 2007 Gallup poll found that 88 percent of Americans said they'd vote for a well-qualified female candidate, a 2015 Pew study found that just four in 10 Americans said they hoped to see a woman president in their lifetime—with the numbers diverging dramatically along gender and party lines.
Fictional portrayals of female presidents have therefore been meticulously crafted to avoid alienating audiences. Two trends immediately emerge after judging the small sample size of onscreen female presidents: Not one is an obvious Democrat, despite polls revealing Democrats are most enthusiastic about the idea of a female commander in chief. And only one seems to have been elected entirely on her own merits—the others were all either part of political dynasties or were vice presidents who filled vacancies when the need arose.
Pop culture has long been pegged for its role in shifting public opinion on social issues, such as gay marriage. Some critics have speculated that David Palmer, who played a black president on Fox's 24 from 2001 to 2006, warmed voters to the idea of electing Barack Obama a few years later (The Cosby Show has also been name-checked). If the race of a president on television could affect how voters feel on the subject, it stands to reason gender could have the same effect. Rod Lurie, the creator of Commander in Chief, has even said he made President Allen a Republican to address critics who thought he might be a puppet for the Clinton '08 campaign.
In an electorate where women are more likely than men to vote Democratic, why would all of the female TV presidents be Republican or centrist? The short answer is: It's not a conspiracy. Showrunners and writers serve three masters when creating a show, says the producer Tom Nunan. They have to figure out what provides the most conflict in a series, what's the most unpredictable thing a show can do, and what might be predictive about culture. A Republican female president adds an element of unpredictability that wouldn't be achieved by writing a carbon copy of Hillary Clinton or Senator Elizabeth Warren.
According to Nunan, the vast majority of writers are left-leaning and usually create characters that represent the opposite of their own political beliefs. Because there have only been so few female presidents on TV, it appears to be merely a coincidence that most of them have been Republican. The nature of the show matters too: Party affiliation is presumably more important for a drama like The West Wing that touches on actual politics, as opposed to the more soap-operaesque plots of Scandal and Commander in Chief. Veep, meanwhile, makes a conscious effort to leave Selina's party deliberately ambiguous. In an interview with Politico, the show's creator Armando Ianucci said "I don't want to get bogged down in party politics and make it a comedy about being a Democrat or being a Republican."
Barring the political biases of the creators of The West Wing and 24, showrunners rarely tend to push ulterior motives with partisan projects, since they run the risk of alienating the network or a portion of the audience. "As a general rule, networks don't like projects with agendas," says Paul Schneider, chair of the department of film and television at Boston University.
There is one character who's somewhat atypical. State of Affairs' Constance Payton served in the Air Force in the first Gulf War and was a California senator before becoming the first African-American female head of state. Her husband (a lawyer) wasn't president before she was, so it's safe to say that she earned her spot in the White House without the help of nepotism or fate. On the other hand, Alfre Woodard, who plays Payton, has said her character is the direct opposite of a progressive Democrat, calling to mind someone more like Utah Representative Mia Love.
This is what makes it noteworthy that most of the female presidents on television got the job with a little help. This doesn't mean these women are portrayed as undeserving or incompetent, though. In 24, Allison Taylor's father was a senator, and she filled his seat before running for president. In Commander in Chief and Scandal, the vice presidents rose to take the seats of their predecessors (Sally Langston did so briefly when President Grant was in a coma). In Veep, Selina Meyer became president after the sitting POTUS stepped down. And, because there has to be a murder at some point, Vice-President Caroline Reynolds assassinated the president on Prison Break.
Certainly, the idea of Hillary as president, last teased in the 2008 Democratic primary, has captured the imagination of television studios. CBS' political drama Madam Secretary is based on the former secretary of state and the 2012 Benghazi scandal, and in 2012, USA aired the mini-series Political Animals, starring Sigourney Weaver as another secretary of state who also happened to be married to an unfaithful former president. In a country that's had 43 men serve in its highest office, television has contributed, however indirectly, to helping voters become acquainted with the notion of a female leader. Only time can tell how long the nation will wait for life to imitate art.