Mad Men and Southern Writers: The Week in Pop-Culture Writing
Highlights from seven days of reading about entertainment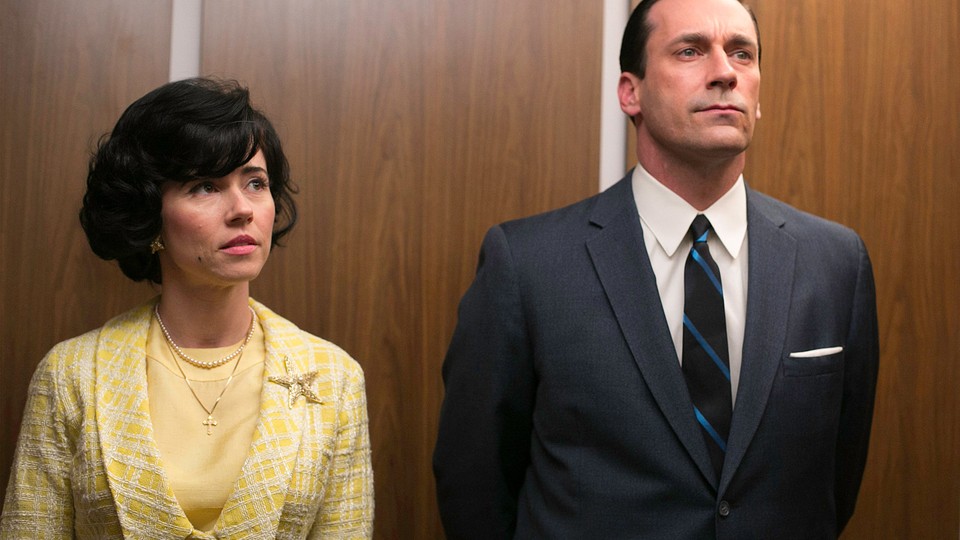 Going Up? Elevator Scenes on Mad Men
John Jurgensen | The Wall Street Journal
"Mad Men is about rises and falls, professional and existential. "
Why I Became a Southern Writer
James Hannaham | Buzzfeed
"Through the South, I tried to make sense of what seemed similarly wrong with the North."
Candy Girl
Emily Nussbaum | The New Yorker
"It's all neon pink and Peeps yellow, energized by the Muppet-like intensity of Ellie Kemper's performance as Kimmy and packed, like "30 Rock," with surreal zingers ... Yet, without any contradiction, it's also a sitcom about a rape survivor."
Isolation Play
Pablo S. Torre | ESPN
"The movie of Jeremy Lin's life turns into a surrealist mashup of Whiplash and Birdman: the story of an obsessive young player who is haunted, unremittingly, by his ambitions and by his role as a superhero in a former life."
The Overflowing Legacy of Steve Nash
Lee Jenkins | Sports Illustrated
"He recoils at the mention of legacy and chuckles at the suggestion that he changed the sport in any fundamental way. But if there has been a death, then there has also been an inheritance, one eternal dime passed down from the ultimate floor general to his many heirs."
NewsRadio Was the Best Sitcom of the 1990s
Todd VanDerWerff | Vox
"You're either a fan, or you haven't seen it."
Scared Senseless: The Indie Horror Boom and What Frightens Us Now
Mark Harris | Grantland
"We're left at an intriguing fork in the road: Horror that isn't interested in scaring you, or non-horror that is."
The Ad-Rock Retirement Plan
Zach Baron | GQ
"I ask what he's been doing these past couple of years. 'Eating pizza ... Just ... It's a good question.'"