Downton Abbey, Casualty of a Changing World
The aristo-soap, which won an immense following in the aftermath of the financial crisis, is ending before the appeal of its upstairs-downstairs dynamic wears off.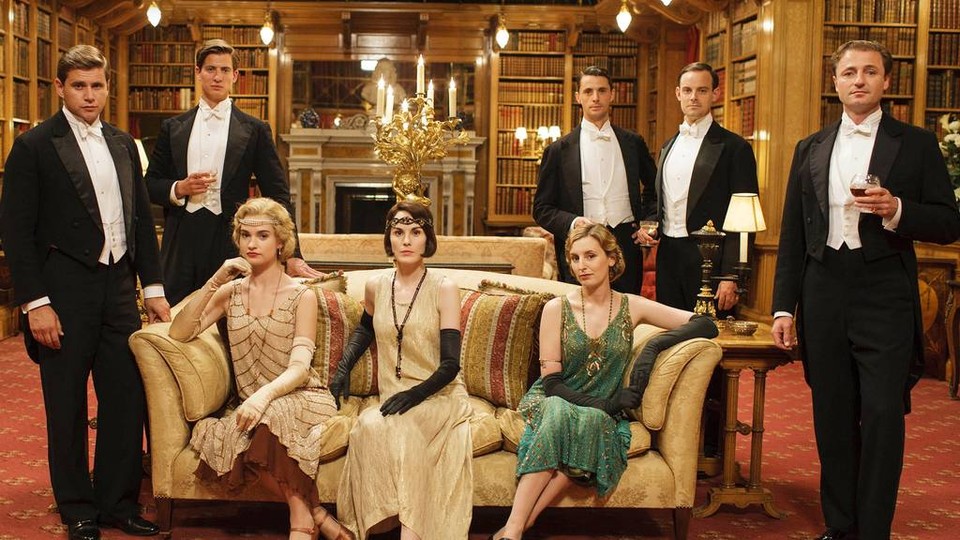 Downton Abbey has seen its fair share of impromptu exits. But last Thursday's news that the show would wrap after its sixth season wasn't entirely unexpected. Rumors that the ITV aristo-soap was coming to an end were picked up in January, when NBC Chairman Paul Greenblatt announced that the series' writer-creator Julian Fellowes had started work on his next project, The Gilded Age. But the death knell already sounded earlier this month, when Maggie Smith let slip to The Sunday Times that she figured next season was the last, given that her character is probably 110 years old by now.
It's time, and not just because one could hardly fathom Downton without the Dowager Countess. As the actor Hugh Bonneville recently noted, Downton Abbey was never designed with the intention of lasting beyond a few seasons—in fact, there was "no guarantee" it would continue after the first series. That it did—and what's more, that it became a global phenomenon—had a lot to do with what people wanted, and needed, to watch in 2011, when it first aired stateside. In 2015, the show isn't quite as relevant as it once was—and in typical British fashion, it's showing the good manners to say goodbye just before it's no longer wanted.
When Fellowes killed off the beloved heir to the estate, Matthew Crawley, in a shock twist in 2012's Christmas special, he explained to anguished fans, "By him dying, [his and Mary's] love can remain intact." At the time the writer-creator was merely resolving the matter of Dan Stevens's three-year contract, which had come to its end—but, whatever the circumstances, the early exit turned out to preserve not only fans' love for Matthew, but good feelings all around. Stevens began a promising career in independent film, and Fellowes didn't have to contrive unnecessary drama from a happy marriage, which fans could remember as being purely romantic.
The same principle behind Matthew's departure holds for the show as a whole, which entered the cultural zeitgeist at a time particularly susceptible to its charms—during the financial crisis. In January of that year, the unemployment rate was at 9 percent, a federal inquiry into the 2007-8 crisis concluded it had been "avoidable," and the Iraq War continued to drain national resources. That same month Downton premiered on Masterpiece Classic and inspired a U.S. cult and cosplay culture, with themed viewing parties, "Edwardiana" fashion, entertainment tourism at Highclere Castle, and lines of wine, homeware, tea, and jewelry.
Some critics, like The Financial Times' Joe Moran, have argued that the show's rigid class system appealed to viewers threatened by the day's economic instability. Others have said Downton's uncommon attention to the downstairs members of staff was increasingly relevant to the modern-day Americans in the midst of the Occupy movements and Obama's efforts to combat income inequality.
Whatever the particular reason, Downton took off with a time stamp dating the show to a moment of financial flux. It's a period piece in more ways than one, which may explain why the show has experienced a slow decline in quality and a waning sense of relevance ever since. The first two seasons didn't have this same problem: In the first, the grounded, progressive outsider Matthew provided the moral compass for the era's excess and social conservatism. In the second season, World War I, and the additional roles it afforded the show's women and servants, gave the series a fresh, progressive update. But by seasons three, four, and five, Fellowes's Tory politics began to show through as liberal characters made nice with the family's stick-in-the-mud conservatives, servant villains became ever-more cardboard-like, and the show's resident martyrs suffered fresh afflictions.
The most recent season, with plotlines including a kitchen maid teaching herself at night and the purchase of female contraception, in part acknowledged the show's recent failings. But in spite of all these subplots, the major ones involved the preservation of the old-world lifestyle—Mary's marriage prospects, Cora's return to appreciating her husband, Violet and Isobel's peace-making with their perpetual widowhood. It underscored the reality that actual change was never Downton's strong suit—just its favorite talking point.
But perhaps it's too much to ask for an up-to-date Downton Abbey—its golden-hued view of the aristocracy has always been an inextricable part of its charm. "We want constant novelty, but we also want everything to stay the same," Fellowes told The New York Times Magazine in 2011. "If we get it right the show runs. If not, it doesn't." For five seasons now, Fellowes has admirably toed the line between keeping things at once fresh and the same. He's had slipups, but overall he's pulled off a complex balancing act: Downton was a soap filled with stock heroes and villains. It also gave viewers excellent guest stars (Shirley McLaine, Paul Giamatti, Matthew Goode) and veritable shocks—Pamuk's and Lady Sybil's deaths, Anna's rape, Thomas's inner soft side. For better or worse, this excitement made Downton Abbey, sandwiched between the broadcasting and streaming era as it was, that old-fashioned animal—the conversation-starter.
The sixth season also may not mark the true end for the Downton saga (a movie and spin-off series have been mentioned by executive producers) but it seems fitting that the show's wrapping up in 1925. The year, which the producer Gareth Neame has called an appropriate end for the Edwardian aristocracy, was characterized by both sweeping change and lingering old-world romance. It was the year that saw the first copy of The New Yorker (paging Edith?) and television transmitter (now imagine what Carson would say to that.) Mein Kampf was published, fitting for the show's references to brewing fascist movements; so was The Great Gastby, underappreciated at the time, but perhaps perfect fodder for Daisy Mason's personal studies. None of the show's trademark glamour appears to be in danger of disappearing, yet there's enough fresh historical intrigue to fuel one final go-around of itinerary-ruled breakfasts and dinner parties.
The Crawley family always knew how to leave a dinner party with their tablemates wanting more. The show has perhaps outstayed its welcome by a tad, but as the fifth season's Doctor Zhivago-inspired plotline proved, it still knows how to play its ace. Here's to hoping the series finishes with a final one-liner from Maggie Smith, who, at 110, is still the candidate best qualified to make Downton's exit memorable.