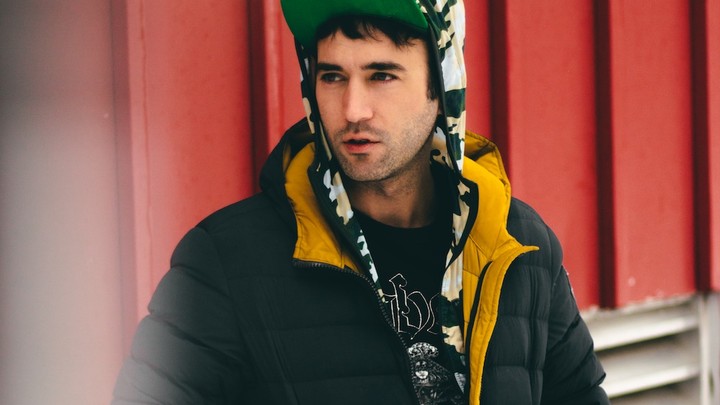 You have to be careful, listening to Sufjan Stevens's new album. One minute, the finger-picked guitars and lullaby vocals blend pleasingly into the background. The next, you might catch a line of lyrics and realize he's singing about his mom's corpse. Or about heroin. Or about slitting his wrists, "cross hatch / warm bath / Holiday Inn after dark."
It's probably by design that the horrors of Carrie & Lowell (streaming in preview now, officially out on March 31st) sneak up on the listener. In the wake of the 2012 death of Stevens's mother, the songwriter found that grieving was less a multi-stage process than a chronic condition that flares up without warning. "I would have a period of rigorous, emotionless work, and then I would be struck by deep sadness triggered by something really mundane, like a dead pigeon on the subway track," he told Pitchfork earlier this year. "Or my niece would point out polka-dotted tights at the playground, and I would suffer some kind of cosmic anguish in public. It's weird."
Carrie & Lowell is about that phenomenon and the woman who caused it. The Carrie and Lowell of the title are the singer's mother and stepfather; Carrie abandoned her family when Stevens was very young, suffered from mental illness and substance abuse, and over the years appeared only sporadically in her children's lives. Her death devastated Stevens to an extent that he has said surprised him, given how little he knew of her: "I was trying to gather as much as I could of her, in my mind, my memory, my recollections, but I have nothing. It felt unsolvable."
Solving, nevertheless, is what Carrie & Lowell tries to do. But how to to mourn the absence of an absence? "I don't know where to begin," Stevens sings over and over on the opener, "Death With Dignity"; on the next song, he struggles at "explaining what I feel, that empty feeling." One front of attack amounts to abstract association poems: references to Oregon landmarks where he spent small amounts of time with his mother; bird names; allusions to the Bible, full as it is of people trying to express love for a force they can't fully comprehend.
When Stevens does get concrete, though, it's with sickening power. "Fourth of July," a deathbed conversation with Carrie over piano, is almost too tender to think about, crescendoing gently with a round of "we're all going to die." The next song, "The Only Thing," hits even harder. He sings of seeing signs of his grief everywhere—"should I tear my eyes out?"—and acknowledges that all that keeps him from suicide is faith-filled wonder at the natural world: sea-lion caves, the moon, a water stain at the wall that evokes an Old Testament story.
The self-destructive feelings described in that song manifested in Stevens's real life, he told Pitchfork, with him "abusing drugs and alcohol and fucking around a lot." Accordingly, "All of Me Wants All of You" and "Beloved, My John" intermix scenes of empty sex with mentions of maternal longing in a way that some will find creepy. Stevens isn't being Oedipal, though, just coping with the unbearable loss of unconditional love. "No Shade in the Shadow of the Cross" rides an ebbing and flowing guitar pattern as he approaches rock bottom—it's the penultimate track, and the last verse begins "fuck me, I'm falling apart."
If any of this sounds mawkish, it's not. Though the music's drum-free and mostly acoustic, you couldn't call it morose or samey; the most important unifying attribute is restraint. Stevens's voice only ever leaves "gentle whisper" mode to punctuate verses with a spooky, falsetto whine, and the arrangements develop subtly, adding in a single line of organ or guitar for variation where once there would have been a brass band or tabernacle choir. Indeed, the grandeur and camp that helped make him famous with Come On, Feel the Illinoise would feel obscene here; these songs don't even attempt the acoustic majesty of Seven Swans, his gorgeous 2004 meditation on Christ and the apocalypse. "This is not my art project; this is my life," Stevens has said, correctly.
Accordingly, it's his most challenging vocal album yet. It's almost the companion piece to Bjork's Vulnicura from earlier this year, only focused on death rather than heartbreak and rendered in folk rather than electronica. Listen to either record alone, concentrating on the lyrics, and you might cry; put them on any other time, and there's a danger they could pass by unnoticed. That's okay. Certain albums are there for times when you need them, which, with luck, will be rare.
We want to hear what you think about this article. Submit a letter to the editor or write to letters@theatlantic.com.
Spencer Kornhaber
is a staff writer at
The Atlantic,
where he covers pop culture and music.