Walking Away From Football at 24
Players have responded to the surprising retirement of 49ers linebacker Chris Borland with supportiveness and concern about their own health.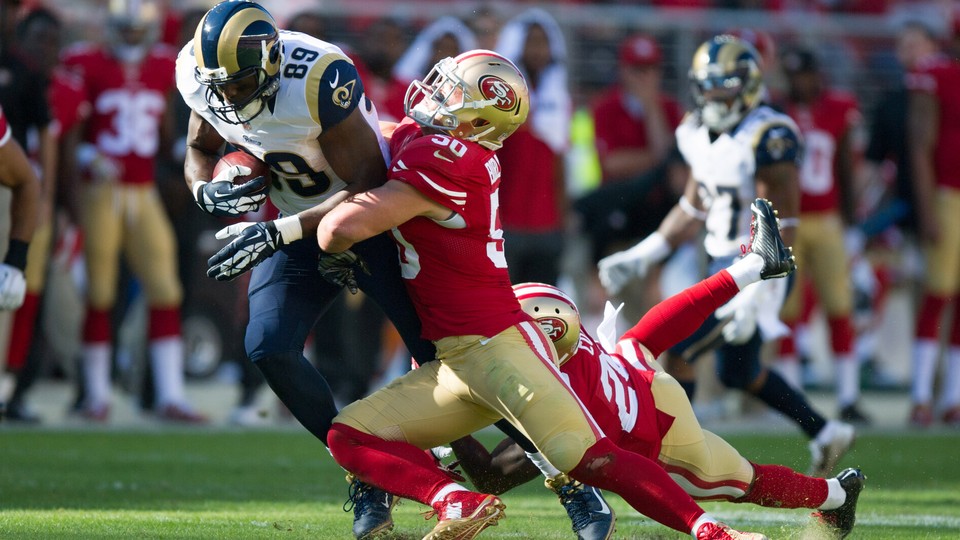 The most surprising thing about Chris Borland's retirement from professional football isn't that he's leaving. It's how quickly fans and fellow players seem to have accepted Borland's decision—a sign of how swiftly the consensus has shifted on head injuries in football, and a worrying sign for the NFL.
Borland told ESPN Monday that rather than suit up for a sophomore season, he's stepping away from the game. The San Francisco 49ers linebacker, a Wisconsin graduate and third-round draft pick in 2014, had a strong rookie season, racking up stats in an injury-shortened season and earning a vote for defensive player of the year. And with the Niners losing the All-Pro Patrick Willis to retirement, Borland was a big part of the team's 2015-2016 plans.
"I just honestly want to do what's best for my health. From what I've researched and what I've experienced, I don't think it's worth the risk," he told ESPN. "I feel largely the same, as sharp as I've ever been. For me, it's wanting to be proactive. I'm concerned that if you wait 'til you have symptoms, it's too late."
That makes him, in ESPN's words, "the most prominent NFL player to leave the game in his prime because of concerns about brain injuries." But he isn't the only one to do so. While there hasn't been a mad rush for the exits, more and more pro players seem rattled by the suicides of former stars like Junior Seau, Dave Duerson, and Ray Easterling. In 2012, the Kansas City Chiefs linebacker Jovan Belcher killed his girlfriend, then drove to a Chiefs facility and killed himself. Tests determined that all four had evidence of CTE, chronic traumatic encephalopathy, a degenerative brain disease found in people with repeated head trauma and concussion—like, for example, linemen. Duerson committed suicide by shooting himself in the chest so his brain could be analyzed for damage.
Borland says he's only had two diagnosed concussions, but doesn't want to take any chances. He'll pass up a $540,000 paycheck this season, on top of future earnings. His full, four-year contract was worth almost $3 million.
"I just thought to myself, 'What am I doing? Is this how I'm going to live my adult life, banging my head, especially with what I've learned and know about the dangers?'" he told ESPN.
In what might be a sign of the powerful pull professional sports still exerts, even in a chastened age, Borland says he wants to return to school and potentially study sports management. (One thing that may make it easier for Borland to step aside and surrender those future earnings is the fact that he attended one of the nation's best public universities and graduated with a bachelor's degree in history. Not all players have that to fall back on.)
Borland's team seemed taken aback, but generally supportive. In a statement, the 49ers general manager Trent Baalke said:
More interesting is how current and former NFL players responded to the announcement. Generally, they seem to be understanding, if shocked. The Broncos wide receiver Brandon Marshall took heat for this tweet:
But many reactions are more like this one from the Rams defensive end Chris Long:
(Later, Long tweeted that the small number of people reacting negatively "need to be reminded that they don't own pro athletes.")
Here's retired star Donté Stallworth:
The Colts long snapper Matt Overton:
The 49ers linebacker Chase Thomas:
The Eagles nose tackle Beau Allen, a teammate of Borland's at Wisconsin:
A free agent tight end, Tom Crabtree, struck a somber note:
Slower to respond was the NFL, which has been pilloried for failing to respond aggressively enough to CTE and issues of brain trauma.
"We respect Chris Borland's decision and wish him all the best," the league's senior vice president for health and safety said in a statement late Tuesday morning. "Playing any sport is a personal decision. By any measure, football has never been safer and we continue to make progress with rule changes, safer tackling techniques at all levels of football, and better equipment, protocols and medical care for players."
It's a slippery statement—playing any sports is a personal choice, yes, but baseball and basketball don't leave players with repeated head traumas. And while the NFL has taken some steps, the relevant questions are whether they're enough, and whether the game can ever be made reasonably safe, given the size and strength of today's players. Those questions remain unanswered, but the NFL will have plenty of chances to hone its response and massage the language—Borland probably isn't the last player of his caliber and profile to decide the game's just not worth it.