Ladies and Gentlemen, Trevor Noah
With the South African comedian replacing Jon Stewart, The Daily Show gets younger, more diverse, and more global.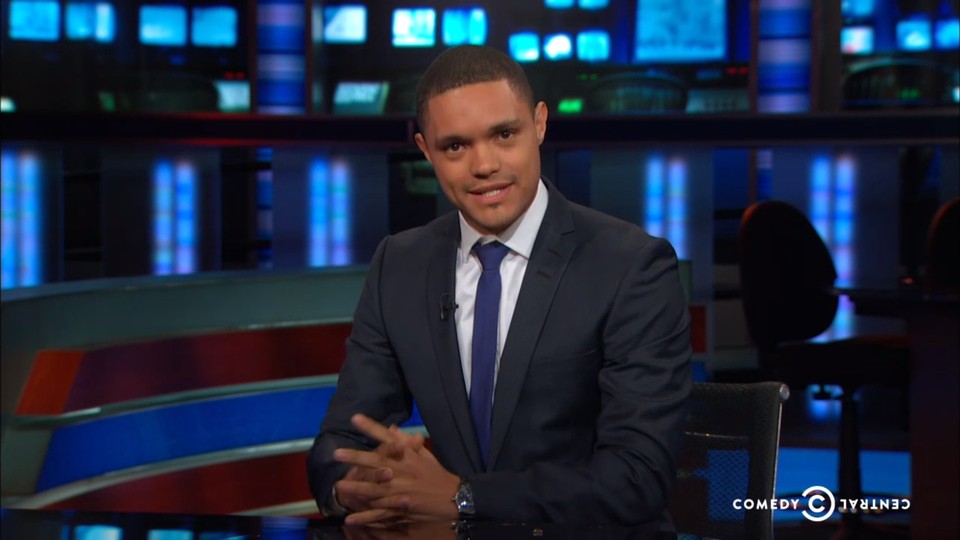 Trevor Noah's ascent on The Daily Show has been steep—hired on as senior international correspondent four months ago, he'll take over the anchor's desk from Jon Stewart after just three appearances on the show, Comedy Central announced Monday.
Noah, who is 31, brings an unusual background to the job: He's from South Africa, the son of a black woman and a white man, speaks six languages, and may be better known overseas than he is in the United States. (To give The New York Times a comment about his appointment, he had to call from a tour stop in Dubai, where he relayed his reaction: "You need a stiff drink, and then unfortunately you're in a place where you can't really get alcohol.")
He takes over from Stewart, who's concluding a 16-year tenure, after a series of more seasoned Daily Show hands left the running: Stephen Colbert to David Letterman's Late Show chair, Larry Wilmore to Colbert's slot, Jason Jones and Samantha Bee to TBS. Despite a social-media push for Jessica Williams, she said she wasn't ready for the gig. (Comedy Central hasn't set a start day for Noah yet.)
In morphing from an 11 o'clock hour helmed by Stewart and Colbert to a block of Noah and Wilmore, Comedy Central is conducting a remarkable and perhaps unprecedented transformation. Stewart and Colbert represented (albeit self-deprecatingly) two classic manifestations of white American masculinity—the Jewish wiseacre and the Christian blowhard. With Noah and Wilmore, the hour remains male, but becomes (a bit) younger, less white, and more global in outlook. Even if that's not an intentional shift—"We talked to women. We talked to men. We found in Trevor the best person for the job," Comedy Central President Michele Ganeless said—the effect is to set up a bold, even subversive experiment, extending the progressive politics espoused by the show into personnel decisions.
Noah's comedy often takes as themes both his racial and international identities. As he told NPR earlier this year, his very existence was a crime. "I was born in South Africa during apartheid, a system of laws that made it illegal for people to mix in South Africa," Noah said. "And this was obviously awkward because I grew up in a mixed family. My mother's a black woman, South African Xhosa woman ... and my father's Swiss, from Switzerland."
The Times reports that Noah gave no formal auditions other than his three segments. That's a little surprising. On The Daily Show, he's played the part of somewhat supercilious cosmopolitan, alternately chiding, lecturing, and mocking Stewart, who takes up the role of all-American rube. While the bits have laugh lines, they're not screamingly funny. At best, they force readers to confront uncomfortable realities about how the U.S. views Africa as a menacing monolith; at worst, they feel pedantic and stiff.
Noah's standup feels looser and, frankly, funnier. In this clip from the Apollo in London, Noah recounts his difficult childhood, with parents who had to remain apart and act wary around police. He also talks about being mistaken for Latino when in the United States, and about his ill-considered bid to learn German to impress his Swiss father. (It turns out that listening to Hitler speeches and adopting their diction produces uncomfortable reactions among present-day Germans.)
As the clip shows, Noah is an excellent mimic—a skill that sets him notably apart from Stewart. That's likely one of many changes to expect from the new Daily Show. The mixed results in Noah's segments suggest that he's very funny but perhaps not ideally suited to the current format. Revisiting news articles on Stewart's takeover from Craig Kilborn, one gets a similar sense: Stewart's show was eagerly anticipated, but no one knew what quite to make of the switch from the tall, bro-y, sometimes mean-spirited Kilborn to the short, nebbishy, affable Stewart.
But Noah's appointment fits with a franchise that has tended ever more serious under Stewart's direction. Stewart took time off from the show to direct Rosewater, a drama about the imprisonment in Iran of Newsweek reporter Maziar Bahari. As my colleague David Sims notes, Larry Wilmore's Nightly Show has made a point of attacking weighty topics with a light but erudite touch. And John Oliver's Last Week Tonight has quickly moved from an echo of Stewart's Daily Show into a fairly aggressive news operation, light on gags (though not laughs) and heavy on longer-form journalism. Oliver has even begun hiring journalists and focusing on original investigative work.
Opting for a more global look may be risky—after all, the point of Noah's segments so far has been that Americans neither understand nor care about the world beyond their borders. But Noah's ability to make connections between domestic and foreign phenomena should suit him well, and there was evidence that Stewart's shtick was reaching its limits. Built for skewering the follies of the Bush administration and the media, he outlasted Dubya and helped change the media, and he seemed mostly baffled and sad before more recent bleak news around the globe. Trevor Noah may be just the man to lead The Daily Show into international waters.