Independence Day Gets the Sequel It Doesn't Need
The revival of Roland Emmerich's 1996 epic will attempt to hand off the story to newcomers—a growing Hollywood trend that doesn't always bode well.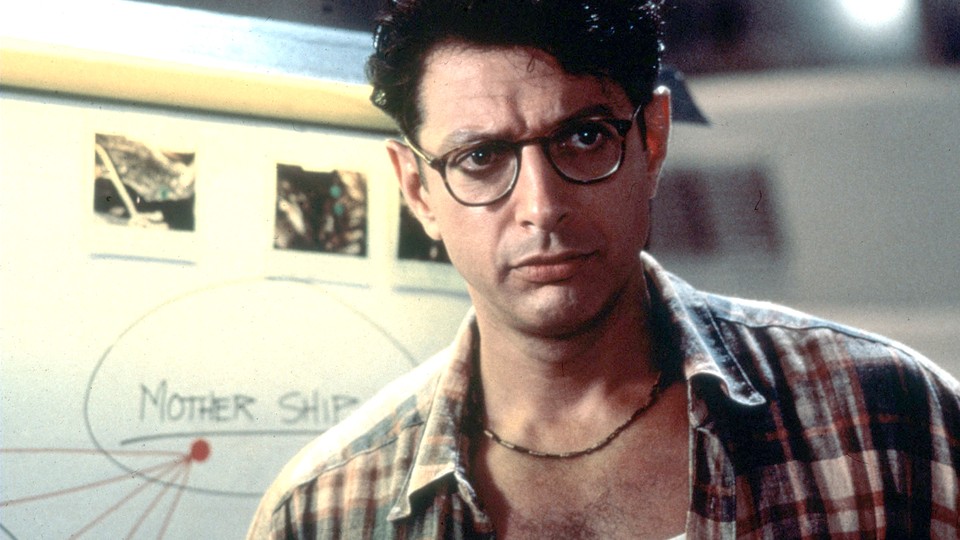 Regarding the sequel to the sci-fi action epic Independence Day, which is currently in development, two things should be clear. The first is that no sequel to Roland Emmerich's 1996 film has ever been required: It's such a straightforward piece of storytelling, with aliens arriving, invading, and being defeated by humanity, that there's no real thread to pick up 20 years later. The second is that the news of Jeff Goldblum reprising his role as the jittery computer expert David Levinson is exciting enough to justify the whole foolish affair.
With the confirmation of Goldblum's involvement, tweeted out by Emmerich, Independence Day 2 became the latest in a popular trend of sequels—a pass-the-torch reboot that prepares audiences for an unending franchise. Starring alongside Goldblum are two far-younger actors: Liam Hemsworth, whose biggest role to date has been the stoic Gale of The Hunger Games series, and Jessie Usher, the lead of the excellent but underappreciated Starz series Survivor's Remorse. Goldblum will be there as a nod to the original film, but with such a long time between projects, is there really any other reason to be excited for another Independence Day?
It's clear marquee star Will Smith isn't returning—Emmerich dubbed him "too expensive" in an interview two years ago—and Usher will apparently play his character's son, now all grown up and ready to take on alien invaders from a fighter jet. The original film was a meat-headed blockbuster to be sure, sold to audiences on its explosive visual effects (its Super Bowl commercial remains the stuff of advertising legend). But it's the weird, whimsical touches that have helped it endure—you could re-create its visual effects in a video game these days, but there's something ineffable about Goldblum kvetching over his PowerBook with Judd Hirsch, Will Smith punching an alien with a hearty "Welcome to Earth!", and Emmerich's exaggerated, flag-waving American patriotism.
Independence Day 2 could be the calculated franchise reboot that proves everyone wrong, but Liam Hemsworth is hardly the most promising prospect when it comes to capturing that magic again. It's hard to know when, or if, Hollywood will ever reach peak sequel, but it is certainly testing audiences' limits as it looks to play to a more global market. With the whole world in mind, any established brand is worth reviving or continuing—even relative failures like Pacific Rim, which barely earned $100 million in the United States (against a $190 million budget), are getting sequels green-lit because they're safer bets for international audiences.
That's why the Pirates of the Caribbean movies won't go away, why Sony is letting Marvel reboot Spider-Man for the third time in 15 years, and why Chris Pratt is now the star of Steven Spielberg's two most beloved franchises: Jurassic Park and, if reports are true, Indiana Jones—which already tried this trick once in 2008's Kingdom of the Crystal Skull with Shia LaBeouf appearing alongside Harrison Ford as his son. Needless to say, Spielberg would probably rather you forgot about that—but even he isn't immune to the reboot bug.
The most assured version of the "nostalgic reboot" arrives in December: J.J. Abrams' Star Wars: The Force Awakens, which will feature the series' original stars alongside a cast of newcomers who will, in theory, eventually carry the franchise along themselves. Mark Hamill, Harrison Ford, and Carrie Fisher might be getting old, but the least they can do is give the new films an on-screen nod of approval.
Countless lesser franchises are being mulled to follow the same model: The creaky Arnold Schwarzenegger will take up the role of Conan the Barbarian, for example, in a sequel called Legend of Conan; he's already done the same for the Terminator series, with 2015 bringing the depressingly titled Genysis, which promises a new timeline to toy around with. Sylvester Stallone will play Rocky Balboa for, he promises, one last time in the upcoming Creed, where he will anoint Michael B. Jordan as his spiritual successor. Remember Angelina Jolie's work as Lara Croft in the Tomb Raider films? Well, Sony is casting around for a younger model as the reboot hits the production fast track.
On and on it goes. It's enough to make one appreciate the unending slew of Marvel movies, which make the effort to maintain continuity and flow into upcoming installments with real forethought. Still, it's hard to ever definitively declare that the sky is falling in Hollywood, no matter how dreadful the summer-release slate might look. Independence Day 2 won't shock the world by blowing up the White House, nor is it likely to introduce viewers to the decade's newest superstar. But at least it'll have Jeff Goldblum in it.