How Kroll Show Elevated the Sketch Comedy Genre
The series' creators initially had no idea it would become such a unique experiment in form.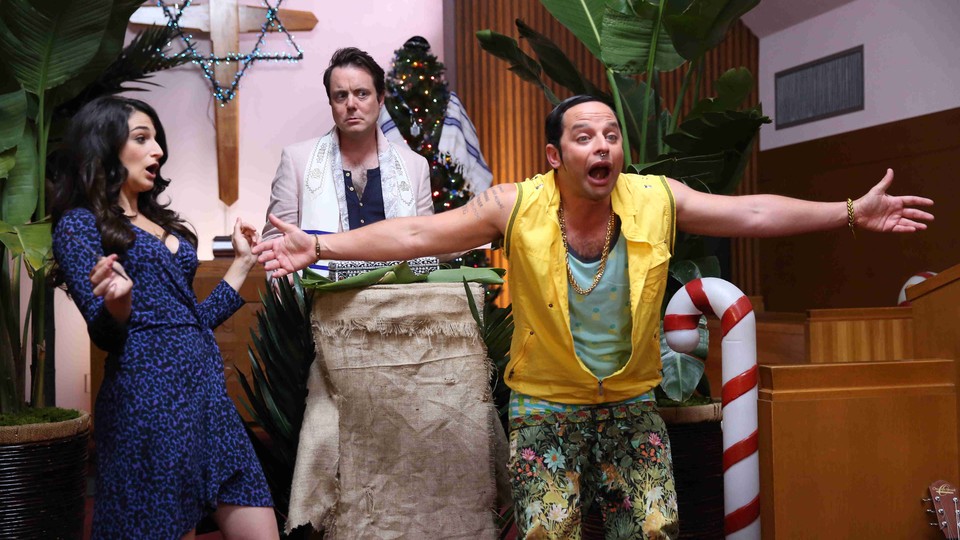 The penultimate episode of Comedy Central's Kroll Show achieved the rarest of things in sketch comedy: genuine pathos. It concluded a three-year storyline essaying the trials and tribulations of one of its recurring characters, the impassive animal plastic surgeon Dr. Armond, who had been on the run for more than a year trying to solve his wife's murder. As he finally cracked the case, the supremely disaffected Armond realized the entire ordeal had been staged by his wealthy friends as an elaborate prank (shades of David Fincher's The Game), As he was reunited with his wife, he collapsed to the ground while suffering from a heart attack.
It's hard to convey the hilarity of the scene to someone who hasn't watched every episode of Kroll Show, and it's even harder to explain its emotional weight. The gag with Armond was his expressionless, Botoxed reaction to every wrenching development in his dramatic life; the ultimate revelation that it was all a sham was finally enough to provoke a real emotional response, but since his body had no way to outwardly express that, he died. The third and final season of Kroll Show wrapped its run Tuesday with similarly complex crescendos for its other recurring characters, concluding what had become a unique experiment in blending sketch comedy and serialized narratives.
Sketch comedy on TV always has a rigidity to its presentation, no matter how anarchic the performers. Variety shows like Saturday Night Live tap into the inherent theatricality of their presentation, generating energy from the risky nature of live television. The only narrative at all is the appearance of recurring characters and bits, but even that thrives on maintaining the status quo—Debbie Downer is always going to behave in the same way, and anytime she doesn't, that's just part of the joke.
Pre-taped sketch shows can have more of an internal universe: The greatest of them all, from Monty Python's Flying Circus to Mr. Show to The Kids in the Hall, tell disconnected stories that nonetheless flow into each other, even though no larger arc is being explored. Kroll Show had the same aim, and didn't initially seek to introduce a larger narrative. Instead, it was centered around comedian Nick Kroll, much as Key & Peele uses Keegan Michael Key and Jordan Peele as its organizing principle, or Chappelle's Show did with Dave Chappelle. There's no close analogue to what Kroll Show became—the closest is probably Portlandia, which is quietly telling the story of a whole city, though it doesn't have Kroll's breakneck twists.
The genesis of the series, which launched in 2013, was in the stand-up special Thank You Very Cool, which Kroll made for Comedy Central two years earlier. Rather than just showcase 45 minutes of jokes on stage, the special integrated Kroll's various characters, including brash Jersey Shore knock-off Bobby Bottleservice and the tuna-obsessed octogenarian New Yorkers Gil Faizon and George St. Geegland (played by Kroll and John Mulaney), who greet the camera with a mournful "Oh … Hello." The distinctive approach to a staid format highlighted Kroll's skills as an actor and improviser, and more importantly showed off the myriad characters he had developed on alt-comedy stages and podcasts over the years. When Kroll, his fellow comic Jon Daly, and the director Jonathan Krisel (who worked on Portlandia) pitched Comedy Central on a pilot called Rich Dicks, that concept was eventually folded into Thank You Very Cool to become Kroll Show.
"We knew we were going to do recurring characters, that Rich Dicks and Bobby Bottleservice and the 'Oh Hello' characters would come back, that we'd have all these 'mini-shows,' but it was not initially planned to have it so interwoven," Kroll told me in an interview. The Kroll Show pilot included all of those characters, along with PubLizIty, a broad spoof of reality TV starring two airheaded publicists named Liz (played by Kroll and Jenny Slate). The first season mostly saw every character stick to their own "show-within-a-show," with each sketch having its own visual tics and sound effects, but it was PubLizIty that proved to be fertile ground for more of a serialized narrative, quickly spinning off the girls' first client—Armond—into his own sketch.
"I was always interested in how these reality shows keep spinning off," Kroll said. "I knew from the beginning, I think we all knew, that we wanted to lean into that." The joke quickly became that each "show" was volatile enough to spin off a new character, from the excessively dry Armond to his amoral son Roman to Roman's hyperactive "toilet baby" friend C-Czar. Most of the show's characters were played by Kroll, with Slate, Daly, Mulaney, and others recurring in supporting roles throughout.
The focus on spoofing reality TV and having the various sketches begin to cross over was encouraged by head writer John Levenstein, who was a veteran of scripted half-hour television brought on board by Kroll. The two had worked together on HBO's animated sitcom The Life and Times of Tim, but Levenstein's biggest credit was his years on Fox's Arrested Development, particularly its first season, where he helped run the writer's room. Given that show's manic devotion to complicated plot arcs that lasted a season or more, a sketch show was an odd choice for Levenstein. So, during the first season, he began to explore the limits of the form.
"I started pushing more for expanded sketches, the three-parters, and because Nick is such a good actor, in those three-parters I started to give them very emotional elements," Levenstein told me. "In season one, they tended to be within an episode. Armond did begin to travel, from episode to episode, he probably was the first one we started to follow in an ongoing story that evolved. But in season one, the focus was more on stories within episodes, and season two is where we started to stretch more."
A crossover between C-Czar and PubLizIty called "Ice Dating" helped break the traditional sketch mold in the first season, and the experimentation continued from there. "Even though they sort of came out of the same world, they were completely disconnected," Kroll said. "That was the first experiment, and I think we really liked what that meant." The second season of Kroll Show is where it really hits its stride, and sees C-Czar and Liz wrestling with an unplanned pregnancy, Armond on trial for murder, Bobby roped into life as a gigolo, and a deep dive behind the scenes of Degrassi parody Wheels, Ontario, set at a Canadian school where almost every character is in a wheelchair.
"In season two, I had some big linchpins that I wanted to do," Levenstein said. He quickly appreciated the manic intensity of the sketch format, which let him make narrative jumps that wouldn't be allowed in a traditional sitcom. "What can make me crazy in traditional television is all the story points that get fed to the audience that the audience doesn't really have to know. We don't have any of the downside of having to lay pipe for sheer exposition," he said. "We have the freedom to do storytelling without responsibility. As long as the puzzle you're putting together makes some sort of intuitive sense. It doesn't have to make logical sense, cause no one was asking us to do that in the first place."
Kroll, Levenstein, and the writer's room would help break the big narrative arcs and map out the jokes for every sketch, and the actors would improvise more material on set that was then refined and presented for usable takes. Krisel and the editors Bill Benz and Dan Longino (who became the show's directors in season three) would take great care in every sound effect and cut in post-production, since so much of Kroll Show's success stems from its uncanny visual resemblance to the shows it's spoofing.
"Bill and Dan really genuinely love television and their attention to detail across the board is so specific, the stings, the sound effects, the kind of graphics they would use," Kroll said. "And then John Levenstein, having watched a lot of reality TV, was just a master of story and was able to create these arcs and storylines that felt authentic to whatever format we were doing." The show wasn't initially conceived as a reality spoof, and still treads into other genres from time to time, but Levenstein and Krisel prevailed in convincing Kroll of the format's usefulness.
"I don't have a huge tolerance for it," Kroll admits. "But it just happens to be—and I think it's why reality shows are popular—cheaper to make and very effective storytelling. You can present a lot of character stuff … people on reality shows are sometimes not the most emotionally nuanced people. So they are able to go from zero to 60 very fast, which is great when you are trying to make a piece of content that is 3 minutes that would normally take 22."
By the time the third season rolled around, neither Kroll nor Levenstein figured it would be the show's last, but halfway through production, they concluded it might be time to hang it up. "I was pretty worn down," said Kroll, who went right from shooting his show to making The League, another heavily improvised comedy. "John and I spoke a couple months after wrapping, and he said he had covered what he wanted to do, and I felt similarly."
"I got a feeling more and more that I didn't have anything more to do on the show," Levenstein said. "Season three was a great experience, but I'd never done three years in a row on the same show. I only did it with Kroll Show because it was such a fun job. On season four, I would have felt I was a fraud … I don't like anything once it becomes formula. It's so easy for that to happen with sketch."
The decision to end the series so soon was only a surprising one from the perspective of the American TV industry, where shows are usually only canceled due to low ratings or retired once they become too expensive to produce. The limited run of Kroll Show echoes the British model that often sees comedies get out when the going gets good—but its knotty storytelling and manic presentation allowed the writers to pursue some particularly outlandish conclusions. Bobby travelled inside his own body to "bounce" the ghost of his former lover Farley (played by Chelsea Peretti). PubLizIty wrestled with closure and financial ruin. And Armond, after dying, ascended in a heavenly form and started a new dating show.
But the end isn't necessarily the end: Kroll promises many of his characters will live on past the series finale, just in a less tiring format. "It required so much of my brain," he said. "This is not bragging, but we were making ostensibly ten different shows." Without the stress of production, he can "continue what we were doing … creating a bunch of different worlds, and doing that in different spaces," he said. "I'm starting to throw a bunch of stuff up against the wall to see what sticks." Given Kroll Show's serendipitous creative process, that may be the start of something good.