Downton Abbey Ends With Good Cheer
The fifth season finale successfully warmed hearts, despite another Bates tragedy, a very nasty butler, and some inedible broth.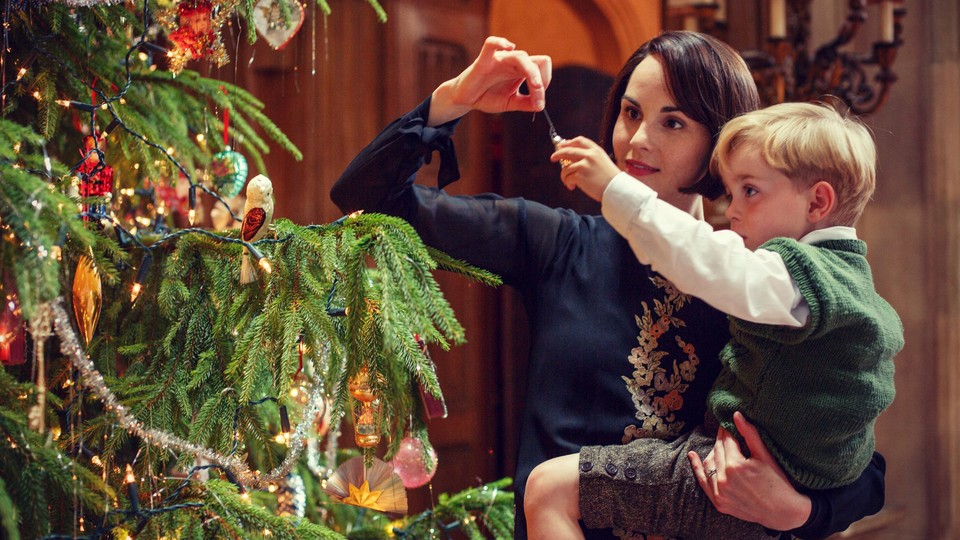 Every week for the fifth season of PBS's period drama Downton Abbey, Sophie Gilbert, Katie Kilkenny, and Joe Reid will discuss the intrigues, upstairs and downstairs, of public television's favorite Yorkshire manor.
---
Kilkenny: Gone were weighty mentions of the godforsaken war memorial and land prices: The season five finale of Downton Abbey was split into two parts, the first a self-contained hunting party at Brancaster Castle in Northumberland, the second a heartfelt Christmas special back in Yorkshire with a final send-off for Tom. With all this talk of guns and angina, I began the episode expecting a mysterious death à la Gosford Park, but in keeping with the seasonal cheer, Fellowes kept the majority of the unexpected conflicts light—the worst of it being Denker battling with the pot to make Violet's restorative broth and the Crawley family battling the imperious butler Stowell to give Tom some sugar and a dinner roll, for heaven's sake.
But the intrigues weren't all culinary in nature. The Sinderbys' hunting party introduced several new love interests who will no doubt return next season—the cheery land agent Mr. Pelham, who faces stiff competition in Marigold for Edith's affections, and aristocrat Henry Talbot. I'm torn about the casting of Matthew Goode in this role: On one hand, yay! With Goode you never know what kind of dashing heartthrob you're going to get—the cookie-cutter romantic lead (Leap Year), the snotty English boor (Match Point), or the serial-killing kind (Stoker)?—and his smoldering eyes already promise a major improvement on Gillingham. And yet—who hired this man's agent? Being Mary's Love Interest is a full-time job, and not usually a very complex one. But who knows? His conversation with Mary heavily foreshadowed an internal struggle with PTSD—Dan Stevens didn't get to play that to its darkest extreme until The Guest.
Speaking of shady types, I'm not such a fan of the familiar dirt dug up on Lord Sinderby this episode (haven't we had enough of love children already?)—but I am pleased with the heroic villainery it brought out in Thomas. We've rarely seen him scheming for the good of the Crawley kind, but his letter trick was a nice subplot realizing my wildest dreams—an upstairs-downstairs alliance with Mary, who is his only equal at Downton when it comes to severe iciness and cunning worthy of a Slytherin. With Thomas embracing his helpful side, it's time to award Spratt the mantle of Most Villainous Servant, no offense to Stowell. His lines this episode in what cleverer critics have termed Brothgate, were deeply chilling—"the proof in the pudding is in the eating, my lady."
Weighing down the otherwise frothy finale, though, were the Bateses. Is there any end to the misery for this pair? Mary nicely jeopardized her good name to visit Anna, but her kindness cost Mr. Bates a visit. There's only one man who could indict Anna—but she has a history of violence. The story of Anna's sexually abusive childhood was a heartwrenching testament to Joanne Froggatt's acting ability in the moment, but what will be done with it afterwards worries me. When Anna was savagely raped by Mr. Green last season, some critics felt it focused too much on the men involved. That was also the case this episode: As is often the case when Bates goes beserk, the family made a big deal about finding him and he unknowingly prevailed himself upon Molesley and Mrs. Baxter, who I hope had at least a few pints at the upwards-of-70 pubs they visited until they found the one with the barkeep who remembered Bates's limp and his righteousness.
Meanwhile, Anna got a few sad mentions during the shooting party, a welcome return home to Downton via the back door, and a return to status quo as the worried wife. As she so succinctly put it this episode, Bates' pigheadedness means that if he's guilty, she is innocent, and if she's guilty, he's innocent: "Except none of us did it." Well, isn't that the story of the Bates family. Yet Bates still gets to see out the episode's grand romantic gesture, swooping in and scooping Anna up from the Christmas party, where she was probably quite enjoying Mary's rendition of "Silent Night."
But I don't mean to be a downer, because the Christmas episode was filled with so much good cheer. Sophie, did you forgive Lord Grantham as I did when he accepted Marigold as his granddaughter? (Or were you just happy the noted misogynist uttered the word "angina"?) And how beautiful was Carson's final proposal to Mrs. Hughes?
---
Gilbert: Katie, you're an emotional sap. I am, too, because I may have wept a little when Mrs. Hughes said, "Of course I'll marry you, you old booby," which will now go down in history as the greatest way to ever accept a proposal. And Carson's face! He looked so vulnerable. Maybe it wouldn't have been so affecting if Edith and Mary hadn't held hands while wishing Sybil a Merry Christmas, or if Mrs. Hughes hadn't revealed such a sad backstory by admitting she had no money saved after taking care of her sister for so long. But it was such a touching and momentous end to the season, it almost made you forget the rest of it had been filled with such nonsense. (Evil sons! Lecherous art historians! 874 interminable dinners with Miss Bunting!).
Being a great and devoted fan of wine, it was lovely to see Mr. Carson and Mrs. Hughes' romance sealed by all the Chateau Margaux they shared this episode. Presumably, with Lord Grantham off the sauce thanks to his ulcer and (amazingly) no dinner parties at Downton, there were a few extra bottles clogging up the cellar that Thomas hadn't managed to get his mitts on (remember when Thomas was a wine thief?). But their long-shipped union was also a reminder that this season focused more on the love lives of its more seasoned characters than it did on the younger ones, Mary's boring parade of beaus aside. "Proposals and propositions—not what one expects at our age," as Isobel put it. Now that Lord Merton's been summarily rejected thanks to his gruesome sons, and Violet's dispatched Prince Kuragin into the steely hands of his wife, it's hard to sense what might be next for these two, plot-wise, especially with Miss Baxter and Mr. Molesley apparently stepping into the fray and launching Yorkshire's Number One Detective Agency. "I will never again receive an immoral proposition from a man," said Violet, sadly. "Was I so wrong to savor it?"
In an episode so filled with romance and the prospect of it, it was almost fitting that an act of infidelity brought Rose and Lord Sinderby together. God bless Rose, as savvy as a fox and just as quick to leap across a room when suddenly in the presence of a dog. "Tell me her name and I'll save you," she hissed to her father-in-law, before dashing over to Diana Clark and pretending that Lord Sinderby's presumed mistress was one of her dearest friends. Mary's fake grin while trying to get Lord Grantham in the loop was a sight to behold, as was Lord Sinderby's penitent expression when he thanked them all for acting so speedily to cover his back. "Rose, my dear," he said, "you are clever, kind, and resourceful, and I wish to put it on record that I see now we are lucky to have you in the family." How touching, and how gracious of him to finally overlook Shrimpy and Susan's divorce now that his own indiscretion appears to be common knowledge.
With all the drinking (especially Denker, never let me down Denker) and carousing going on, and the excursion to Lord Sinderby's very grand castle with excellent shooting, it was rather hard to care about Anna, tragically locked up in prison for a crime she didn't commit, and Bates, on the lam in Ireland so that he could take the fall for her. Please, whatever next season brings, let it not involve so much of these two. The problem with Bates, and with Brendan Coyle's portrayal of him, is that it lacks even an infinitesimal element of comedy, and Downton just doesn't work when it's unrelentingly serious. Anna's enough of a downstairs foil to Lady Mary to work outside the realm of tragedy (her excursion to the chemist to buy birth control more than proved that), but Fellowes clearly doesn't know what to do with Mr. Bates when he isn't being wrongly arrested for murder or blackmailed or bullied or forced to martyr himself for his wife. Hence why life keeps being so cruel to him. Maybe Bates and Anna could move to Boston with Tom, or to New York with Rose and Atticus, but it seems apparent that there just isn't that much space for them in the frothy, shooting-and-sex-obsessed realm of the Abbey.
This leads me to wonder whether the show will follow Tom to New England next year, or whether Allen Leech will follow his counterpart to the U.S. in hopes of capitalizing on Downton's success here (hey, it worked so well for Dan Stevens, and even Lady Mary played a stewardess in a Liam Neeson movie). Leech has said he's determined to stick with Downton till the end, so there's a chance the show will expand onto new horizons next year, even though Lily James is apparently gone for good (speaking of stardom, she makes her movie debut in Disney's Cinderella this month). Will Tom come back after he realizes Boston's winters are even worse than Yorkshire's? Will Mary finally find long-term happiness with the dashing car nut Henry Talbot? (Her face as she watched him leap into his "snappy chariot" was a priceless combination of admiration and thinly veiled lust.) Will Denker and Spratt's mutual loathing blossom into love? (It's so delightful to watch how their sniping causes Violet to literally facepalm.) Can we all take a minute to appreciate how fate seems to have finally stopped being cruel to Mr. Molesley?
As we leave Downton until next winter, the moments from this season that will stay with me for at least another couple of hours include the servants' lovely dinner while the Crawleys were all away, Mary's bob, Tom's outraged "you bastard," Violet's reunion with Prince Kuragin over the Cartier eggs, and, unfortunately, Tony Gillingham talking about "stamina" (no amount of mental bleach will ever burn that from my brain). In the words of Lord Grantham, let's thank the show for helping us navigate the choppy seas of Sunday night and be grateful for the prospect of another soapy season.
---
Reid: Add me to the ranks of the incredibly sentimental, because this episode was just a lovely capper to a season that, while far from free of annoyances, won me over in a way the previous few had not. Part of that was in being able to compartmentalize irksome storylines (the Bateses; all Edith's frustrating skulking around Marigold); part was being able to find a silver lining in, say, how Tom spent roughly 800 episodes saying goodbye to each individual character, some of them many times over.
But when I think on what I enjoyed this season, there's unexpectedly a great amount. Who could have expected that the best parts of the season would revolve around Rose? Everything involving the Sinderbys these last few weeks has been fun, frothy, and compelling; I think having a new family whose stuffiness gets systematically dismantled has allowed the show to get back to doing what it does well. Similarly, the Denker/Spratt wars have been a far more amusing alternative to yet another showdown between Bates and Thomas.
Speaking of Thomas, I'm so with you, Katie, on the idea that Mary and Thomas are the upstairs/downstairs enforcers, and watching them team up without ever so much as speaking to one another was a stroke of surreal brilliance. I can't wait to see them take on the Nazis next season! As for Matthew Goode ... more like Matthew Great. Sorry, I'm obligated to say that every time I see him. If we're talking about potential mates who would actually stack up to Mary, though, he may just be our best hope yet.
I think we can all join in on a celebratory Christmas carol for Carson and Mrs. Hughes, though. What a sweet, lovely note to end the season on.