Does Community Really Need to Exist Anymore?
Formerly of NBC, the long-running cult comedy has become the flagship show for Yahoo, where it's cleverly rebelling against its own perceived irrelevance.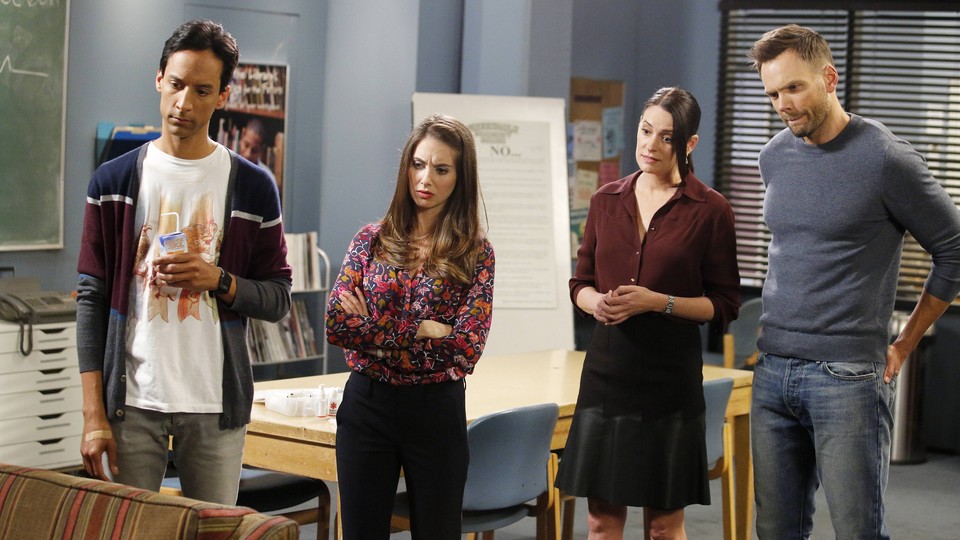 Early in Community's sixth season, premiering Tuesday on Yahoo, protagonist Jeff Winger (Joel McHale)—who's evolved from a grumpy community college student into a grumpy professor over the course of the show—watches with horror as a new character gets sucked into the school through the force of sheer inertia, agreeing to take some classes because he had nothing better to do. Seeing himself in the student, Jeff asks the school's cheerful dean, "I'll never get out of here, will I?"
It's heartening that this once-canceled show has somehow found its way back to screens. But Community has always been a self-aware comedy, so even its characters are wondering what they're still doing at Greendale and by extension posing the question: Shouldn't the show be dead by now? By traditional industry standards, the answer is yes. But Community loves nothing more than pushing back against traditional industry standards, an impulse that shows no sign of abating in this strange sixth season.
In its first five seasons, Community was the low-rated cult comedy of NBC's low-rated cult comedy night—even compared with the meager viewership of its timeslot mates like 30 Rock, the show was no hit and battled cancellation rumors from the very beginning. Its first three years gave network audiences brilliant, challenging, and occasionally infuriating comedy, and inspired a fanbase that is devoted even by the high standards of the online era. For its fourth season, the creator and showrunner Dan Harmon was fired and the resulting output felt like fan-fiction—a well-intended but pale imitation.
That was the first moment when Community could've been put out of its misery. While Harmon's ingeniousness as a writer is tough to ignore, his outsized personality and penchant for turning in scripts at the last second was apparently too much for studio executives to handle. That is, until NBC and Community's production company Sony incredibly hired him back for a fifth season, a messy but lovable affair that had Harmon's fingerprints all over it. Yes, two original cast members departed—Chevy Chase in season four and Donald Glover midway through season five—but the show continued to aim high with every ambitious episode, and succeeded more often than it failed.
The fifth season was an appropriate enough swansong, and even Harmon seemed relaxed about its fate as NBC officially canceled the show. But this is an expansive era for television programming, in which any online corporation can have a TV network. As if on cue, Yahoo swooped in to keep Community going and hopefully establish a reputation in the increasingly crowded world of streaming TV with one of the Internet's most popular shows. To complicate matters, even more of the cast is gone—Yvette Nicole Brown, who played Shirley, is on The Odd Couple now, and Jonathan Banks is too busy playing Mike Ehrmantraut in Better Call Saul to keep up the role of Buzz he originated in season five. Even the show's opening credits have a sadly threadbare quality now, with all the missing cast names.
Since Community has always embraced the meta, the first episode sees the surviving ensemble wondering if they still have a purpose, and seething at the introduction of a new cast member, a type-A consultant (Paget Brewster) hired to clean up the college's finances. Jeff is drinking a little too much for his habit to still be dismissed as charming; Britta (Gillian Jacobs) is homeless; Abed (Danny Pudi) insists that Shirley hasn't just departed, she's been "spun off." Wisely, the show questions its own existence in the first episode and then moves on, having not really found an answer. It's typical for Community to look excessively inward at the start of every season, so the second episode offers a better picture of what lies ahead this year.
Titled "Lawnmower Maintenance and Postnatal Care," the second episode is unique enough to stave off any fear that things might turn stale. Harmon may be growing tired of thinking of ways to top himself, but that won't stop him from trying, nor should it. The episode is a broad spoof of the 1992 virtual-reality nonsense film The Lawnmower Man, the kind of dated and specific reference that would have certainly had NBC executives tearing their hair out; on Yahoo, itself a charming relic of the 1990s, it feels strangely apt. The season gets another boost with the addition of Keith David, one of America's greatest character actors, and a renewed emphasis on the cinematic inventiveness and strangely sentimental core that made the show's earlier seasons so special.
It's tough to argue that Community still needs to exist, especially in this hobbled form with half of its original cast. Partly thanks to the Internet, cult sitcoms prevail on TV more than ever, and Harmon could probably do with shaking off the cobwebs and focusing his creative energy in new places—the first show he created since Community, Adult Swim's brilliant comedy Rick & Morty, is evidence enough of that.
And yet, in a way, Community is the safest it's ever been—as long as the cast is on board, it's hard to imagine Yahoo wouldn't renew it for a seventh season. Part of the show's appeal was that it struggled against the raging current of Nielsen ratings and network expectations; free of those, it's an open question of whether it can maintain its rebellious spirit. Therein, perhaps, lies the greatest strength of this perhaps pointless sixth season—what greater force to rally against than the possibility of Community's irrelevance? Perhaps only the die-hard fans are interested at this point, but as Yahoo seems to realize, there are quite a few people who still consider themselves in that category.