Rihanna's Cynical, False Song Premiere
Do not give in, do not download another selfie app to hear 20 seconds of "BBHMM."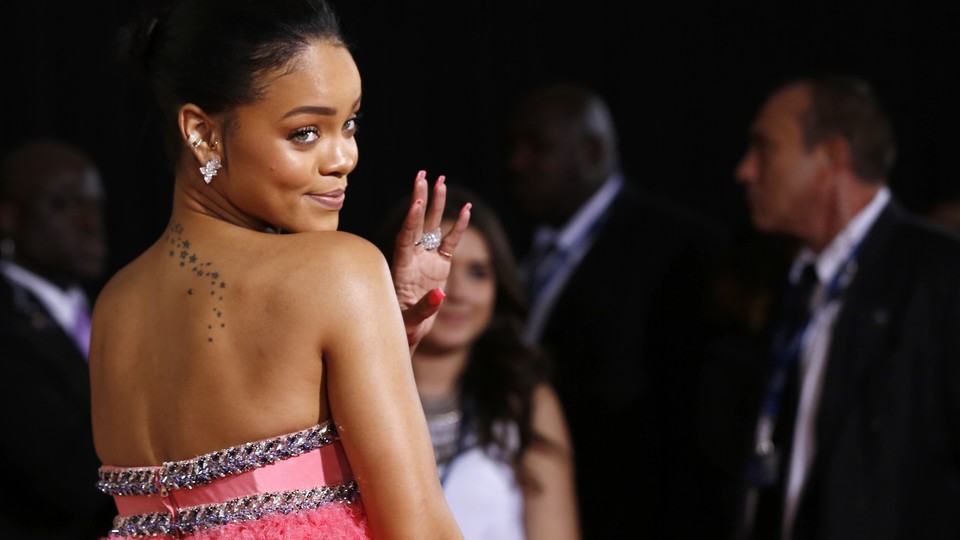 Until this morning, I'd never heard of the app DubSmash, and now that I have I wish I hadn't. Apparently big in Europe, it encourages people to record videos of themselves lip-syncing to tiny snippets of popular songs and dialogue. If you dare, see how far you can make it through this "best of DubSmash" compilation of clips, which fuses two of the worst features of 21st-century human interaction: narcissism and quoting Anchorman in place of making a joke.
Apologies for the crankiness. Yesterday, Rihanna posted a lovely, Frida Kahlo-ish shot of herself on Instagram to accompany the announcement that new music—from her first album in two years—would be released today. I like Rihanna. She makes fun songs, and lately, each of her albums have pretty much set the agenda for what the next period of pop will sound like. So I was excited.
When she tweeted this morning that people could hear her new single, "BBHMM," on Dubsmash, it seemed a little irritating that she'd force her fans to download yet another wannabe-viral app, and that she'd let herself become a marketing gimmick. But then again, no depths of pop-star corporate synergism can really shock after the whole Jay Z/Samsung unholy alliance for Magna Carta Holy Grail two summers back.
But then you download the app and come to find that the only Rihanna music that's available are 10-second snippets of the song's intro and outro (a middle section of the track was also up for a bit, but it's gone away). So that's 20 seconds of non-contiguous sound. Which prompts a deep feeling of being duped, and also questions about the future of music. Why even write three-minute pop songs anymore? Maybe what's next are Vine and DubSmash microjingles that can be played on a loop at least 24 times before your Amy's Palak Paneer is done microwaving.
The writeups for DubSmash prior to today raised the question of whether music and movie studios would object to the app hosting copyrighted material. Rihanna getting on board suggests that for the American rollout of the product, major entertainment entities have allied themselves with it. Or maybe DubSmash just paid her a ton of cash. Or maybe she's an investor.
None of these options, I suppose, should surprise. The "BBHMM" of the new single (which does sound like it'll be great at parties) stands for "Bitch Better Have My Money," and what does Rihanna have to lose? She'll probably release the full song very soon, and at 9 a.m., the full version played on New York City's 103.5 FM—"Listen anywhere with the iHeartRadio app." Until the full rollout, fan lip-syncs like this one are likely to provide nice buzz for her.
leandra pic.twitter.com/zDemZ8YNon

— ⠠⠃⠊⠞⠡⠠⠃⠑⠞⠻⠠⠓⠠⠍⠽⠠⠍⠐⠕⠽ (@royaIfenty) March 26, 2015
I've recorded a "BBHMM" DubSmash myself. It's the outro of the song set to my morning cup of coffee. After being made complicit in a marketing scheme, I find it to be a comforting reminder that there's a black void waiting for all of us, brands and humans alike.