'Björk' at MoMA Is a Beautiful, Ill-Conceived Disaster
The museum's retrospective on the idiosyncratic Icelandic artist is light on analysis and heavy on gimmick.
A hint at what a show about Björk could be sits right in the lobby of the Museum of Modern Art. A monumental projection of "Big Time Sensuality," the video for the musician's 1993 house single, spans a wall that's several stories tall. It's the video that saw the singer erupt in dance and joy on a flatbed truck making its way through New York City. Here is a projection as big as her overflowing heart. This is Björk, larger than life, revealing the kind of lifelong effusiveness that couldn't be contained in eight albums or 80.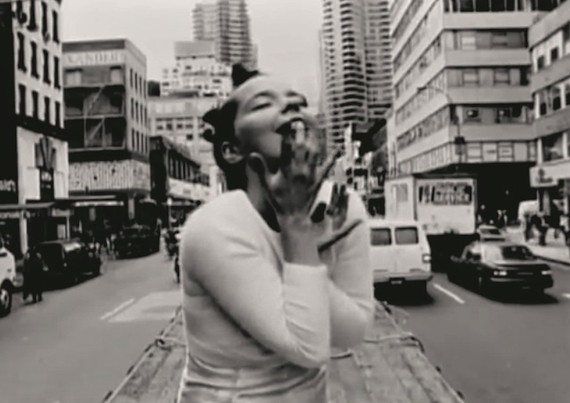 That might've been the frame for the show, anyway, but the retrospective that follows instead is so needlessly narrow that it raises big-time questions about MoMA, not its subject. Björk, the techno-organic composer and Icelandic cultural ambassador, has resolutely made the case for her career as an artist—through eight studio albums, dozens of collaborations, a few films, even an envelope-pushing app. She's never needed a credibility boost from MoMA. Which is a good thing, since she doesn't get one.
"Björk" falls apart before the show really begins. The heft of it is Soundlines, a "psychographic journey," which is Icelandic flim-flam for a walking audio tour of Björk's career. It begins with 1993's Debut and proceeds, workmanlike, through 2011's Biophilia, with stops for each of her first seven full-length albums along the way. (Björk's eighth record, Vulnicura, was timed for a release with the opening of the MoMA show, but it leaked online back in January.) Soundlines feels like an accompaniment to a central exhibition, full of ephemera gathered from across her career, mostly handwritten lyrics and her otherworldly costumes.
But what ought to be the satellite experience in "Björk" is the show itself. This exhibit is so slight on substance and nuance that it appears to have driven MoMA to a raft of terrible compromises. The museum has subdivided traditional gallery rooms into a kind of winding tent, a space tailored for a show with so few objects and artifacts to see. The tour proceeds at the urging of a responsive audio guide (penned by Björk's longtime songwriting collaborator, the Icelandic poet Sjón, and narrated by Margrét Vilhjálmsdóttir, an Icelandic actress). The whole thing feels like a Björk-themed amusement ride—complete with awful tourist bottlenecks. About the best thing that can be said for the Soundlines experience is that the audio device works well enough: Moving physically from the mini-pavilion for Debut to the next one (for Post) causes the screen on the unit to change colors and playlists.
Geolocation gimmicks aside, virtually every decision about "Björk" was misconceived. There seems to be just one concern driving "Björk": What's the best way to keep throngs of admirers moving right along? The audio tour starts in a holding pen graced by videos of live performances (which viewers can't stop to watch) and scattered sheet music of song transcriptions (which viewers can't stop to read). The exhibit entirely skips over her career with The Sugarcubes, the feisty post–New Wave band she helmed in the mid-1980s, to say nothing of her earlier experiments (with groups like Spit and Snot, Exodus, or Medusa). The MoMA show glosses over her film career altogether: Dancer in the Dark and its soundtrack Selmasongs barely warrant a mention, and her other films, 1990's The Juniper Tree and her 2005 collaboration with Matthew Barney, Drawing Restraint 9, do not at all. At best, the show is an autobiographical sketch told through two or three mementos per official solo album.
That's not to say that parts of the exhibit aren't lovely. One of them is a vitrine featuring the dress, slippers, and music box designed by Barney and Alexander McQueen for the video for "Pagan Poetry." This is the centerpiece for one of the most erotic songs of Björk's career (from the album Vespertine, which details her courtship with Barney). The dress is carefully arranged on a rotating, dramatically lit plinth. It looks a lot like how the Met presented McQueen's work in his 2011 retrospective (a vastly superior museum blockbuster). MoMA also assembles the robot models from the 1997 video for "All Is Full of Love." The Instagram-ready tableau, which resembles the set in miniature, is pure fan service.
Yet Nick Knight (who directed "Pagan Poetry") and Chris Cunningham (who directed "All Is Full of Love") get only the barest nods. Michel Gondry, Björk's longtime video collaborator, and the many designers responsible for her quirky persona all earn only brief mentions: credits on the tombstone placards sprinkled throughout the tour. I didn't find the name of David Benjamin, an emerging architect, anywhere near the 10-minute music-video installation commissioned by MoMA for "Black Lake," even though he designed the dramatic volcanic cave island that symbolizes her heartache.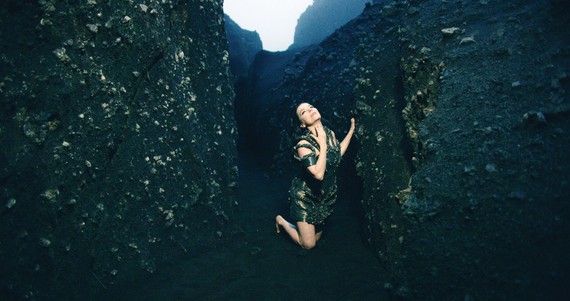 The videos that are so central to Björk's medium are segregated altogether, locked away in a continuous loop in a black-box theater on another floor, far from the props and costumes. Surely that's a decision designed to keep the crowds flowing through "Björk" without pausing. The photographers, videographers, and designers who've built Björk's image have shaped her career through collaboration—in a way that no number of weird dresses will ever do for Lady Gaga. Yet each of these artists is relegated to the role of humble doula for Björk's singular genius. Klaus Biesenbach, the show's curator, should know better.
MoMA's blunder is the worst since its Tim Burton survey in 2009 (though that was a blessedly smaller affair). The issue isn't MoMA chasing pop: A small 2011 exhibition on Kathryn Bigelow (the director of Zero Dark Thirty and The Hurt Locker) curated by Jenny He took both its subject and audience seriously; a Picasso show is a pop show in any meaningful sense of the word. Rather, the issue is Biesenbach chasing celebrity. The "Björk" exhibit brags about the fact that the curator asked her to participate in a survey starting back in 2000—when she had just three albums to her name. While the museum's record on showing serious, research-driven shows still stands, Biesenbach has cemented his notoriety for being more interested in the James Francos and Chloë Sevignys of the art world than anything having to do with history and scholarship.
There might be a museum-worthy challenge to be found in an exhibition on Björk: How do visual artists translate the fragility, infectiousness, and sweeping atmospherics of her music into pictures? Björk's music occupies some fascinating contradictions, after all. Her electronic compositions betray a fascination with digital precision, but her fairylike voice is a folk force that knows no time signature. She illustrates her lyrics with fantastically grand metaphors, yet she speaks directly to her listeners through aching confessions. (Sample lyrics from "Black Lake," the single from Vulnicura, a harrowing diary of her breakup with Barney: "You fear my limitless emotions/ I am bored of your apocalyptic obsessions.")
"Björk" at MoMA doesn't grasp for any of the conceptual handholds that Björk's colorful career offers. A different museum might have done better with the subject, or at least had some fun with it. MoMA PS1, perhaps, where Björk could have taken to the turntables to DJ one of the museum's epic summer parties. I could see the Brooklyn Academy of Music mounting a show that measured her influence on a new generation of pop artists, from Dirty Projectors to FKA twigs. Maybe no museum should have bothered: Her albums and videos stand up fine, with no mediation necessary.
But "Björk" is a show better suited for a Hard Rock Cafe or an outpost of Madame Tussaud's, right down to the bizarre Björk mannequins. It's a shame, for everyone involved, but especially for MoMA. The museum can and should do accessible without sacrificing smart.