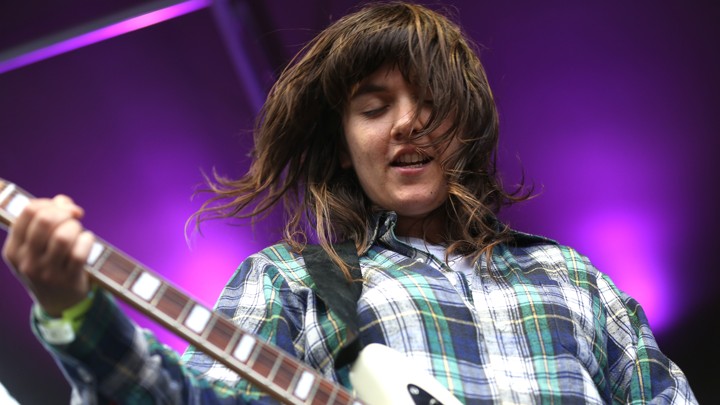 Depending on who you read, the music portion of the South by Southwest festival appears to be in continual crisis. Previous years have seen complaints about the influx of huge pop stars like Lady Gaga and Justin Timberlake, and about officious marketing attempts like Dorito's giant vending-machine-shaped stage. But this year, it seemed like the bubble started to burst: fewer celebrity performances, fewer pop-up venues, an increased police presence after last year's tragedy on Red River. For me at least, the slightly (slightly) less spectacle-driven scene meant there was more time to focus on the initial purpose of the festival—catching a ton of unknown and up-and-coming musicians.
The list below reflects the best among the new-ish artists that I saw. It's not a comprehensive take, because how can anything be comprehensive when you're talking about five days and thousands of acts? There's an accompanying Spotify playlist here.
---
Broncho
Norman, Oklahoma
The sound: Scuzzed-up yet catchy garage jams made possible by the existence of The Kinks.
Key moment: Inside Red 7 for Brooklyn Vegan's day show on Thursday, Ryan Lindsey worked up a sweat stuttering out the staccato sounds of the chorus for the band's indie hit "Class Historian."
Listen to: "Class Historian"
Coin
Nashville
The sound: Expertly crafted sing-alongs with big melodies and bigger energy from a young band who already seems ready for the radio.
Key moment: With multiple clap-along breakdowns and what appeared to be medically risky headbanging, the band's blonde-coiffed frontman made the crowd members at IFC Fairgrounds on Saturday nearly forget they were standing in rain-soaked muck.
Listen to: "Run"
Courtney Barnett
Melbourne, Australia
The sound: Writerly and hilarious lyrics about everyday mishaps over clean, crunchy rock.
Key moment: Barnett, so effusive on her recordings, let her singing provide the banter Wednesday afternoon at Mohawk as she proved her guitar-shredding prowess.
Listen to: "Pedestrian at Best"
Kane West
London
The sound: The cheapo sounds that come preprogrammed on Casio keyboards—fake whistle! fake cowbell!—layered into dance mixes whose cheekiness doesn't detract from their body-moving power.
Key moment: Ending his set at the PC Music showcase at Empire Garage Thursday night, Kane West blared the sound of canned applause from the rig, and the audience responded with actual claps.
Listen to: "Western Beats"
Kate Tempest
London
The sound: Passionate, cinematic raps about society and city life over booming electronic arrangements.
Key moment: At Maggie Mae's rooftop on Friday night, Tempest talked about all the great hip-hop she'd seen at the festival and then segued into a spoken-word performance from her poetry collection Hold Your Own—which, days earlier, had received a Mitchiko Kakutani rave in the New York Times.
Listen to: "The Beigeness"
Kero Kero Bonito
London
The sound: Chirpy rhymes about parties and fun in Japanese and English, with spasms of ebullient electro music co-created by Kane West.
Key moment: For a small but thrilled audience at Parish Underground on Wednesday night, frontwoman Sarah Bonito donned a mortarboard hat and unscrolled a diploma to perform a ditty about her graduation day.
Listen to: "Sick Beat"
Grape St.
Austin
The sound: Ramshackle garage rock of appeal eternal, with the same slightly skewed sensibility and ear for hooks that made Michael Coomer's previous band, Harlem, a cult success.
Key moment: Soundchecking for a late-afternoon set at Cheer-Up Charlie's on Tuesday, the singer asked for "every single effect we can have on the vocals." Then the band played a surprisingly crisp—but loud—set.
Listen to: "A Date With You"
Girlpool
Philadelphia
The sound: Bluesy, frank fables with feminist themes told in storybook style—nearly appropriate for kindergarten classes, if not for all the swears.
Key moment: As just two guitarist/vocalists with no drummer, Girlpool's set Wednesday night at Mohawk served up grooves that were, if not danceable, at least sway-able.
Listen to: "Jane"
Hinds
Madrid, Spain
The sound: Echo-laced surf rock with multi-part vocals from some laid-back Spaniards, sounding like a Phil Spector girl group for stoners.
Key moment: As attendees chowed on plates of free paella at the Sounds From Spain lunch on Wednesday, Hinds executed a series of tricky tempo changes without spilling a drop of the sangria they were sipping.
Listen to: "Bamboo"
Hundred Visions
Austin
The sound: The heavier parts of '90s grunge and indie mashed with '60s psychedelic styles to frenzied effect.
Key moment: As the bassist laid down a thunderous groove Saturday afternoon at Hotel Vegas, the frontman rested his head against an amp as if meditating on the concept of lifelong tinnitus.
Listen to: "You're Gonna Cut Me Lose"
Lydia Ainsworth
Toronto
The sound: Dramatic ballads that connect electronica and orchestral music, a blend that's like trip-hop but more emotionally wrecking than soothing.
Key moment: Clad in homesteader-ish gowns, Ainsworth's cello player and violinist worked from sheet music as they summoned a massive, swelling sound inside Mohawk's tiny inside space on Wednesday afternoon.
Listen to: "Malachite"
Natalie Prass
Nashville
The sound: A songwriter who cites Dionne Warwick as her biggest influence, Prass's delicate but powerful voice and old-school country arrangements renders heartbreak in precise terms.
Key moment: "We're going to sing this motherfucking Disney princess song right now," Prass announced at Mohawk on Wednesday afternoon, before performing her self-consciously twee album-closer "It Is You" with a toy dinosaur in hand.
Listen to: "My Baby Don't Understand Me"
Rae Sremmurd
Atlanta
The sound: An young rap duo firmly interested in the having of good times, with cutting-edge production and a few hits in their repertoire already.
Key moment: With the help of huge cardboard cutouts of the rappers' faces and a surprise appearance by superproducer Mike Will Made It, Rae Sremmurd turned Pitchfork's Wednesday-afternoon show at Mohawk into a raucous, jump-along party.
Listen to: "No Flex Zone"
Shamir
Las Vegas
The sound: Sassy and verbally dense hip-hop with a dose of camp and disco-bounce energy.
Key moment: At the end of a joyful set at Fader Fort on Thursday, Shamir descended into the audience to deliver hugs to all who wanted them.
Listen to: "On the Regular"
Suicideyear
Baton Rouge, Louisiana
The sound: The trap beat that's taken over hip-hop and pop over the past few years finds new use in spooky, digital dirges.
Key moment: During Suicideyear's set inside Mohawk for scene-leader Hudson Mohawke's showcase Tuesday night, Waka Flocka Flame's trap-rap hit "Hard In the Paint" became a raver's anthem as the screen behind the rig flashed a crying-face emoticon.
Listen to: "Don't Worry"
Tobias Jesso Jr.
Vancouver, Canada
The sound: A Paul Simon-esque singer-songwriter whose openhearted, epic-scope ballads seem destined for the new American songbook.
Key moment: Performing alone behind a piano at Central Presbyterian Church on Friday night, Jesso made fun of himself for repeatedly screwing up his song "True Love"—and then received a standing ovation when he finally pulled it off.
Listen to: "How Could You Babe?"
Tove Styrke
Stockholm, Sweden
The sound: Just when it seemed like the world couldn't possibly use another Swedish alt-pop songstress, much less one named "Tove," Styrke comes along with one-of-a-kind set of songs filled with sonic quirks and generous melodies.
Key moment: Acting like an elfin Elvis, Styker opened the Hype Hotel on Saturday night with swiveling hips and a cardigan worthy of an ugly sweater party.
Listen to: "Borderline"
Twin Limb
Louisville, Kentucky
The sound: Slow-moving psych-folk that builds to grand, swelling climaxes with intertwining vocals.
Key moment: Tumblr IRL's show on Saturday started late and didn't advertise Twin Limb on the lineup, but the hypnotic music—and unusual sight of one singer on accordion and another on drums—banished any bad vibes.
Listen to: "Long Shadow"
Twin Peaks
Chicago
The sound: Sneering garage punk from a group of guys whose prowess in concert is already legendary.
Key moment: At the drizzly, swap-meet-like environment of Burger Records' Saturday afternoon party at Hotel Vegas, the boys of Twin Peaks showed off all the best stage moves of Iggy Pop and Mick Jagger—and the energy to match.
Listen to: "I Found a New Way"
Viet Cong
Calgary, Canada
The sound: Spiraling riffs, motor-like rhythms, and cryptic singing that joins a hypnotic-rock tradition stretching from Television to Deerhunter.
Key moment: Appearing unperturbed by the fact that his band had to address controversy over its name a mere day earlier, frontman Matt Flegel at Mohawk on Wednesday afternoon jovially introduced the band as "Viet Leppard" due to the fact that its drummer had an arm in a cast.
Listen to: "Bunker Buster"
Years and Years
London
The sound: Slick dance pop with a powerful vocalist who's like a Sam Smith for club kids.
Key moment: Rubbing his eyes and giggling at the Palm Door on Sixth patio for Thursday's Universal Music show, singer Olly Alexander marveled at the fact that he was playing before 1 p.m.—and that so many people had shown up.
Listen to: "Real"
We want to hear what you think about this article. Submit a letter to the editor or write to letters@theatlantic.com.
Spencer Kornhaber
is a staff writer at
The Atlantic,
where he covers pop culture and music.