Neil Patrick Harris Might Be the Host the Oscars (and Viewers) Need
Hosting the Academy Awards is a tough gig. On Sunday, Harris will attempt to get it right, likely with an eye toward the performance of a familiar contemporary.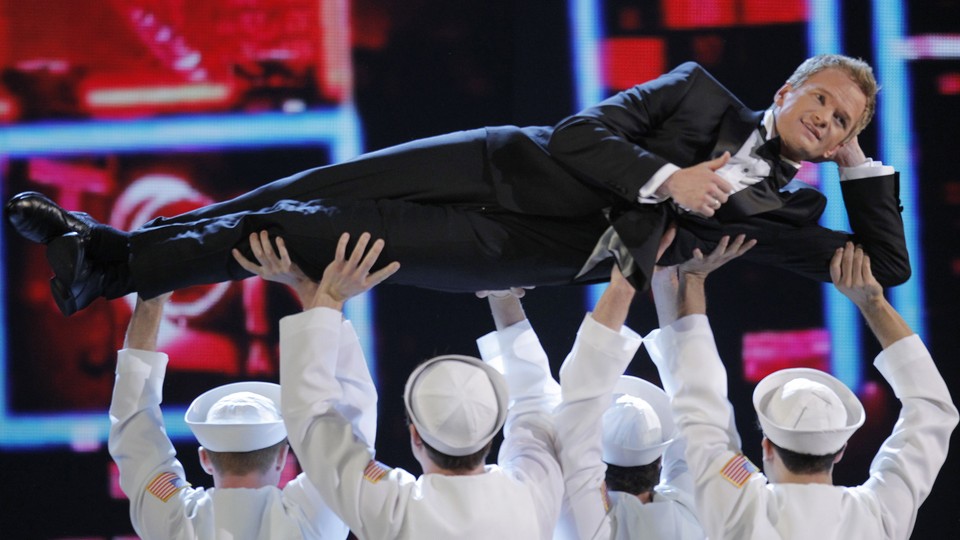 This year for Oscar host, the Academy picked a handsome actor with a career that's going gangbusters; a showman whose high-energy hoofing and chummy rapport with the audience made him ideal for the same role at the Tony Awards. The year is 2015, and that Oscar host is Neil Patrick Harris, but it might as well be February 2009, when the 2008 Oscars were hosted by Hugh Jackman.
Harris and Jackman's hosting profiles are eerily similar, a fact both men played up when Harris hosted the Tonys in 2011.
More than anything, Harris' selection recalls Jackman's in that he'll be expected to carry the Oscar telecast not as a comedian, but as a song-and-dance man. And with Neil Meron and Craig Zadan's third straight crack at producing the Oscar telecast, Harris is their best bet at actually delivering what they've seemingly been trying to pull off thus far: an Academy tribute to musicals. In a way, it's what they were trying to do with Seth MacFarlane two years ago, but that hosting performance was overshadowed by all the other elements of MacFarlane's persona. Last year, Ellen Degeneres, while as fond of a mom-dance as anyone, played more to her strengths as a gal-pal to the rich and famous, taking selfies and delivering pizza.
Harris, like Jackman, comes across as friendly to the crowd of gathered nominees and presenters, but perhaps a degree or two separated from them. With Jackman, it was his Australian-ness that gave him that modicum of remove. With Harris, it's that he doesn't really come from the movie world, but rather from TV and Broadway. While he may well hop into the aisles and hobnob with Reese Witherspoon and Ethan Hawke, Harris will still mostly be working to entertain them. It's a balancing act, for sure, and one that's not always done well.
There are few high-profile jobs more thankless in Hollywood than Oscar host. That may not have always been true when Bob Hope and Johnny Carson and (at least in the early years) Billy Crystal were collecting adulation for their multiple years of hosting. But in the age of the Internet (yep, I'm blaming the Internet), where the Oscar host's job isn't just being evaluated by the L.A. Times but by, you know, everyone, it's hard to think of a job that's more likely to elicit jeers.
That isn't to say that jeers aren't sometimes genuinely called for. Recent hosting stinkers from Crystal, MacFarlane, and James Franco/Anne Hathaway were rightly called out. But when Harris takes the stage on Sunday, he has to know he's facing a very different beast than the Emmys and the Tonys. While it's true of all awards shows to an extent, it's never more true than at the Oscars that a host is serving two masters: one in the house and one on TV. On the one hand, he needs to be every bit as good an in-house emcee as the host of your kids' sports banquet. That means engaging with the audience, teasing them without targeting them, and making them all forget they've been sitting in the same seat for four hours. On the other, he needs to perform for a TV audience that wants pageantry but will also pick up on a dead room that doesn't like the host. And on the other hand (and here's where I blame the Internet again), he's hosting for an ever-growing band of Internet critics who largely dislike the kind of ego-stroking that is, frankly, essential to being a good in-room host.
It's a near-impossible cocktail to get right, and in the years since Crystal first relinquished his chokehold on the job, only Steve Martin has done it perfectly (and he did it twice). Whoopi Goldberg came close in 1998 with a blistering array of one-liners ("I am the African Queen"), but she lost the room, and if you watch clips from that show, you can tell. The other host who came close was Jackman, who thoroughly charmed the theater but ended up getting taunts from the peanut gallery for a show that often erred on the fawning side (this was the year that five former winners appeared to give testimonials/love letters to the nominated actors).
Still, all this considered, Harris' prospects look bright. He's been an acclaimed Tonys and Emmys host, and more than likely what worked for him there will work here. He's never going to be the jagged-edged, irreverent Chris Rock that viewers wants hosts to be, but he's also not going to faux-pas his way through the show like Franco and MacFarlane. If Meron and Zadan want their musical extravaganza, the fact is that Harris is absolutely the one to give it to them. (And then maybe Steve Martin can host next year.)