Which Empire Characters Are Built to Last?
Ratings are skyrocketing, but after seven episodes, it's time to take stock of the Empire landscape. Is this a complete canvas or just The Cookie Show?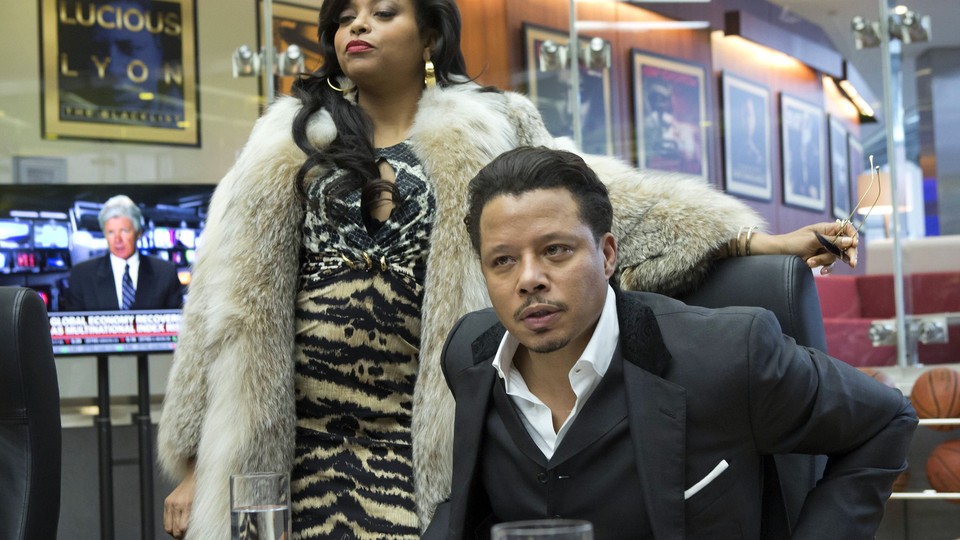 Fox's Empire could easily be called the TV hit of the year—certainly on network TV—and with ratings that just continue to climb, it's a show that's looking at its long-term prospects. Seeking that kind of foresight is odd, though, since the pleasures of Empire lie in its moment-to-moment audacity, its fabulous, ever-so-tweetable combination of soap-opera twists and jaw-dropping one-liners.
Can a show that lives so much in the moment also be built to last? No matter how many big plot developments get thrown out there—a murder investigation, an ALS diagnosis, a surprise baby mama—the longevity of the show is going to come down to its characters. Last night's episode offered a good window into how solidly built those characters are.
Cookie Lyon
Obviously, Taraji P. Henson's Cookie is the standout character. There's no question. A tough-but-vulnerable mama bear who will go far (but how far?) to get herself and her favored son to the top of the Empire music business. If last night's episode, "Our Dancing Days," raised any concerns, it was that Cookie ended up tumbling into bed with Lucious. Obviously, her family past with Lucious  is a huge part of her character—it's what gives her that swagger of entitlement; he used to be hers, so everything he's got should be hers. But I can't help but worry that leaning on a Cookie/Lucious rekindled romance could drag her down. At the moment, though, it'd be foolish not to bet on Henson, who's giving the best performance on TV right now.
Lucious Lyon
Last night's episode was Lucious' best, with the ALS taking center stage. Rather than just a vaguely mercurial millionaire giving thumbs-up to Hakeem and scowls to his other sons, Terrence Howard showed some shades of vulnerability to the kingpin. Lucious could still exit the canvas by the season's end and leave the show in a strong position for season two. And despite some worries after the first two episodes, Lucious isn't an impediment to the show's success. Episodes like last night's show he can be integral to it.
Jamal, Hakeem, and Andre
If Empire ever did try to make it without Lucious, however, it's going to need to be rock-solid on the dynamic of the sons. Right now, it's fairly simple: Jamal and Hakeem are talented in very different ways, and Andre is using those differences to pit them against each other. If the show can keep those tensions simmering, and evolving, while the boys are run through their own subplots (Jamal's possible daughter; Andre's bipolar condition), that's great. What would be even greater is if Hakeem and Andre's relationships to Cookie could be even stronger. Obviously there are story reasons why Cookie is far more involved in Jamal's life than the other two, but it's time to start entangling their stories more. It can only help two characters who have been inconsistent so far—Cookie has helped bolster Jamal as one of the show's top characters. Just imagine what she'd do for the other ones.
Anika
She's not sitting in a swivel chair, stroking a cat, but Anika is clearly the supervillain of the show. What once looked like a Cookie vs. Lucious situation with the sons in the balance now might be Cookie vs. Anika with Lucious in the balance. That's great! Anika has so much to lose if Cookie re-asserts herself into Lucious' life. She makes the most sense to act out in soapy villainous ways. Drugging Courtney Love's Elle was a good start. Poaching Cookie's assistant Porsha, maybe setting her up as a double agent, would be even better.
Becky
It's been seven episodes already, and Gabourey Sidibe is an Oscar nominee. Isn't it time she got a subplot? Nobody's staying up nights wondering when Becky will get something to do, but wasting a big-name cast member like Sidibe acts as a warning alarm against future mistakes. The worst thing that can happen to a buzzy show like Empire is to start attracting big-name guest stars without really having a good reason for their presence. This show isn't quite American Horror Story, where it can cast big and then kill characters off en masse when things get too crowded. Every character should have a purpose. That goes for you too, new security chief Derek Luke.