The Great Grammy Hypocrisy
The ceremony offers a radically inclusive vision of music; the awards do the opposite.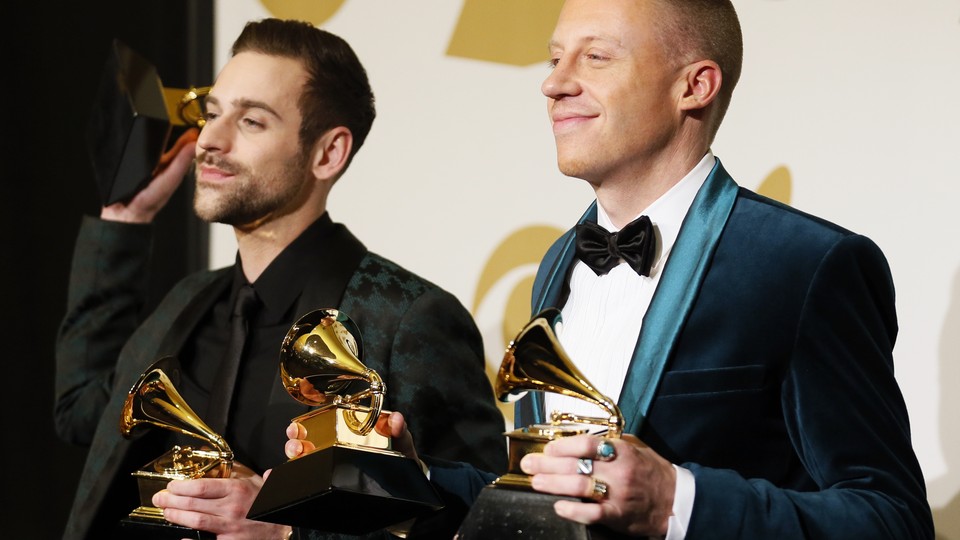 It can't be a good sign for the Grammy Awards that nominees keep talking about not wanting to win them. Last year, Macklemore received the Best Rap album prize and then texted Kendrick Lamar to say, "you got robbed." This year, the British singer Sam Smith told Rolling Stone that he'll give Beyoncé the Best Album trophy in the event that the Recording Academy first hands it to him on Sunday night. "She deserves it way more than I do," he said. "I'd be embarrassed if I got it over her."
The world may soon find out whether Smith was being serious. Beyoncé's self-titled record is ahead in the betting odds, but a lot of pundits are calling the Best Album award for Smith's In the Lonely Hour. That's because although Beyoncé shook up the music industry and served up a trove of innovative yet catchy songs and videos, "Smith hits a time-honored Grammy's soft-spot," writes The New York Daily News' Jim Farber. "He's a new star with great ballads and universal (non-threatening) appeal." He also has another thing going for him: He's white.
Smith made history this year by becoming only the 10th artist ever to be nominated in all four "general field" Grammy categories: Best Album, Best Song, Best Record, and Best New Artist. Start looking at the winners in those categories in the past decade, and a certain paleness becomes unmissable:
A non-white artist hasn't won Best Album since jazz legend Herbie Hancock took the award in 2008 for a record of Joni Mitchell covers; one who could conceivably be called "contemporary" or "relevant" hasn't won since OutKast in 2004 (2005 went to a posthumous Ray Charles release).
Aside from Pharrell Williams and Nile Rogers' featured work on Daft Punk's "Get Lucky," the Record of the Year winners have all been white since 2005, when Ray Charles won the award with Norah Jones. A rap song has never taken the trophy in that category.
Song of the Year went to Beyoncé's "Single Ladies (Put a Ring on It)" in 2010; other than that, the winners were all white after Luther Vandross in 2004.
The two Best New Artist winners of color in the past 10 years were Esperanza Spalding in 2011 and John Legend in 2006.
This is all, remember, recent history: an era of multiple acclaimed and commercially successful releases from Kanye West, Drake, Rihanna, Lil Wayne, Nicki Minaj, TV on the Radio, Bruno Mars, Kendrick Lamar, and other artists whose Grammy wins have almost all been in genre-specific categories like rap, pop, and urban contemporary. (Even there, whites seem to have a leg-up, as shown by Macklemore's Best Rap Album victory last year and the fact that Iggy Azalea is favored to pick up same prize this year). Many of those musicians have at least competed in the general categories in the past, but this year Song of the Year, Record of the Year, and Best New Artist are all-white contests.
What gives? One explanation may lie in Farber's analysis of Smith, with 'universal (non-threatening) appeal' serving as a handy, if unintended, euphemism. The young, ballad-slinging singer/songwriters to break out in recent years have largely been white—hence winners like Taylor Swift, Adele, Mumford & Sons, and Arcade Fire. By almost exclusively elevating those types of artists, the Grammys end up elevating one type of person, strengthening old ideas about what kinds of art and artists are worthy of broad cultural respect. They also shut out some of the most vibrant, boundary-pushing work happening today.
Of course, most people don't put a lot of stock in the Grammys' choices; as Jack Hamilton wrote for The Atlantic in 2012, "the history of the Album of the Year reads in large part like a Homeric catalog of albums you hide when your friends come over." But it's one thing for an awards body to consistently prove itself a dubious judge of which works will live on as classics and which will be forgotten, and it's another for it to screw up while consistently dissing people of color. The Oscars gets accused of reflecting and arguably worsening the movie industry's pervasive whiteness, but the Grammys look at popular music's vast and historical diversity and then use it to mint runners-up for its marquee awards.
The irony is that the Grammys ceremony purports to be for all of music, to imagine disparate artists as part of one big project. This is the idea behind "Grammy Moments," the genre-mashup performances that are sometimes train wrecks and sometimes transcendent but always kind of gutsy. (Chuck D, Travis Barker, Tom Morello, and LL Cool J paying tribute to Adam Yauch? Okay!) It's also why the telecast is so much more fun to watch than most awards shows, featuring as it does stoner rappers announcing country winners. Last year, highlights included Kendrick Lamar and Imagine Dragons somehow pulling off a collaboration; this year, there'll be the live debut of "FourFiveSeconds," Rihanna's new song featuring Paul McCartney and Kanye West.
Moments like those represent the Grammy's utopian vision—all music created equal—in action. Why that vision is so thoroughly contradicted by the awards themselves might be due to either the polling process, the composition of the voting body, or to broader cultural attitudes. In any case, it'd be nice if, this time, there was no need for anyone to feel guilty about winning.