The Slap Aims for Searing Yuppie Drama, but Misses Its Mark
NBC's miniseries has dreams of being the next big prestige event, but hackneyed writing and broadly drawn characters get in the way.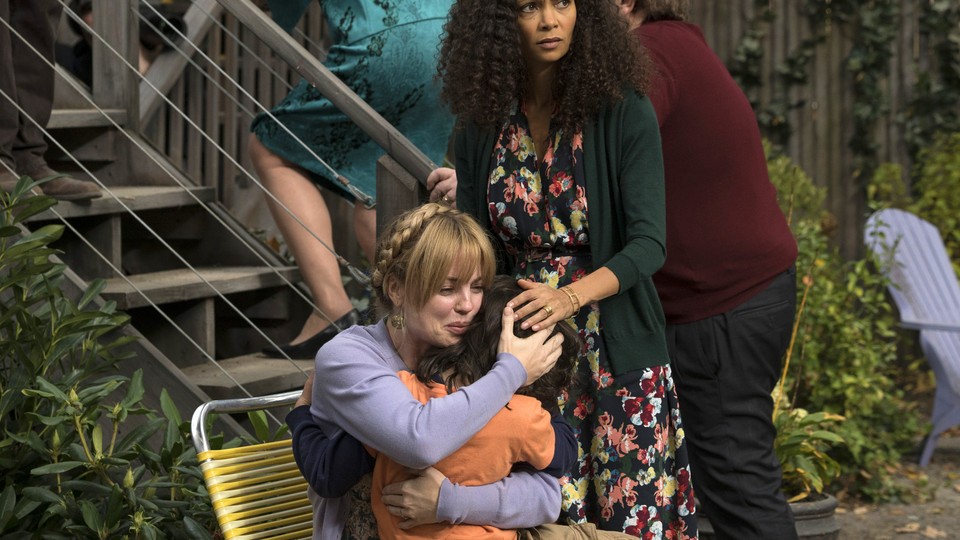 The Slap reveals itself to be a work of ostentatious faux-prestige in its opening moments: a close-up of a beautiful young woman, scored to soft jazz, a narrator intoning, "On the day before his 40th birthday, Hector Apostolou had only one thing on his mind: Connie." Jazz? Obvious narration? Fascination with young women? You'd be forgiven for thinking you'd flipped to a bad Woody Allen movie. The NBC drama, which debuts Thursday at 8 p.m., has a cast studded with mid-level stars—Peter Sarsgaard, Zachary Quinto, Uma Thurman, Thandie Newton—and the accompanied hype of being an eight-week miniseries "event" the likes of which network TV had abandoned until recently. It's based on a successful Australian miniseries of the same name and has borrowed one of its stars, Melissa George, who plays Rosie, the mother of the slapped child at the center of this yuppie hellstorm.
The impressive ensemble does the fine work viewers might expect, and the pilot is directed by Lisa Cholodenko (The Kids Are All Right), who lends a chatty realism to the birthday party at the center of the story. The Slap's glaring flaws seem to rest on the shoulders of playwright Jon Robin Baitz, who adapted the show for U.S. TV. His last small-screen effort was the primetime ABC soap Brothers & Sisters, which he created in 2006 and was fired from a year later, apparently due to differences with the studio. Both are shows about big families and big issues, and have a somewhat obnoxious way of showing it.
Baitz has constructed a tense drama of bourgeois manners that explodes into furious confrontation in the final act, as one character strikes another family's child for misbehaving at Hector's (Sarsgaard) birthday gathering. But at every turn, he makes the least subtle choice possible. The patriarch of this Greek-immigrant family (Brian Cox) loudly approves of any display of masculinity and barks at Hector in Greek to keep his wife (Newton) in line. Rosie (George) is a free-spirited mother who's perhaps too indulgent of her five-year-old son Hugo—and in case that wasn't clear, there she is breastfeeding him. Thurman plays a director who swans around in a beret with a boytoy actor (Penn Badgley) on her arm, sneaking a cigarette case full of joints to Hector with a wink.
The Slap fails at its central aim of exploring the distinct tensions of upper-middle-class life by making its characters so broad, but not making anything else seem satirical. Yazmina Reza's play God of Carnage (and Roman Polanski's subsequent film Carnage), which takes a more claustrophobic approach to a somewhat similar topic, wisely erred on the side of satire—but The Slap is deadly serious at all times.
Just in case the audience never understands Hector's mindset, that portentous narrator drops back in frequently to convey exactly what's on his mind, repeating what's already painfully clear. "His reverie shattered, Hector took solace in the clarity of his life's limits, and knowing that his few transgressions existed only in his dreams," he says, as Hector snaps awake from his latest fantasy session regarding a college student who works with his wife.
The narrator isn't the only party guilty of obviousness. Multiple times, The Slap has characters loudly establishing their political identification as they enter a room—the same trick pulled in the pilot of Brothers & Sisters. When the audience is introduced to closest thing the show has to a villain, rare car dealer Harry (Quinto), he pulls into brownstone Brooklyn in a Range Rover asking, "Where can I park this so I don't get jacked?" When Hector jokes that the vehicle is "terrific, especially if you're going to invade Iraq," Harry replies, "Which we should do." (Okay, so Harry's a right-winger, but it barely makes sense. He thinks America should invade Iraq again?)
The second episode made available to critics showed some sign of life by focusing on Harry rather than Hector, the subject of the pilot. Each of The Slap's eight episodes will zone in on a particular member of the ensemble, and despite Sarsgaard's solid work, Hector is a terrible wet blanket for the show to lead off with. Outside of his obsession with the pretty college student and his general disinterest in his accomplished, compassionate wife (Newton), he's also fretting over a work promotion and at one point gets exasperated over the stress of being gifted a free trip to Greece by his family. Even the anxieties of privileged white dudes can make for good drama if the characters are three-dimensional—look at HBO's surprising gem Togetherness—but Hector and his birthday-party friends are anything but.
Harry makes for a more compelling subject in week two, but by that point it's clear The Slap functions only as a work of unintentional camp rather than the searing prestige drama it wants to be. All the ingredients for a Netflix or HBO hit are present, but every pointed line of dialogue and surprising plot twist might as well be shouted at the audience through a megaphone. Despite NBC's obvious hope, that does not an Emmy-winner make.