The 2015 Oscars Played It Safe, Even as Winners Protested
A dull ceremony with few surprises was livened by passionate, activist speeches.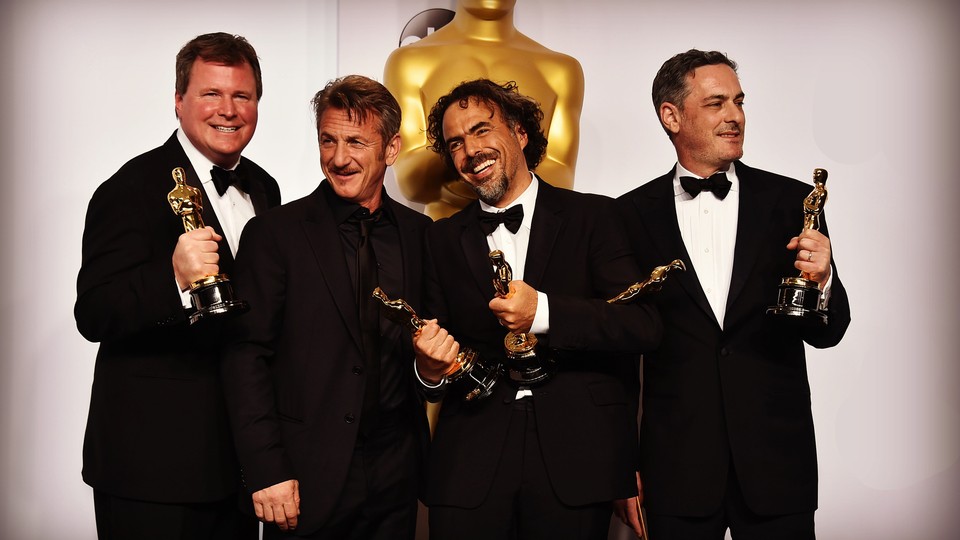 A largely predictable night at the Oscars Sunday ended in triumph for Birdman, a deeply introspective showbusiness satire set in a Broadway theater, which won trophies for Best Picture, Director, Original Screenplay and Cinematography. But despite a clunky hosting job by Neil Patrick Harris and a near-total lack of upset winners, the ceremony was charged with a surprising sense of activism. Several electrifying speeches brought the Hollywood audience to its feet after an awards season fraught with controversy over the Academy's failure to nominate a remotely diverse slate of artists.
In a way, that mood made Birdman's sweep of the top categories seem slightly unusual—of all the films nominated for Best Picture, it probably had the least to say about the world outside of the moviemaking bubble. But Birdman's success was in keeping with the overall pattern this year. The most surprising winner of the night was Big Hero 6, which took the Best Animated Feature prize—and given that it was produced by Disney, that could hardly be categorized as a shocker.
Among the favorites who collected trophies: Eddie Redmayne (Best Actor) for playing Stephen Hawking in The Theory of Everything; Julianne Moore (Best Actress) for her work as an Alzheimer's-stricken professor in Still Alice; J.K. Simmons (Best Supporting Actor) as the tyrannical jazz instructor in Whiplash; and Patricia Arquette (Best Supporting Actress) as the warm, often besieged mother of Boyhood. The Alan Turing biopic The Imitation Game collected a consolation trophy for Best Adapted Screenplay; Wes Anderson's dark work of whimsy The Grand Budapest Hotel cleaned up in the technical categories, and one of the most talked-about films of the year, Ava DuVernay's Martin Luther King biopic Selma, won for its song "Glory," sending musicians Common and John Legend to the podium after a powerful, beautifully-staged performance.
Selma was nominated only for Best Picture and Best Original Song, a snub that prompted intense criticism, partially because this year's nominees were particularly lacking in diversity. The furor could be felt in the reaction to Common and Legend's win, which moved many in the audience to tears. "We live in the most incarcerated country in the world," Legend said in his acceptance. "There are more black men under correctional control today than there were under slavery in 1850." It felt like the most momentous win of the night, coming halfway into an interminable ceremony; still, it was hard not to wonder where this enthusiasm had been when nomination ballots were cast.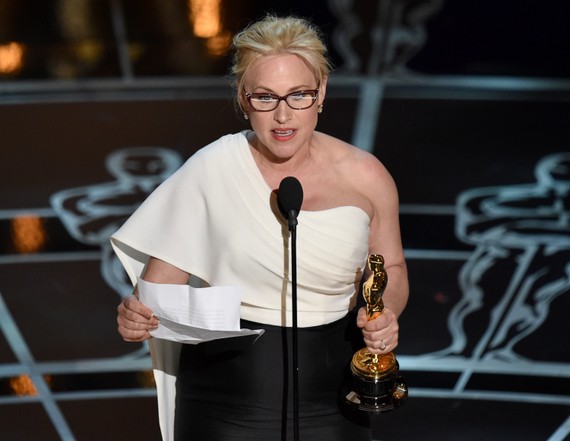 Legend's activist bent wasn't unique: Arquette's acceptance speech called for "wage equality once and for all and equal rights for women in the United States of America," prompting cheers from fellow nominee Meryl Streep. The Imitation Game writer Graham Moore spoke of attempting suicide as a teenager and the need to embrace each other's differences. Birdman director Alejandro González Iñárritu called for better treatment of Mexican immigrants in the United States.
It isn't unusual for an Oscar ceremony to feature moments of political activism from its winners, nor is Hollywood shy about patting itself on the back for rewarding projects, and filmmakers, who confront worthy issues. But this year's ceremony still felt especially attuned in this regard. It helped that the proceedings themselves were the most dull and plodding in years—not the catastrophic trainwreck of James Franco and Anne Hathaway in 2011, nor the embarrassingly sophomoric work done by Seth MacFarlane in 2013, but perhaps less memorable, nonetheless.
Harris, whose hosting chops are finely tuned from repeat trips to the Tonys and Emmys, opened with a typically well-executed musical number but never maintained the momentum. His monologue was largely free of jokes and relied on convoluted bits or awkward banter with the audience: A recurring joke revolving around the host's "Oscar predictions," sealed in a locked box, grew ever more grating as the night dragged on. Other than that, Harris didn't have anything close to the kind of charisma Ellen DeGeneres managed to work into her duties last year, whether via star-studded selfies or pizza interludes.
There were moments of serious flair—the musical acts Tegan and Sara and the Lonely Island livened things up during a performance of The Lego Movie's "Everything is Awesome" early on, and a tribute to The Sound of Music sung by Lady Gaga was appreciably grand and capped by a speech from Julie Andrews herself. And awards nerds were gratified by the fact that some truly deserving longtime Oscars bridesmaids finally won a trophy—Julianne Moore on her fifth try, and composer Alexandre Desplat on his eighth for The Grand Budapest Hotel.
But Birdman's sweep to victory, over the initial favorite, Boyhood, capped a long run at the Oscars' various precursors (particularly the guild awards) that tipped prognosticators off to its looming success. Boyhood's win would have marked a truly remarkable moment in the history of American indie filmmaking, but its director Richard Linklater didn't even collect a sympathy trophy. Birdman's undeniable visual verve and coterie of solid performances no doubt helped it over the line, but the biggest hand in its victory was probably its subject matter—the question of just what exactly constitutes authentic artistry when it comes up against the machinery of Hollywood and the dizzying heights of fame. The Oscars always love a picture about the pictures—as with recent winners Argo and The Artist—but this victory, and this ceremony, marked a real missed opportunity to look beyond the echo chamber inside the Dolby Theatre.