The Murky Gay Politics Surrounding the 'Stay Weird' Oscars Speech
While accepting his award, Graham Moore initially seemed to speak to the LGBT struggle. In truth, he ignored it.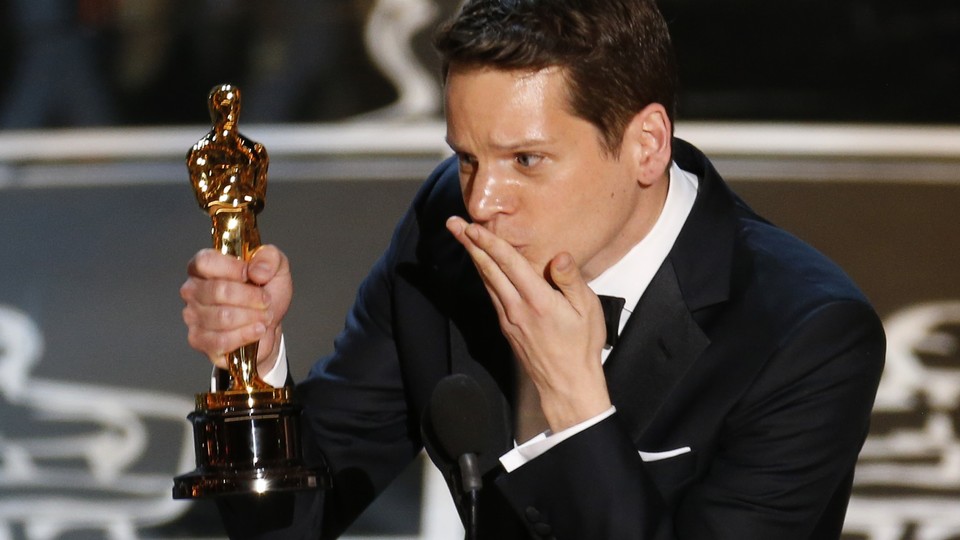 Queerty's roundup of the "Gayest and Greatest GIFs of the 2015 Oscars" is surprisingly exhaustive, including images both obvious, like Neil Patrick Harris in tighty whiteys, and subtle, like Meryl Streep's skirtsuit. But of the queerest sight of the night, apparently, there could be no doubt. "The gayest and greatest moment at the Oscars belonged to Best Adapted Screenplay winner Graham Moore," wrote Les Fabian Brathwaite. "First of all, this queen won life when Oprah called his name, 'Everybody gets a new car!' style. Then he got a hug and a kiss from Benedict Cumberbatch. Pretty sure he just died a little when this happened. And he gave the most moving speech of the night."
Yesterday, though, Queerty had to run a correction. Moore told reporters after the Oscars that he, in fact, is not gay. Brathwaite wrote that this was the "biggest upset of the night," and he wasn't alone in feeling surprised. Here's what Moore had said on stage:
Alan Turing never got to stand on a stage like this and look out on all these disconcertingly attractive faces. And I do. And that's the most unfair thing I think I've ever heard. And so in this brief time here what I want to use it to do is say this. When I was 16 years old I tried to kill myself, because I felt weird, and I felt different, and I felt like I did not belong. And now I'm standing here. And so I would like for this moment to be for that kid out there who feels like she's weird or she's different or she doesn't fit in anywhere: Yes you do. I promise you do. Stay weird, and then when it's your turn, and you are the one standing on this stage, please pass this message one.
Turing, of course, is the WW2 British mathematician who, as The Imitation Game portrays, likely killed himself after being prosecuted for homosexuality. A lot of people assumed that by comparing himself to Turing, Moore was specifically addressing the plight of people who aren't straight, especially because the speech felt like an update of Dan Savage's It Gets Better anti-suicide campaign targeting LGBT teens.
The revelation (or reiteration—he's said it before) that Moore isn't gay doesn't make his speech less moving. It's inspiring that he overcame suicidal depression, regardless of its cause. The world would be better if future awards champs took his advice to heart and used their platform to do good. Queer kids especially could benefit from his message, given that suicide rates are higher among them.
But knowing that he's straight, and knowing the primary controversy surrounding The Imitation Game has been about its minimization of the gay experience, makes Moore's Oscars moment a somewhat strange one. In fact, it's striking how much his speech is decidedly not aimed at gay people, even though it spoke out against suicide by invoking the name of a man whose suicide was likely related to his sexuality and at a time when LGBT suicide is a well-publicized problem.
"Stay weird" isn't advice that would have helped Turing, and as Slate's June Thomas and J. Bryan Lowder have pointed out, the challenges for queer people are a lot bigger than the mere fact that they feel different. Persecution and internal anxieties play a role; when you're raised in a homophobic society, the idea of ever finding same-sex companionship can seem hopeless or even frightening. "Thinking of homosexuality (or bisexuality or transgenderism) as weird is, in a way, precisely the problem," Lowder writes. "There's nothing weird about these natural and normal ways of being human, and getting to a point where straight people understand that on a fundamental level should be the goal. "
Movies about LGBT people often help shed light on what it's like to be queer, but one of the most pervasive knocks against The Imitation Game was that it didn't really do that. As portrayed in the film, Turing initiates a sham marriage not out of his own need to pass as straight, but to keep a star scientist working for him. In flashbacks, viewers learn he'd had an intense childhood friendship that ended sadly, but though the audience is meant to assume Turing had romantic feelings for another boy, there's really nothing gay about the plot line; why wouldn't Turing develop an admiration for the only person who was nice to him at school? In the movie's framing story, the police interrogate and then punishing Turing for being gay, but viewers learn nothing about the actual relationships or desires that led to that persecution. Note that these storytelling decisions were all from the script—in other words, they were Moore's.
The irony is that the awards-season campaign for The Imitation Game doubled as a gay-rights campaign, with the Weinstein Company supporting a petition asking the British government to pardon 49,000 men prosecuted for homosexuality. That's a worthy cause, but many saw the film's Oscars slogan—"Honor the man. Honor the film."—as transparently opportunistic, using political righteousness to help win trophies. If anyone has benefited from the campaign so far, it's Moore. He didn't mention it in the speech.