The Burden of Height and Talent
The NBA player Larry Sanders is taking a break to explore his "purpose in life." That's very unusual.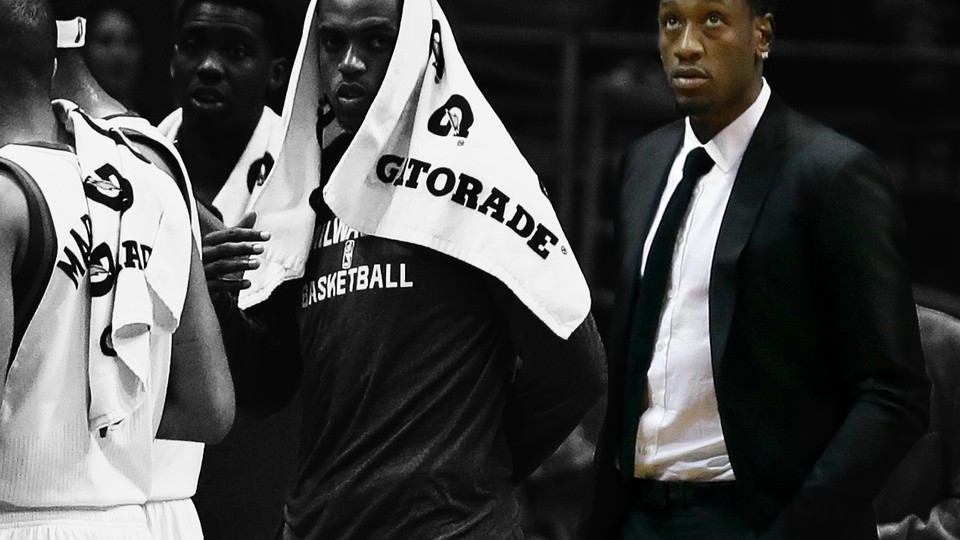 "I'm Larry Sanders. I'm a person. I'm a father. I'm an artist. I'm a writer. I'm a painter. I'm a musician. And sometimes I play basketball … Don't neglect the and, you know? Don't neglect the and."
Larry Sanders hasn't played in the NBA since December. The Milwaukee Bucks center has missed games because of "personal problems" that landed him in hospital, as well as a suspension for marijuana use. He and the team recently finalized a buyout agreement freeing him from his contract.
So NBA watchers knew that Larry Sanders likely wouldn't play again this season, and they knew his career was in jeopardy. What they didn't know was exactly why he was walking away—yes, the rumor was that Sanders had lost his desire for the game, although his agent said it was unsubstantiated. But Sanders explained it today in his own words: Those "personal problems" were anxiety and depression, and he really didn't want to play anymore:
The departure is somewhat puzzling, as the NBA notes on its Twitter account. Because it's a truth pretty universally acknowledged that a man who excels at running and jumping will want to run and jump professionally if he can. For those talented few, the path is set to a degree not found in most professional fields: When a young man of rare jurisprudential promise drops out of law school to pursue other interests, he is following his heart; when a top shortstop quits, he's a quitter who's wasting potential.
There was actually always a chance the 6'11'' Sanders would end up in the league: Pablo S. Torre estimated in Sports Illustrated that the probability of a man taller than seven feet making the NBA was a staggering 17 percent—sometimes, the game chooses the player as much as the other way around. Former NBA big man Andrew Bynum faced so many injuries, and had so many other hobbies, like rebuilding cars and computers, that he eventually let his basketball career fizzle out. And although most coverage of Sanders's decision has been supportive, the general assumption is that people who become rich by playing a sport should accept the attendant stresses and pressures.
Sanders disagrees. "I'm no different from the person whose 9-to-5 isn't their dream job," he says. "I've had to make the difficult decision to follow my intuition and allow myself the space and time to explore my true purpose in life." Of course, he won't have to take a 9-to-5, at least not right away. A stellar 2012-2013 season in which he nearly led the NBA in blocks earned him a long-term deal—and that buyout agreement will pay him around half of the $33 million dollars remaining on the contract.
But he does want to explore his other interests. His art has been on exhibit at the J Nikolai Gallery in Milwaukee, and he's used his obvious connection to an old HBO sitcom, The Larry Sanders Show, as a punny frame for interviews with teammates and coaches. He made a cameo in the comedy film Movie 43. He spends time designing skateboards.
Sanders, though, suffered from the burden of success more than most. He says he turned to marijuana in an effort to deal with the symptoms of anxiety.
You come into the league, you get dropped this large amount of money out of nowhere. People automatically change around you. That just happens. You become an ATM to some people. You have to be correct in your statements. You have to state things a certain way.
His recent stay in Rogers Memorial Hospital suggests that the grueling 82-game NBA schedule, padded out by endless practices and press appearances, was simply too much for someone whose passion was waning. Sanders' struggles bring to mind the former NFL running back Ricky Williams, who smoked marijuana before a drug test because he was ready to quit football and travel, or Houston Rockets draft pick Royce White, who never played in Houston but whose advocacy for a new mental-health protocol pushed many basketball lovers to reconsider the difference between mental and physical conditions.
Yet it's exceedingly rare for top-level athletes, even those battling off-court issues, to stop playing the game before their body gives out on them. Maybe others will follow Sanders's lead. Or maybe Sanders will even come back—he says he loves the game, and would consider a return if he feels "capable" again. For now though, he won't play. He doesn't want to. And that's just fine.