Reading Taylor Swift's Lips
The "Style" video is her latest attempt to set herself apart from the pop mainstream with a classic, and fraught, fashion choice.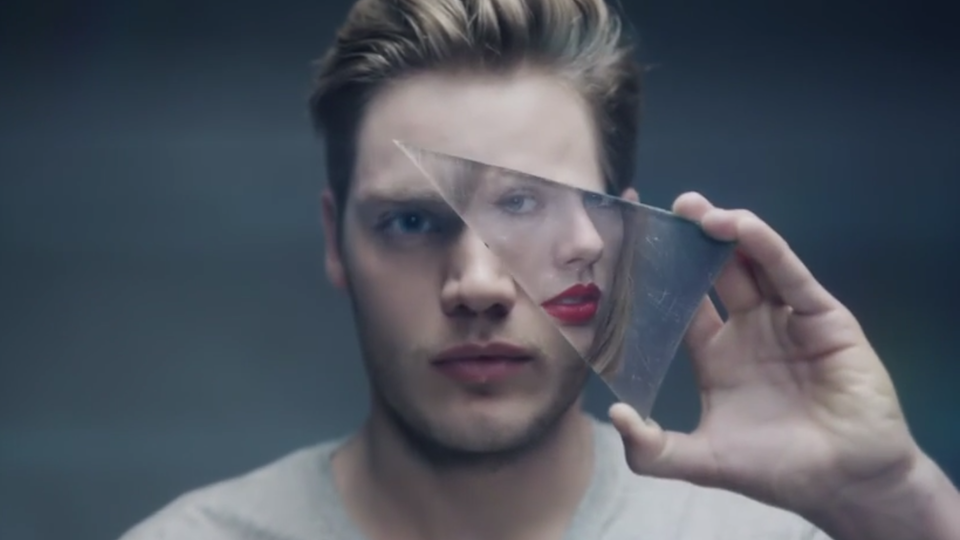 Quick, pick your favorite referent in Taylor Swift's sumptuous new "Style" video: Calvin Klein Eternity? Chris Isaak? Metropolis? Shirley Bass? The branches of the poison creosote? In the words of one Oh No They Didn't commenter, "Tumblr realness"?
Inspirations aside, one certain element is the protagonist: not Swift herself, nor her hunk, but her red, red lips. Their brightness pierces through the camera gauze, looms over the eye candy, teleports through glass fragments, and hypnotizes from a car's rear-view mirror.
Which is all just another sign that Swift's obsessed with her own Elizabethan-painted lips. She mentions them in three songs on the crazy-successful 1989, describing them as "red," "red," and "cherry." They're basically the only distinguishing feature of hers on the album's cover. And in 2012, around the time of the release of another crazy-successful record—called, ahem, Red—a fashion magazine asked her what she wears when she's not in red lipstick. To which she replied, "I'm always wearing red lipstick!"
Put those lips in integrated-marketing presentations and teach them in semiotics courses: For pop's no. 1 guru of strategic self-presentation, a personal makeup choice of course doubles as a branding trademark and a lyrical motif. In the "Style" chorus, she basically explains why she does it:
You got that James Dean daydream look in your eye
And I got that red lip, classic thing that you like
And when we go crashing down, we come back every time
Cause we never go out of style, we never go out of style

You've got that long hair slick back, white t-shirt
And I got that good girl faith and a tight little skirt
And when we go crashing down, we come back every time
We never go out of style, we never go out of style
"That classic thing that you like": She's talking about an all-American, feminine beauty tradition that includes Marilyn Monroe and Cindy Crawford. But unlike those icons, lips are basically all Swift wants to show off; previously, the body parts of hers to receive the think-piece treatment was her belly button, because of her reluctance to reveal it. Even when in seduction mode, she plays coy, mentioning not her physique but what's covering it ("a tight little skirt") and throwing in the ambiguous, but potent, idea of "good girl faith."
By keeping the focus on her face, Swift sets herself apart from the pop obsession with women's bodies. And the "Style" video, where her lips represent an all-consuming object of desire for a shirtless sadsack, is a statement of feminine power. But there is, as is so often the case in pop, a racial component here. The "classic" good girl Swift's talking about is of a specific skin shade; for others, wearing red can be a fraught choice, as shown in various controversies over the years where folks wrongheadedly berate black women for wearing Swiftian hues. And by making lips her trademark, she implicitly sets herself apart in the "age of ass," reinforcing some peoples' notion that the twerking routines and butt-bragging of Nicki Minaj et. al are a newer, deviant kind of sexual performance.
It's the same move she pulls in the "Shake It Off" video, imagining herself as a dorky everygirl in a hip-hop world; it's the same philosophy underlying 1989, an album that, as the New York Times' Jon Caramanica described it, "harks back to a period—the mid-1980s—when pop was less overtly hybrid." You could see all of this as uncomfortably coded, or you can see it as savvy market differentiation, or you can see it as an artist just being true to who she is. In any case, it's worth marveling how Swift can turn one of the most conventional style choices there is into a kind of rebellion.