Saturday Night Live's Endearing Mediocrity
The show's 40th anniversary reminded viewers that the stars, not the sketches, are what matter.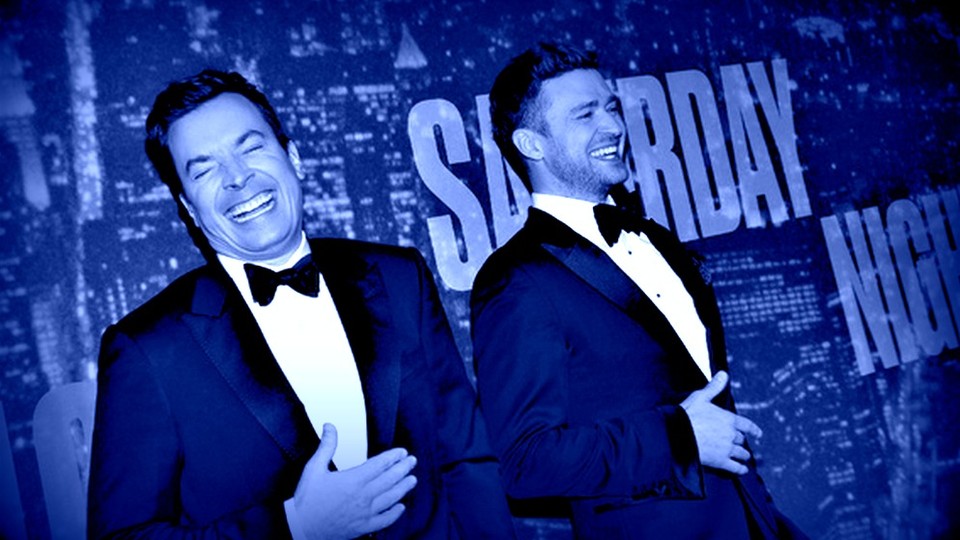 If it seemed that every important living comedian since 1970 showed up at NBC's Saturday Night Live 40th anniversary show Sunday night, that's because, well, they did. Every member of the original cast, minus the late John Belushi and Gilda Radner, were there, as were numerous stars from successive casts and, of course, hosts and musical guests. The celebrities were so numerous that the show, which lasted for three and a half hours, barely found time to include them all.
In its four-decade run, Saturday Night Live has done one thing very, very well: nurture successive generations of comedic stars. According to an investigation by 538, SNL alumni have starred in films that have grossed a combined $88 billion, or roughly the GDP of Cuba. Even major comedians who didn't star on SNL—such as Zach Galifianakis and Stephen Colbert—at least auditioned, as viewers discovered Sunday when the show broadcast their tapes.
Given its illustrious history, the most surprising thing about Saturday Night Live is that it isn't very funny. It really never has been. The 40th anniversary show, which featured a selection of the most popular clips, provided a perfect illustration of why.
No matter how old you are, Saturday Night Live isn't as funny as it used to be. But even snippets from the show's beloved first season reveal the same stale jokes, over-the-top slapstick, and canned ethnic humor that have plagued it ever since. Not that recent seasons have been much better. Take "Celebrity Jeopardy." The sketch features Alex Trebek (Will Ferrell) quizzing Sean Connery, Justin Bieber, and other celebrities who are unable to answer even the simplest questions—or, in Connery's case, pronounce the category correctly at all. In order to shove in as many stars as possible, Norm MacDonald's Burt Reynolds and Jim Carrey's Matthew McConaughey joined in until every possible joke was wrung out.
But "Celebrity Jeopardy" was Annie Hall compared to "The Californians," a mock soap opera which hijacked television screens for nine excruciating minutes. The premise of the skit is simple: People in California (read: Los Angeles) are blonde, dippy, New Age, and speak in an unintelligible dialect that sounds less Surfer Dude than Vicodin casualty. Following a brief story revolving infidelity and an illegitimate child, the interminable sketch mercifully concluded when Bradley Cooper made out with the 93-year-old Betty White, who deserved far better.
Just about every cast member from Saturday Night Live has gone on to do bigger and better things since their graduation, whether in movies or in more conventional TV shows. So how did such a mediocre show incubate such great comedic talent?
One consideration is the intended audience. I've heard it said that SNL has always appealed most to people who are around 11 years old: old enough to understand the show's topical humor but too young to have better things to do on a Saturday night. (For what it's worth, my own experience confirms this. My fondest memories of Saturday Night Live are no doubt Dana Carvey's manic impressions of Ross Perot during his presidential run in 1992, the year I turned 11.)
But the other reason for SNL's mediocrity is its sheer variety. The best comedies on television—think Seinfeld, Arrested Development, or England's darkly brilliant Peep Show—maintain a central cast of characters and premises throughout their entire runs. But Saturday Night Live features dozens of different characters and sketches each season, essentially throwing spaghetti against the wall to see what worked. (And then doing it again.) Elements of the show's humor have been consistent—topical sketches, slapstick—but SNL is essentially a comedic experiment played out on live television week after week.
"Saturday Night Live was never meant to be a document to withstand the test of time," wrote Liz Shannon Miller at Indiewire last year. "It's fast, it's loose, it's topical. Which is why it's live."
The best moments on Sunday weren't the sketches or the musical performances—although Miley Cyrus' sexy, soulful rendition of "Fifty Ways to Leave Your Lover" was a major highlight. Instead, they were simply when the stars veered off-script and played themselves. Chris Rock's introduction to Eddie Murphy was so moving that when it came time for Murphy to speak, he had nothing to add. Likewise, the reunion of "Wayne's World" fell flat until Mike Myers and Dana Carvey concluded with hilarious impressions of Lorne Michaels, the SNL creator, producer, and paterfamilias. Throughout the evening, I kept wishing NBC would just film the assembled guests walking around and talking to one another. Or, perhaps, shown us the after party instead.
Following a one-week hiatus, Saturday Night Live resumes on February 28th in an episode hosted by Dakota Johnson (her mother, Melanie Griffith, hosted in 1988). Adults tuning in will most likely grumble—to their 11-year-old—that the sketches just aren't as funny as they used to be. But Saturday Night Live has never been about the sketches. It's always been about the people.