The Oscars' Renaissance of Political Activism
The Academy Awards ceremony has never been particularly friendly to big displays of social advocacy. So what happened this year?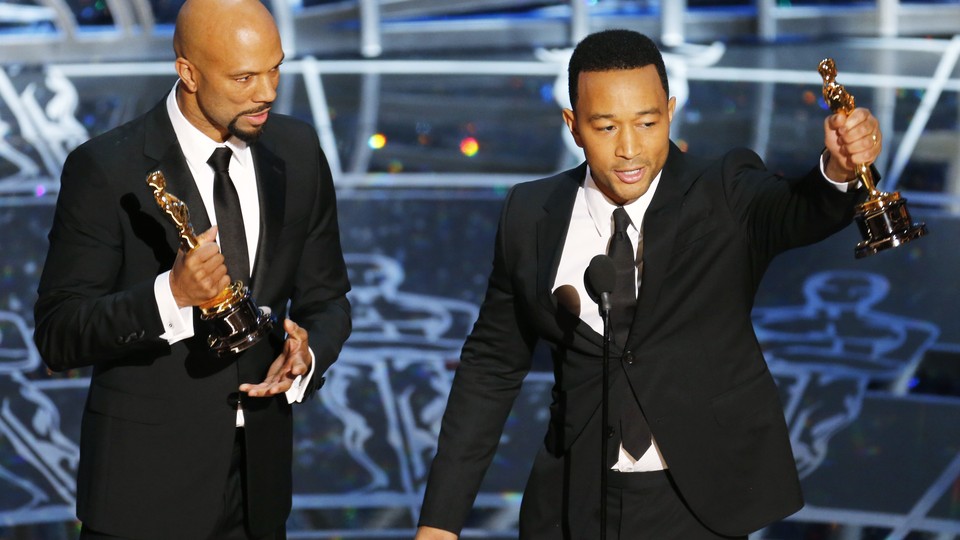 As Patricia Arquette headed to the stage and pulled out a pair of reading glasses to accept her statuette for Richard Linklater's Boyhood on Sunday night, the room settled in for a lengthy acceptance speech. But after rushing through a list of people she wanted to thank (costars, industry insiders, even her favorite painter), Arquette ended by dedicating her award to every woman who had ever given birth to a taxpayer or citizen of the United States, and pointedly criticizing the wage gap between men and women. The room awoke, a tweetstorm was ignited, and Meryl Streep gestured in solidarity—the ultimate Oscar-night stamp of approval.
Arquette's personal stand was one of several throughout the ceremony. Graham Moore, winning the Best Adapted Screenplay award for The Imitation Game, mentioned a suicide attempt in his teens and implored kids to "stay weird." Documentary Short Subject winner Dana Perry also divulged a personal connection to suicide and asked viewers to help erase the stigma of talking about it. Julianne Moore celebrated Still Alice for spotlighting a character with Alzheimer's disease. Winning for Best Song, Common and John Legend spoke out against mass incarceration. Alejandro González Iñárritu dedicated his Best Picture statuette to Mexicans living in the U.S., and ended his speech with a serious call for immigration reform.
Rather than kill the communal, congratulatory atmosphere of the ceremony, these brief moments of activism only heightened it. Arquette's actions inspired a Meryl meme. Graham Moore's remarks kicked off a #stayweird movement on Twitter. The orchestra's ushering Perry off the stage started a minor backlash against the longstanding Oscar tradition of using music to hasten speeches, which tapered off notably afterwards. Common and John Legend reduced Chris Pine to tears.
It seems noteworthy that the evening featured so many calls to political action, given how allergic the Academy Awards production has typically been to such grandstanding. Its distaste was apparent when it rushed Michael Moore off the stage with ever-louder music as he denounced George Bush in 2003 after winning Best Documentary for Bowling for Columbine. In 1973 the Academy banned awards being accepted by proxy—except in the case of a deceased winner—after Marlon Brando infamously sent the Native American activist Sacheen Littlefeather to accept his Best Actor award for The Godfather. In 1993 when Richard Gere ignored the teleprompter while presenting the award for Best Art Direction and expressed his wish that Deng Xiaoping might be watching (in hopes that the Chinese leader would be inspired by the ceremony's "love and truth and a kind of sanity" to leave Tibet), the show's producer said he wouldn't be asking Gere back. (Gere was not officially banned and received another invitation in 2013 to take part in a musical number with the cast from Chicago).
Gere's co-option of a Hollywood awards ceremony as a platform to commune with a Communist leader might have seemed odd at the time, but 22 years later, it seems more like a precedent. This year's nominated films were, by recent historical standards, tremendously politicized. Docudramas are on the rise with the help of powerful endorsements and the gravity of real-life causes, while marketing campaigns are increasingly tapping into causes broader than their particular stories. The Imitation Game's "Honor the Man, Honor the Film" Oscar campaign turned a film that wasn't necessarily about gay rights into a film that was; American Sniper sought to quell its bipartisan controversy with a campaign whose message was equivocal; Boyhood took the cute yet controversial stance that its family story was universal by adopting the slogan "One Family's Life, Everyone's Story."
Sometimes actors have found themselves forced into the position of mugging for broad issues with unscripted lines. Occasionally this can go terribly wrong—as some argue it did on Sunday night: Arquette came under fire for pegging her speech about women's rights to her role as a mother and taxpayer, which, according to Elizabeth Stoker Bruenig at The New Republic, reduced women to an old-fashioned, Republican view of motherhood and human bodies to what they pay in taxes. And Roxane Gay and Morgan Jenkins, among others, also criticized Arquette for suggesting that gay citizens, and citizens of color, had already achieved equality.
But politicized speeches are the logical result of politicized campaigns to get movies noticed during awards season—which force actors to take a stand on more than what they're wearing on the red carpet. Considering the many causes that Oscar winners have taken up with great seriousness over the years, one might be forgiven for declining to take the renewed gravity of the Academy Awards ceremony too seriously. But there's perhaps something to be said for the alternative view: that if Hollywood is willing to take a few brief moments away from ruthless money making and ask its audience to care about consequential issues in the world around it, the world around it might be at least a little better off.