Parks and Recreation's Pawnee: The Happiest Place on Television
The final season of the NBC comedy has underscored its optimistic and open-hearted ethos.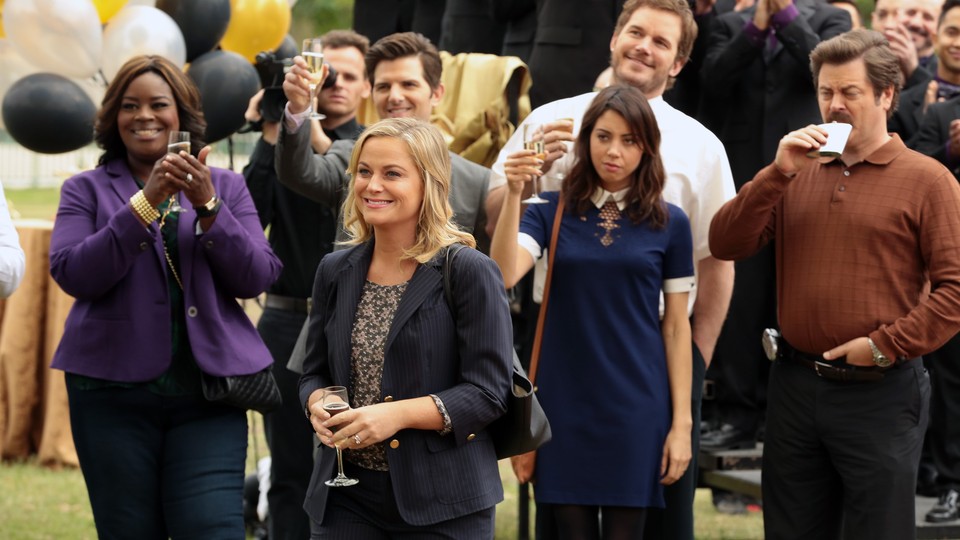 Parks and Recreation ends next week, maybe not with a bang, but hopefully with a custom-made banner expedited by Leslie Knope, a choir singing K-Ci and JoJo, and a hot air balloon to carry the show up, up, and away. Except this all already happened on Tuesday to Garry/Jerry/Terry/Larry, at the culmination of a two-episode block that featured guest appearances from Bill Murray, Paul Rudd, Henry Winkler, John Cena, and Nick Kroll, among others.
If that seems like an impressive list of cameos, the week before, Leslie (Amy Poehler) and April (Aubrey Plaza) visited Washington and met with five members of the Senate (Barbara Boxer, Orrin Hatch, Cory Booker, John McCain, Kirsten Gillibrand, all playing themselves) as well as Madeleine Albright. On any other show, this many gimmicks could be written off as parlor tricks to try and draw in viewers (especially a Werner Herzog appearance as a cranky homeowner), but Parks and Rec doesn't have to worry about viewers anymore, which is why its seventh and final season has been so wacky, so experimental, and so optimistic when it comes to the nature of humankind. So Pawnee, in other words.
Season seven has hurtled towards its conclusion in the space of six short weeks, thanks to NBC's commitment to double up on episodes and just wrap the thing up already. While this has given fans less time to say goodbye, and further eroded the show's ever-flimsy relationship with plot, it's led to some of the more memorable hours of network television in recent history.
The final season is set in the near-future of 2017. At first this felt like a ploy to make strings of jokes about the world two years from now (animated fart emojis, Kevin James leading the Bourne franchise, Shia LaBeouf finding his true calling as a jewelry designer), but as it's unfolded, the future shock has seemed like more of a way to get Leslie and her crazy band to confront some of the darker aspects of modern life. Pawnee has had its problems, sure (its slogan is "First in Friendship, Fourth in Obesity"), but they've usually been prompted by petty power struggles and farcical mix-ups. In 2017, by contrast, a Google-esque tech company called Gryzzl is spying on the town's citizens and using their data to make money, a construction company is bulldozing houses to make overpriced condos, and land that Leslie wants for a national park is sold to Gryzzl instead after the company offers the Newport family $125 million. Something is rotten, if not in the state of Pawnee itself, then at least in the priorities of its 1 percent.
It's a credit both to showrunners Greg Daniels and Michael Schur and to the unstoppable force that is Leslie Knope herself that season seven has tackled all these problems with unbridled optimism—even given the truncated window within which the show is operating and the graceless haste with which its parent network seems determined to usher it out. Leslie, with her signature combination of fiery passion and a high-school debater's capacity to argue the same point for 20 straight minutes without stopping, simply refuses to accept that bad things have to happen and directs all her energy toward making them not-bad. She entices Gryzzl into a scary, neglected part of Pawnee by touting its preexisting graffiti and barely existing infrastructure, and persuades the company to donate the land it had purchased to the National Parks Service to help with its PR problems post-data mining scandal. It's the same kind of ethos that sees her create a 10-year career plan for April in less than an hour, and a spectacular inaugural parade for Garry with only a moment's notice.
It's this general spirit of optimism and blinkered determination that makes Parks and Rec so unique. Tuesday's first episode, "The Johnny Karate Super Awesome Musical Explosion Show," was possibly the most experimental episode of the season, framed entirely within Andy's (Chris Pratt) children's cable show, and complete with fake ads for Verxxotle (a corporate merger between Verizon, Exxon, and Chipotle), Wamapoke Casino ("Taking back our money from white people, one quarter at a time), and Paunch Burger ("Put it in your body, or you're a nerd"). But it was also the most faithful to the show's inherent goodnaturedness, even spelling it out via the structure of Andy's unlikely hit. Step One: Make Something. Step Two: Learn Something. Step Three: Karate-Chop Something. Step Four: Try Something New, Even if It's Scary for You. Step Five: Be Kind to Someone. This being Pawnee, there were obviously distractions along the way (namely a stolen guitar and a Chekhovian tarantula that went missing), but it was still a pretty effective analysis of the sense of adventure, kindness, and general wackadoodle antics that have suffused Parks and Rec throughout its run.
Ditto the generosity with which the series has said goodbye to each of its main players. Andy's karate-show-within-a-show paid tribute to his generous spirit and his fearlessness; "Two Funerals," which followed it, gave Garry/Jerry/Terry/Larry (Jim O'Heir) the kind of love and respect he's never, ever seen before, but has always merited. "Donna and Joe" recognized the character rescued by Retta from bystander status, as did "Save JJ's," which saw Donna and Tom (Aziz Ansari) fly to Beverly Hills for the ultimate Treat Yo' Self revival. "Ms. Ludgate-Dwyer Goes to Washington" was all about April, and her struggles to find a job that only makes her roll her eyes 90 percent of the time.
But maybe the best episode of the season was "Leslie & Ron," a bottle episode of sorts that saw the two feuding characters locked in their old office overnight by their former coworkers in an effort to bring them together. Nick Offerman's Ron Swanson has always gracefully navigated the line between libertarian caricature and cranky drunk uncle, but his moments of weakness (usually named Tammy) are what makes him such a spectacularly loveable character. His admission to Leslie that he'd simply been feeling neglected and lonely reunited the pair, and cemented their status as the key partnership at Parks and Rec's core (with apologies to Adam Scott's Ben, the requisite straight man in a town full of loons). The clashes between Leslie's pro-government worldview and Ron's old-school libertarianism also serve as a model for how different ideologies can work together—even if it feels like Leslie's code inevitably triumphs.
It's not that Parks and Rec is naive, even if the use of a children's television show to summate its key vision could definitely be interpreted that way. And it certainly isn't perfect—the final season's weird failure to acknowledge Leslie and Ben's triplets, or Ron's new family, only highlights weaknesses in its ability to explore new terrain. But in a television universe saturated with angst, and darkness, and endless parades of antiheroes, the end of a seven-season comedy about people trying to do good in the world feels like a small tragedy. Especially when they make it seem like so much fun in the process.