On Dark Sky Paradise, Big Sean's Best Is Just Good
Known for club hits and collaborations with Kanye West, the Detroit rapper takes a significant leap forward on his latest full-length.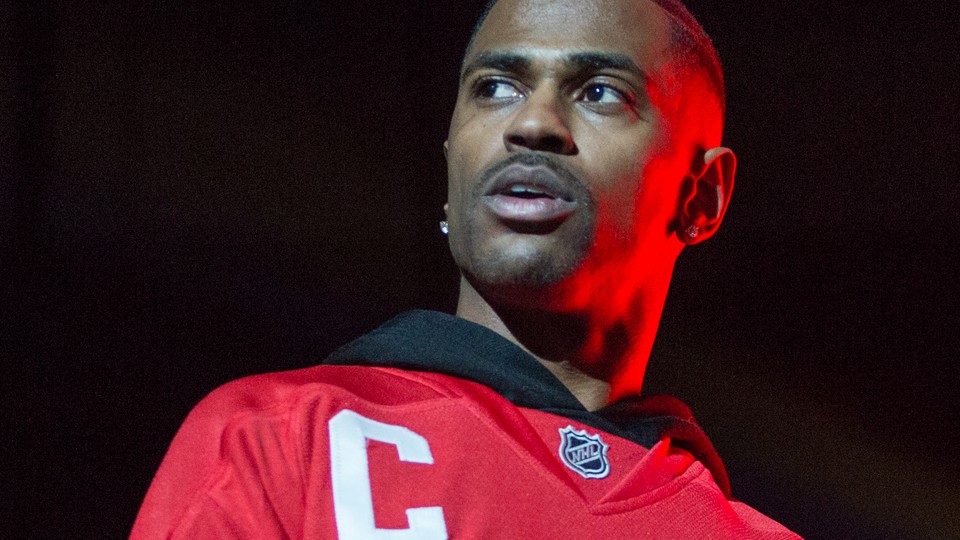 Big Sean claims he's hip-hop's de facto hardest worker, and at age 26, the Detroit rapper has indeed had quite a career. Discovered as a teenager by Kanye West and later signed to his label, GOOD Music, Sean Anderson has released a slew of mixtapes, several collaborations, and three full-length records. Mostly a rap fan's rapper, he's occasionally courted the mainstream with huge singles that become the club-banger of the moment—"Clique," "Mercy," and "Dance (A$$)," featuring Nicki Minaj, come to mind. His latest smash hit, the post-breakup anthem "I Don't Fuck With You," recently inspired anti-Valentine's cards, and has already gone platinum.
Despite moments of greatness, his records tend to be aggressively inconsistent, leading fans to develop a weary sense of skepticism. But on his latest offering, Dark Sky Paradise, Sean has finally made a full-length album more worthy of the hype—an album that could broaden his audience beyond hip-hop obsessives, something the mediocre Finally Famous and Hall of Fame failed to do.
Given this ambivalence, it's perhaps fitting that the overall theme of Dark Sky Paradise is paradox; it's reflected in the title itself. A gloomy, almost sadistic overtone hovers over the project, and the theme is as dystopian as Kanye West's latest Hunger Games-esque foray into fashion. The intro track "Dark Sky (Skyscrapers)," acts as a harbinger for the rest of the album, as Sean touches on his breakups, his relationship with his family, and his place in the rap game. He also alludes to social injustice—think Ferguson protests and abject poverty—while simultaneously issuing a warning to his competitors in the genre.
Credit card used to be EBT,
in the D though that's D-EBT,
I've been thinking about becoming a cop,
So I can murder some niggas one by one off legally
Dark Sky Paradise does have artistry: The album peaks with "All Your Fault" featuring Kanye West. It's the kind of song that makes finishing an album difficult for the listener, warranting multiple repeats at the expense of listening to the rest of the record. And getting to hear West, who's done little rapping lately, get back to his roots in his typical, ego-affirming manner is a treat. The soulful production is spellbinding and multi-layered, sampling Ambrosia's 1978 soul track, "How Much I Feel."
Sean's usual lyrical quirks are in full-flight on this album, but his polarizing habits often trip him up. He has a penchant for purposely stopping the beat, ripping off a few extended lines (cramming as many words into a bar as he can), then allowing the music to eventually catch up. Without the distraction of the background music, he's able to put more emphasis on his lyrical ability. At times it works, but Sean relies too much on what should be a sparingly used skill in his repertoire, often to the point of exhaustion. His "stacking" style is also heavily prevalent. Sean often loves to speak of quantity, whether it's cars, able-bodied women, or his work ethic, but the repetition of "stories on stories", "blessings on blessings," or "two girls is breasts to breasts to breasts to breasts" is gimmicky and distracting.

The album loses considerable speed after the midway point as Sean's affinity for half-baked themes resurfaces. The somewhat lackluster tracks "Win Some, Lose Some" and "I Know," fail to make full use of features by Jhené Aiko, the talented R&B songstress. And despite Sean's best efforts to weave a struggle narrative, "Deep" feels hollow, but it's rescued by a more engaged, 2015 version of Lil Wayne. The project gets a triumphant boost near its culmination from "One Man Can Change The World," the standout track on the back end of the project. Channeling West's "Only One," Sean raps about his late grandmother. The track cast a bit of a shadow on the creation of the album, as he told MTV news late last year: "I just lost my grandma," he said, "So, right before she passed, I wrote this song." But it doesn't feel contrived, and its poignancy is summed up in the phone recording between Sean and his grandmother as Grammy hero John Legend harmonizes at the end:
Grandma: Thank you for callin' me, been thinkin' about me
Big Sean : It's all good I love you too grandma
Grandma: Bye

Dark Sky Paradise, for all its ambitions and progress, doesn't deviate too far from Sean's usual shtick; he's rapping about money, girls, his family, and how hard he works. There are some half-hearted shout-outs to his city, but Sean lacks the gravitas of his peers to be a geographical pallbearer for Detroit the way Drake is for Toronto, or Kendrick is for Compton. Any idea of his "greatness" is more tethered to his perception of himself, as opposed to his audience's assessment of him. But he benefits from being likeable, and Dark Sky Paradise is a cohesive project that could earn him greater attention in the mainstream music world.