Kanye Should Have Taken the Mic From Beck at the Grammys
In so many ways, it was an offensively boring night.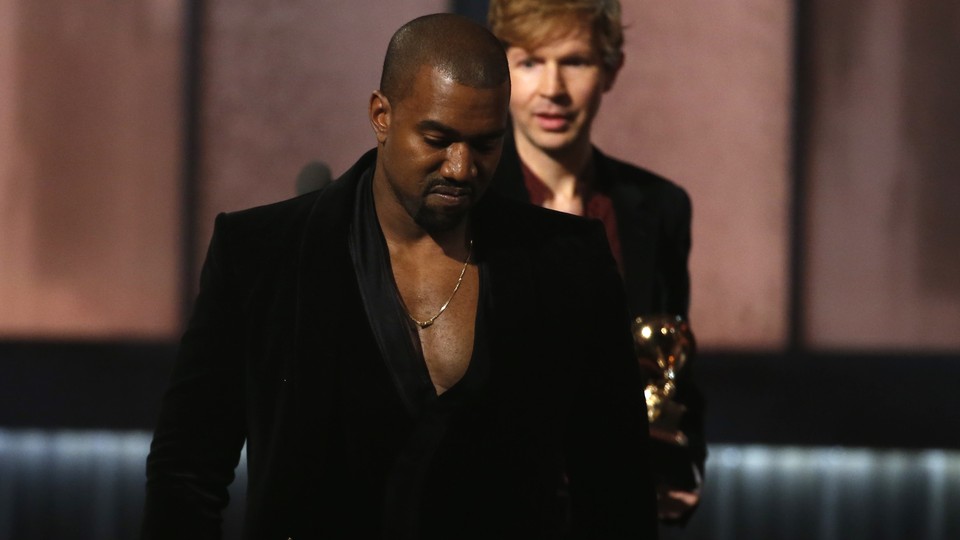 Last night, Kanye West gave us one of the best awards-show moments of all time. Of all time! Right as Beck was about to accept his award over Beyoncé and Sam Smith for Album of the Year, West walked on stage, extended his hand towards the microphone—and then smiled and returned to his seat. It was a cheeky remix of the time when West interrupted Taylor Swift's VMAs acceptance speech to plug Beyoncé six years ago; it also came off like an older, wiser West speaking for all awards-show viewers by getting momentarily enraged about a baffling upset and then shrugging to say "who cares?"
After the ceremony, though, West made it clear that he actually cares a lot. "The Grammys, if they want real artists to come back, they need to stop playing with us," West told E! News. "... Beck needs to respect artistry, and he should have given his award to Beyoncé. And at this point, we tired of it because what happens is, when you keep on diminishing art, and not respecting the craft, and smacking people in the face after they deliver monumental feats of music, you're disrespectful to inspiration."
Setting aside the unlikely notion of one artist giving his award to another one (though, interestingly, Sam Smith had said he'd do just that if he beat Beyoncé), the most fascinating thing about West's statement is the use of the word "respect." Because the Grammys are, in fact, obsessed with respect—a certain kind of respect, at least. It's the respect one pays at a funeral: solemn, formal, a performance of sacred awe. It's also the respect that one affords an athlete, or a child prodigy: amazed at raw technical talent, rather than at, yes, "inspiration."
Unfortunately for viewers, in the Grammy universe, the quickest way to shore up one's respectability is to perform a ballad. And so in addition to hushed sets from modern hymn singers like Hozier and Smith (who won four awards), artists known for upbeat radio hits enlisted string sections and elder crooners (Tom Jones, Tony Bennett, Paul McCartney) to show that they could slowly emote as well as anyone. It's occasionally refreshing to see an act like Rihanna sing for a dinner party rather than a dance floor; at the point when you have Ariana Grande, Maroon 5, Gwen Stefani, Katy Perry, Lady Gaga, Beyoncé, Jessie J, and even West attempting the same thing, though, you begin to suspect that there's a gas leak in the building.
The evening's snooziness did make Beck's upset fitting, at least. For his 12th album, Morning Phase, he ditched the strange wit, hip-hop flourishes, and sonic adventuring that made him famous in favor of a series of achingly pretty acoustic songs. It's a nice record, but as the journalist Chris Molanphy pointed out on Twitter, it probably won Album of the Year in large part because it was the only rock album nominated.
Folks, when calling AotY, *always look if "rock" album has that lane to itself*. Beck win=vote-splitting in other genres. #GRAMMYs

— Chris Molanphy (@cmolanphy) February 9, 2015
For anyone who, like West, thinks that Beyoncé's boundary-pushing self-titled album—a diverse set of songs that shocked the music industry and became ubiquitous while sounding like little else on the radio—deserved the win over an indie guitarist's midlife chill-out record, the idea of vote-splitting and a bias towards rock might be comforting. Beyoncé probably never really had a chance; the system was rigged.
But then you think about the overwhelming sameness, and whiteness, of the general-field Grammy winners historically. You think about the fact that a hip-hop release hasn't won Album of the Year in more than a decade; the closest thing to an R&B victory recently was for Adele's 21. The Grammys invite Beyoncé, West, and co. every year, but voters clearly think the music that makes those stars successful is an inferior sort. That's probably unfair, and it definitely leads to a pretty boring ceremony. It's enough to make you wish Kanye had gone all the way this year and grabbed the mic, to make the night's one moment of great TV even better, and to pay the Grammys the disrespect it deserves.