Soggy Bottoms and Sex Box: The Saucy State of TV's British Imports
WE tv's new series and The Great British Baking Show might have more in common than where they came from.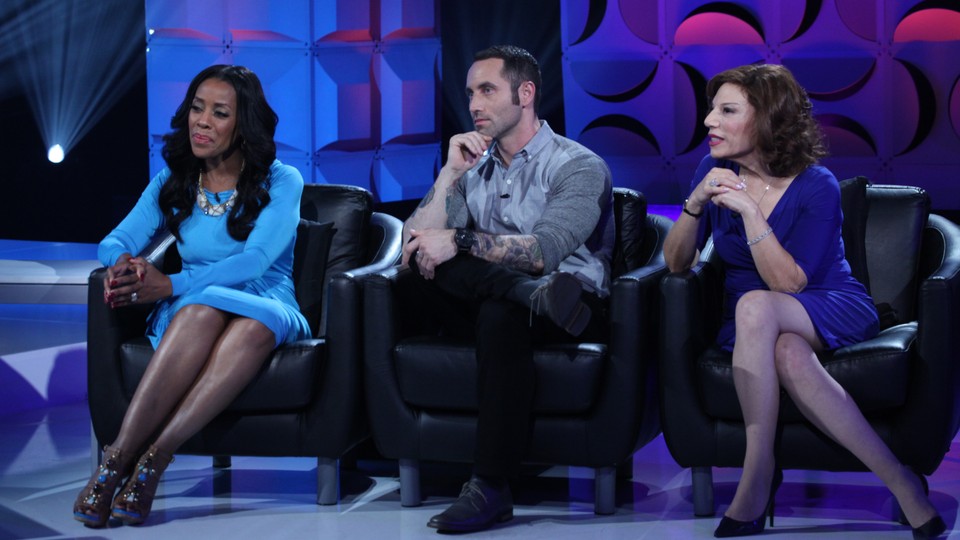 In 2013, the British television network Channel 4 debuted a seven-episode show called
Sex Box
. The series—as might be gleaned from the brilliantly simple title—featured couples having sex in a box, inside a television studio, and in front of a live audience, three relationship/sex experts, and a host, Mariella Frostrup. The twist (as if a twist were needed in a TV show about couples having sex in a box) was that the box was soundproof and free of cameras—what happened inside it was entirely private. It was, as
Grantland
's Molly Lambert pointed out,
Schrodinger's Sex Box
. The couple inside could be simultaneously having sex and not having sex; they could be ravaging each other and also reading gardening magazines, or stoking the flames of a fiery passion and quenching them by arguing about whose turn it was to take the bins out. ("Bin" is British for "trashcan"—this will become important later.) No one would ever know.
The dirty little secret at the heart of Sex Box, in fact, was that it was a well-meaning and thoughtful anthropological experiment dressed up as a tawdry, tabloid-bating death knell for standards of common decency. The show's actual mission was far more complex than its perceived intent of destroying the fabric of British society—and far more ill-fated. "We may find it embarrassing, but there's never been a greater need to talk about sex," said Frostrup in the opening scenes, her voice, as ever, evoking the crunch of honey-covered gravel. As the Internet increasingly brings pornography into people's homes, the point of Sex Box, she informed the audience, was to show that porn is to real sex what kabuki theater is to Eastenders (I'm paraphrasing), and to remove some of the mystique about what actually goes on in people's bedrooms.
The problem was, (a) British people are genetically incapable of talking about sex without giggling, and (b) despite the fact that couples were gamely having sex in a box for the anthropological betterment of the nation, the show was quite boring. Occasionally enlightening, in the sense that the advice doled out by the three experts (one of whom was American columnist Dan Savage) could be quite practical—but not exactly gripping. The most suspenseful Sex Box ever got was when Frostrup rushed up to the couples as they emerged from the box and attempted to interview them with all the peppy urgency of Erin Andrews at the Super Bowl, and you had to wonder whether the poor, blindsided, post-coital people would be able to do anything more than stare at the camera in abject horror. Upon being urged to relate what happened in the box, one man, Dean, looked at his feet and described as best he could how it was "taking clothes off, obviously, and then straight into it."
* * *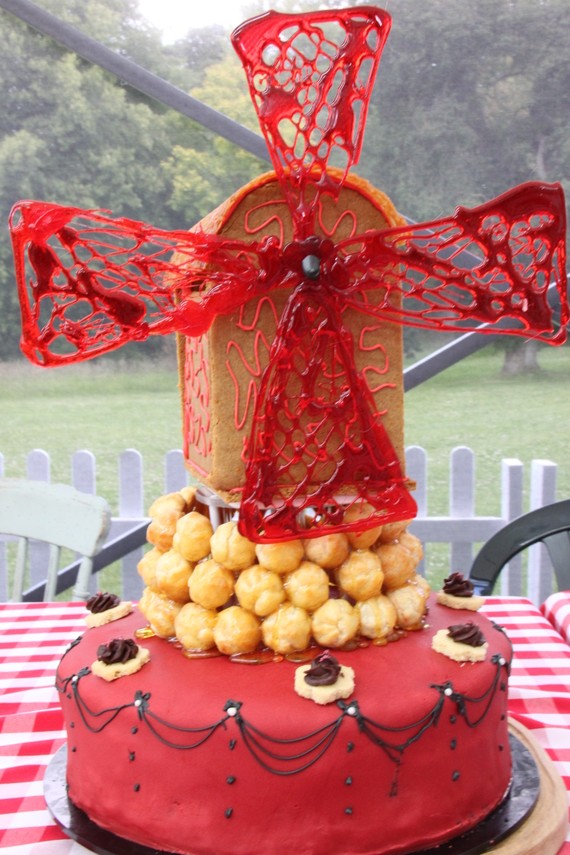 British Sex Box, alas, never lasted more than a season, and attracted at its peak just 1.1 million viewers, 20 percent of whom changed the channel after the first 15 minutes when it became clear that the box in question was disappointingly opaque. But it lives on thanks to WE tv, which has resurrected the premise for a U.S. audience, starting Friday—the same weekend that another saucy U.K. import, The Great British Baking Show, has its season finale on PBS. If Sex Box is a show that sounds shocking but ends up being yawningly jejune, GBBS is the exact opposite: a refined and well-mannered cookery contest that somehow also manages to be a teeming hotbed of smut. While the contestants grind away under the clock at their Victoria sponges and poached pear puddings in an idyllic Somerset setting, hosts Mel Giedroyc and Sue Perkins inquire winkingly about the erectness of a biscuit or the appropriate length for a profiterole. Meanwhile Mary Berry, the 79-year-old celebrity chef who judges the show alongside Paul Hollywood, has a habit of saying things like "Oh no, you have some irregular shaped balls," or "Some of them have got a good forking," or "I've got the taste of nuts coming through." She is also, when it comes to tarts, obsessed with the possibility of their having "soggy bottoms."
The prospect of disappointing finishes is unfortunately also alive in the new incarnation of Sex Box, which comes with none of the hopeful spirit of the original and a much louder and more opinionated set of experts. If the British show was a gimmicky attempt to get people talking about sex, WE tv's version sees itself more as intensive relationship therapy for three lucky couples, delivered by sex therapists Chris Donaghue, Fran Walfish (the "keeper of Hollywood's bedroom secrets," a voiceover says), and Yvonne Capehart. All three are doctors; Yvonne is also a pastor. After sex, Donaghue tells the audience, "the oxytocin is at its highest, so that's when you'll be the most honest and open." After sex, in front of a live audience, and on national basic cable.
Strangely, none of this seems to deter the three couples in the pilot, all of whom are heterosexual (British Sex Box featured a gay male couple in its first episode). Nor does the branded "intimate apparel" Dr. Chris asks them to put on before they come out of the box, which glows a deep pink while the couple are inside, and turns green when they're ready to emerge. The first couple, Brandon and Elle, sport dove-grey pajamas (him), a short pink robe (her), and sheepish expressions. Prior to going into the box, they'd discussed how their sex life had declined, and Elle had accused Brandon of not paying her enough attention in the bedroom, while his face crumpled like tissue paper. But after the box, the couple tells the doctors, things are much better. Asked to rate their performance, like a messed-up version of Olympic figure skating, Brandon gives himself an 8.8, while Elle gives him a 7.9. That's a great score, the three sexperts inform him. Brandon grins, crosses one knee over the other, and makes an I'm-a-baller face at the audience, which promptly gives him a round of applause for managing not to be a selfish lover.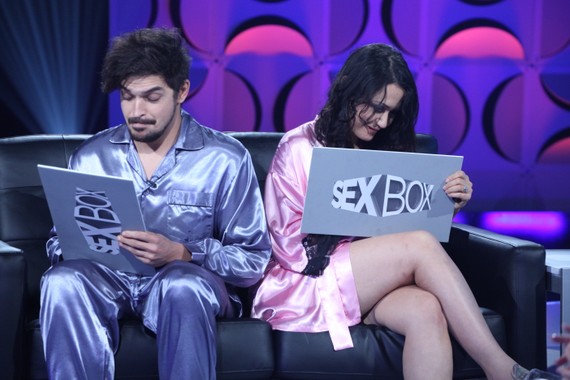 The show also features a roving correspondent, Danielle Stewart, whose job is find people on the street and ask them questions about sex. The difference between the reticent British public and outspoken America is at its most profound here: While the Brits giggled and talked about "all the sex these days ... on Tumblr," a willing American interviewee describes how he wants his girlfriend to "reach for my [bleep] faster while giving me road head." It all goes downhill from there. Two more couples come out, one of which consists of a flagrant asshat who clearly wants permission to cheat and his long-suffering wife, and one of which is a young married couple struggling to regain their sex life after having a child. "There's a large piece of this puzzle that is missing in Alexia," says Dr. Fran, referring to the new mother. "There's an incredible stiff tension that is in her body." All the while, it's impossible not to think of practical matters, like how frequently the box is cleaned between couples, and whether it also glows pink on the inside, like a Barbie sex box.
* * *
As has been established, British people aren't very good about talking about sex. But when it comes to making an icon out of a septuagenarian for her inadvertent, food-inspired innuendo, they're world champions. And unlike Sex Box, The Great British Bake Off, as it's known in the U.K., is a spine-tingling thrill ride for all of its 55 minutes. The current season is the show's fifth, even though it's the first time it's aired in the U.S. thanks to some ill-judged attempt by CBS to buy it, tie up the airing rights, and replicate it in the form of The American Baking Competition—a miserably pale custard of a counterfeit that was canceled after a single season. That's four seasons of soggy bottoms and self-saucing puddings missed.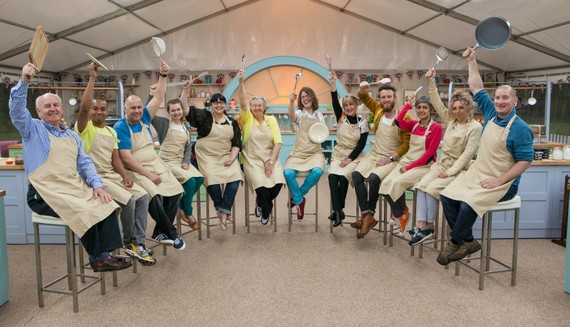 Thankfully, the show is still delightful—a fricassée of collaboration, culinary creativity, and filthy double entendres. There are also moments of high drama: In the fourth episode, there was a palaver known as "Bingate" in which a contestant, Iain, threw his Baked Alaska in the bin after the ice cream failed to set, and the show intimated that there'd been foul play (another contestant, Diana, was seen taking said ice cream out of the freezer). The BBC received more than 800 complaints about the perceived act of sabotage. Despite this uncharacteristic moment of crisis, during most challenges, if one contestant has successfully finished her schichtorte or savory parcels, she'll usually rush to the side of another contestant to help out. It's that kind of crowd. It's a baking contest, yes, and the nation is watching, but the stakes aren't
that
high—the winner gets a trophy that may or may not be
shaped like a giant lemon juicer
, and nothing more. No cash, just glory.
In fact it's hard not to deduce that on The Great British Baking Show, as on Sex Box, the experience itself is the reward. On the one hand, there are willing amateur bakers devoting up to ten weekends of their life to high-octane, timed challenges, like producing a tier of sweet and savory pies in under four hours, and on the other, there are couples having sex in a box and then talking with three impertinent loudmouths about how it went. Savory scones versus sex in a box. Swiss rolls versus soundproofed lovemaking. GBBS has been credited with reviving baking across the U.K., spurring millions of men and women to rustle up a tarte aux pommes or a savarin at home. One can only hope the same influence isn't wielded by Sex Box. Some stunts are just best left in the TV studio.