Drake's Workaholic Triumph
The rapper's trying very hard on If You're Reading This, It's Too Late, and that's a great thing.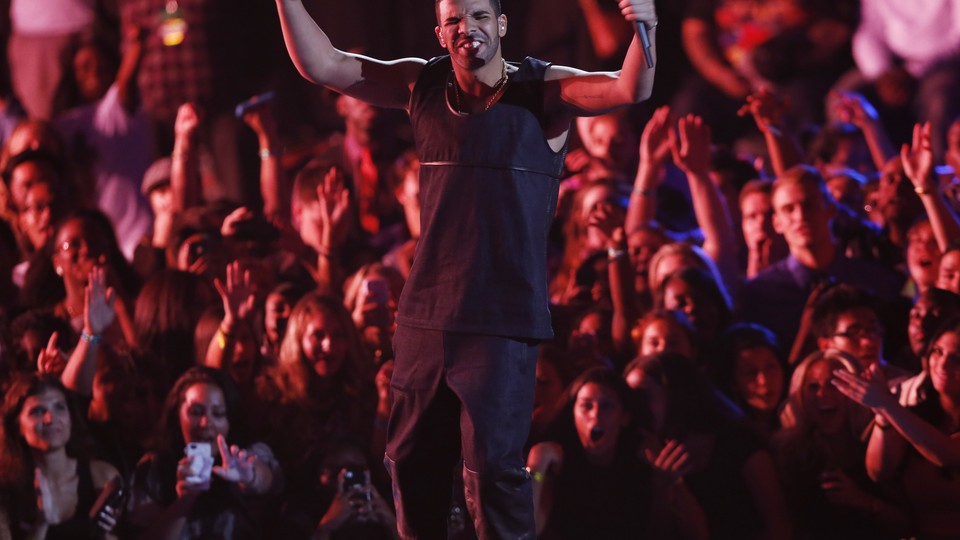 To understand how Drake's feeling on his new release, If You're Reading This It's Too Late, well, listen to any track—he's better at explaining himself than anyone else is. But the line that sticks out to me, summing up and almost parodying the mindset of both the Canadian superstar rapper and overachievers everywhere, is the chorus to "Company," a dirge-like chronicle of booty calls: "I need you to take my mind off of being in my prime."
Being in my prime: This is Drake's biggest problem in 2015, and you'll be forgiven if you don't exactly weep for a 1986 baby who claims to have two mortgages totaling $30 million. But there is something sympathetic, almost inspirational, about the 17 tracks of his that hit iTunes without warning on Friday (quite possibly so as to end his record deal). If You're Reading This It's Too Late is part of a long cultural tradition of embattled, paranoid brilliance, à la Kanye West or Steve Jobs or anyone else who Kanye West compares himself to. It's the work of someone who knows that that success is fleeting, that he's been lucky, and that if his career falters there'll be no one to blame but himself. Any workaholic should be able to relate.
"Energy," the album's rowdy and tense second song, sets the stakes with genius-level humblebrags. Drake recites a litany of classic Rich Rapper Problems—rivals talking trash, girls trying to get something out of him—but nails the tedium of it all: "I got bitches askin' me about the code for the Wi-Fi / So they can talk about they timeline." That Wi-Fi line is one of a few times when Drake portrays technology as a distraction, just another force that he says is "tryna drain me of this energy." The energy he's talking about isn't a new-agey metaphor; it's the physical power to remain focused and productive.
One track later, like a novelist flipping on the Freedom app, Drake's at his condo studio with the phones turned off, boasting of having "hit the stride." The backup for the boast is in the music itself. The sonic grandeur and indulgence of Drake's "proper" albums has been replaced by smaller, samey soundscapes, with many of the tracks built only with drum snaps and a washed-out soul sample. The minimalism keeps the focus on some of the more intricate, unpredictable cadences of Drake's career, as well as the fierce disses that have already roiled the Internet. That this all comes on a stopgap mixtape (hype has been building for months now about a fully fledged album called Views From the Six) bolsters Drake's claim of being the perfect successor to Lil Wayne, who made himself a legend with a flood of similarly low-fuss releases.
But unlike with Wayne, prolificacy, hard work, and technical ability aren't typically considered to be Drake's banner features. A Canadian, half-Jewish former child star who mixes singing with rapping and athlete-style bragging with writerly introspection, there's just no one like him in music. This fact has made him an easy cultural punchline, with people giggling about the idea of a rapper so sensitive that he, say, minds being asked for a Wi-Fi password. He's plenty aware of the snickering by this point, and thankfully it seems to have revved his drive: "I been going hard," he says on "No Tellin'." "But then again, they think I'm soft."
The truth is, he's at his best when he's going hard at being soft. The Drake-iest thing here might be "You & the 6," which turns the letter-to-a-parent rap trope into, per Vulture's Lindsey Weber, an "ode to the Jewish mother." Said mother gets Google Alerts for Drake's name, tries to set him up with her fitness instructor, and gives him the advice of "don't ever take advice." He lavishes attention on her, buying her a house and recording this song, but sounds pained that he still can't make her happy all the time—the rap game's too demanding. "Who are we kidding," she consoles him. "You're 27, you just being you." Mom, at least, gets how stressful it can be in your prime; by the end of the album, anyone else might too.