Brian Williams Exits Stage Left—for Now
The NBC news anchor will take an temporary leave of absence after admitting he exaggerated an Iraq reporting story from 2003.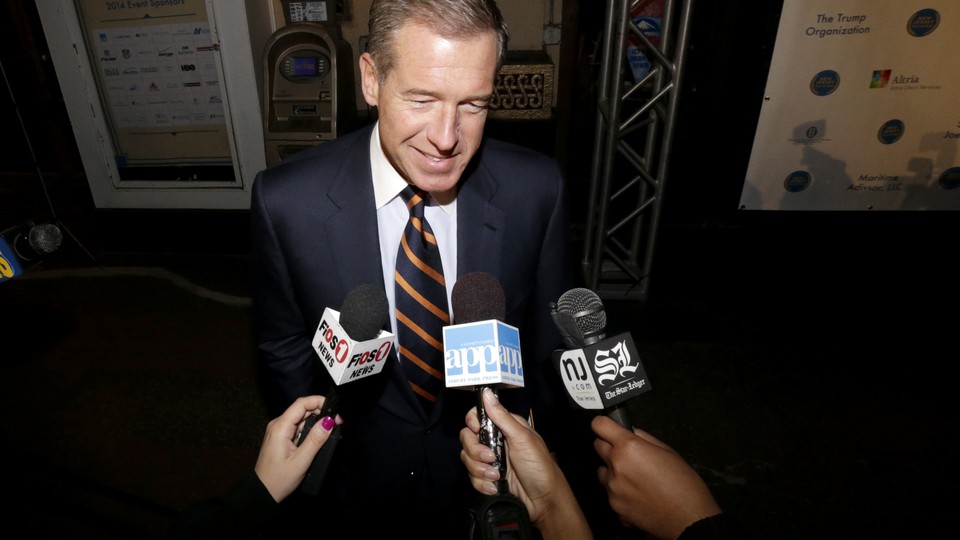 Three days after admitting that he hadn't, as he had previously maintained, been on board a helicopter that came under enemy fire in Iraq in 2003, Brian Williams announced he is taking a leave of absence from his job as anchor of NBC Nightly News. His statement:
In the midst of a career spent covering and consuming news, it has become painfully apparent to me that I am presently too much a part of the news, due to my actions.

As Managing Editor of NBC Nightly News, I have decided to take myself off of my daily broadcast for the next several days, and Lester Holt has kindly agreed to sit in for me to allow us to adequately deal with this issue. Upon my return, I will continue my career-long effort to be worthy of the trust of those who place their trust in us.
How quickly Williams comes back will likely depend on the results of NBC's investigation into his reporting, which focuses on his coverage of two particular stories: the 2003 U.S. invasion of Iraq, and the aftermath of Hurricane Katrina two years later. In both cases, Williams appears to have exaggerated his experiences in order to make them more vivid, personal, and intriguing than they really were.
My colleagues David Graham and James Fallows have written about the Williams affair from the perspective of memory, exploring why the widely respected news anchor so badly misrepresented his life experience. But the scandal also indicates that Williams struggled to maintain the delicate balance between entertainment and journalism. As an entertainer, Williams had no peer among his contemporaries, as shown by his comfort on late night talk shows. But his exaggerations—clearly an attempt to play up his reporter bona fides—show that being a beloved, respected, and grandly compensated broadcaster wasn't enough. He also seemed to want to be taken seriously as a reporter, as much a Dexter Filkins as a Jimmy Fallon. And in doing so, Williams violated a cardinal rule of never playing up your role in covering a story.