Tangled Up in Ol' Blue Eyes
Bob Dylan's new album, Shadows in the Night, is an unexpectedly beautiful tribute to Frank Sinatra.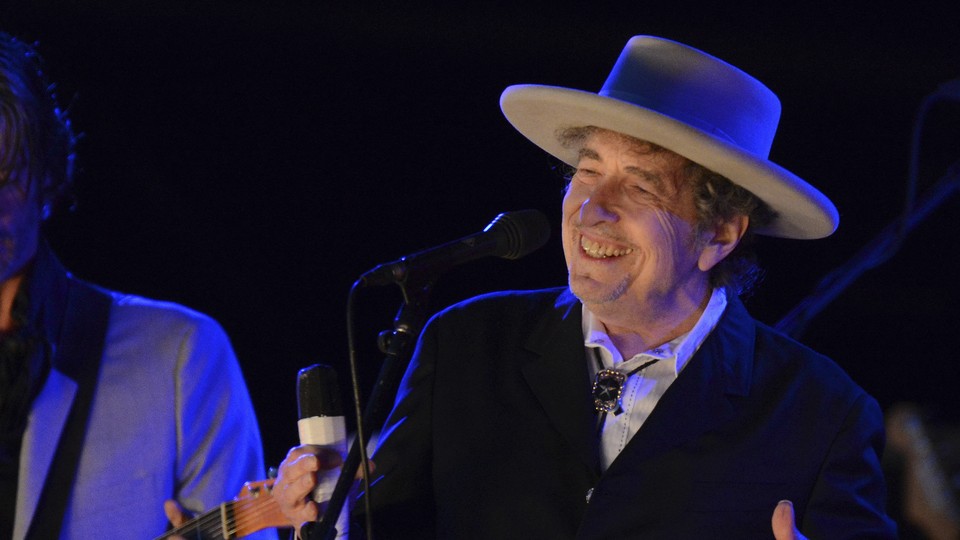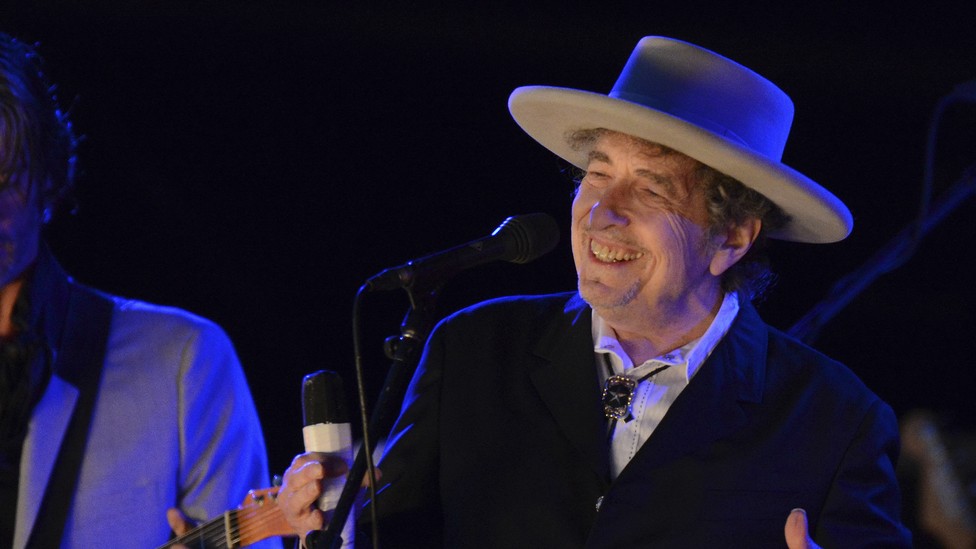 When word first emerged a few months back that Bob Dylan might be making a Frank Sinatra tribute record, it seemed like farce. Bob Dylan, the icon of '60s counterculture, the rebel against the fustiness of Ol' Blue Eyes's era and milieu? Bob Dylan, the Jewish folkie from Minnesota, paying tribute to an Italian swing singer from Jersey? Bob Dylan, the guy whose voice was never pretty and has recently seemed to lose all range entirely, imitating the suavest of crooners?
It wasn't comedy. The record is real—and it's surprisingly good, perhaps his best since Modern Times in 2006. Shadows in the Night won't please all of Dylan's fans, but it's a rewarding and often beautiful piece of music, not an apparently elaborate joke like 2009's Christmas in the Heart. The source material is submerged pretty deep, though Dylan's affection and respect for Sinatra is plain—or as plain as anything ever is with Dylan. The result is an alchemical transformation of a set of somewhat trite, mostly torch songs into a (partly) secular gospel album: Dylan takes Sinatra's slick crooning and produces music that sits somewhere between hymnic gospel and old-school country. As anyone who's ever heard even a snippet of Christian rock knows, there's a fine line separating lyrics about eros from lyrics about agape. Dylan crosses the line repeatedly.
Sometimes it's more explicit than others. "Stay With Me," which Sinatra recorded as the theme to a movie about a priest, has hymnlike lyrics to begin with, so it's an easy task. On album closer "That Lucky Old Sun," the religious angle is even clearer: "Dear Lord above, can't you know I'm pining, tears all in my eyes/Send down that cloud with a silver lining, lift me to paradise." (It's also the best cut on the record.) Dylan famously went through an evangelical Christian phase, but religion has always been a presence in his work, stretching back to the apocalyptic prophetic voice on early protest songs like "Masters of War." Asked about his own current beliefs when he released the Christmas disc, Dylan offered a classically enigmatic reply: "Well, I am a true believer."
Gospel and swing both fit comfortably in the catholic and encyclopedic virtual jukebox of Americana that Dylan's music has comprised since his 1962 debut. But that eclecticism has been especially apparent since 1992's collection of traditionals, Good As I Been to You. As the '80s ended, the bard seemed exhausted. Returning to the well of folk music that launched him seemed to also replenish him, and after another record of traditional tunes, he delivered Time Out of Mind and Love & Theft, two of the best albums of his career.
Before making Time Out of Mind, Dylan told producer Daniel Lanois, "There's some records that I really like from the '40s and '50s and I'd like for you to hear them to understand the energy of them, the beauty of them." His recent records since have included a wide range of styles: country blues, jaunty twang, folky ballads. They also include a remarkable amount of swing. "Summer Days" is jump blues. "Floater" is Western swing. "Po' Boy" is straight swing. From song to song, the records sometimes diverge wildly, but they're coherent documents, linked by a common Americanness. His band takes the stage in vaguely old-timey uniforms. It's folk music from an imaginary America, music that makes you nostalgic for a time before you were born, and that didn't exist anyway.
From that '40s-style swing, Sinatra tunes aren't a huge stretch. (By now, Bob himself could be described as Ol' Blue Eyes.) But the songs on Shadows in the Night aren't typical Sinatra fare, which is one reason it works. You won't hear any "Fly Me to the Moon" or "Night and Day" or "Strangers in the Night" here. If you didn't know where these lesser-known ballads came from, you might never make the connection.
Dylan isn't calling this a Sinatra record. The announcement on his website makes no mention. In his sole interview ahead of the release, with AARP the Magazine's Bob Love, Dylan played coy. "I noticed that Frank Sinatra recorded every one of these songs. Was he on your mind?," Love said. "When you start doing these songs, Frank's got to be on your mind," Dylan replied. "Because he is the mountain. That's the mountain you have to climb, even if you only get part of the way there. And it's hard to find a song he did not do. He'd be the guy you got to check with." This seems like classic Dylan misdirection, though who knows? The cover art seems like an homage to Blue Note Records' classic '50s and '60s look.
But what does it sound like? Start with the voice. Croaky and unorthodox even when Dylan was young, in recent years it's seemed totally shot. On his Never-Ending Tour you'll hear Dylan rasping his way through songs almost tunelessly. He uses a range of about five notes and rewrites the melodies of classics nearly past recognition. (And this is the assessment of someone who loves these shows!) But it turns out the old man still has some melody in him. This isn't Nashville Skyline, and there are some clear moments of strain, but overall, Dylan stays true to the tunes and hits the notes with panache. Many of these songs were unfamiliar, but I found their melodies intractably implanted in my mind.
Decades of mockery of Dylan's voice have obscured the skill with which he uses the instrument; Ornette Coleman makes great music with a plastic saxophone, too. Through a combination of limited range and intense study of masters, Dylan has developed one of the most exquisite senses of phrasing in American singing, comparable to Sinatra or Fitzgerald. It's been apparent forever—listen to how he elongates words and dodges and weaves around the beat on "I Want You"—but it's one of the few things about Dylan's singing that has improved over the years.
Some of these songs seem up to the challenge of the Dylan treatment; others do not. "I'm a fool to hold you/Such a fool to hold you/To seek a kiss not mine alone/To share a kiss that the Devil has known" has the spookiness and menace of Dylan's own recent songs. Others, like "The Night We Called It a Day" wilt under the seemingly ancient weight of Dylan's voice. "Autumn Leaves" is an indelible chestnut, but too well-known to make this version anything more than a curiosity.
None of this would work without the right musical backdrop. The band is Dylan's regular touring ensemble, which routinely rocks through "All Along the Watchtower," but they play this material no less naturally. The sound is a lot like a 1950s country record—Hank Williams or maybe Lefty Frizzell. (Hank sang gospel too, of course.) Like those classic sides, Shadows in the Night was recorded live, with all the musicians in the same room at the same time. Drums, when present, are faint. The musical anchors are longtime sideman Tony Garnier's bass and Donny Herron's unadorned pedal steel, which serves as the principal counterpoint to the vocals. In contrast to Sinatra's syrupy charts, burdened with strings and horns and harps, the arrangements here are straightforward and simple. (Three tracks feature horn sections.)
But the originals sneak in in intriguing ways. Sinatra's version of "Stay With Me" has a cornball symphonic flourish to open:
Dylan actually uses exactly the same motif, but transposes it to Herron's steel guitar and Garnier's bowed double bass. What was bombastic becomes plaintive and evocative. It's both tribute and definite improvement.
As effectively as Dylan makes these songs over in his own style, Shadows in the Night can start to feel monotonous, even though it is short. Many of the songs share a similar tempo and feeling, and without the propulsion of drums, it can get sleepy. Overall, it's a successful musical excursion, against the odds. It's good to be reminded that Dylan, so celebrated for his words, has deep wells of musicianship. It's good to hear his voice still in such fine fettle.
Not that he probably cares. As the concept of this record suggests, Dylan is still doing whatever he wants, regardless of his audience's expectations. "Don't you remember, I was always your clown," the guy who once insisted he simply thought of himself as a "song-and-dance man" warbles on Shadows in the Night. "Why try to change me now?"