A-Rod's Desperate Search for Authenticity
Alex Rodriguez penned a handwritten apology to baseball fans after a yearlong suspension. Most just want the Yankee to go away.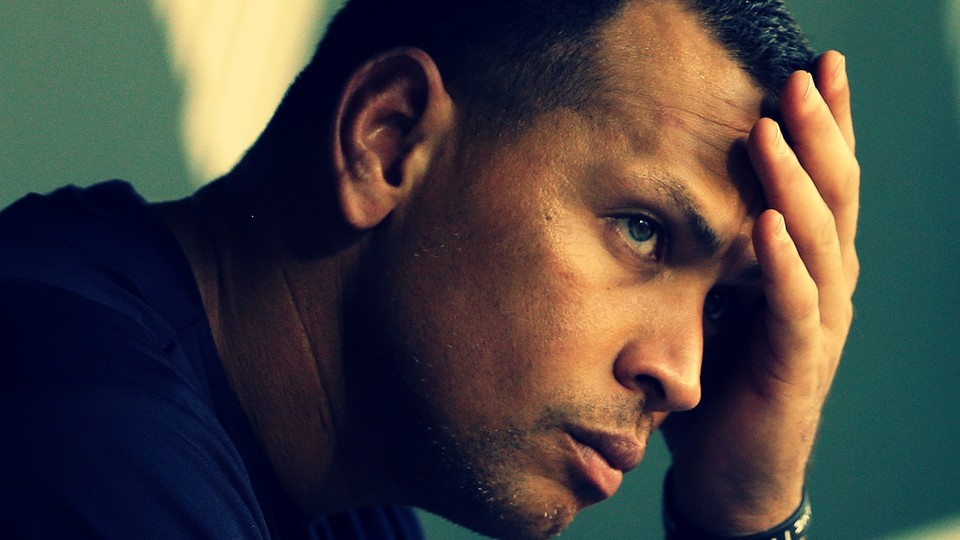 There is probably nothing that Alex Rodriguez can say, do, or write that will stop the boos from raining down on him the moment he first steps to the plate this spring. The ballplayer who admitted to juicing during the height of his career, apologized, then was caught again with a syringe a full decade later, has long since used up what little goodwill he had left with baseball fans.
The Yankees, and their faithful, mainly just want A-Rod to go away. He'll be 40 years old in July, with two surgically-repaired hips, and has played only 44 major league games since the end of 2012. But despite the disgrace of age, injury, and his own myriad transgressions, Rodriguez is determined to come back, if only to leave on his own terms, or at least to collect as much of the $61 million he's owed over the next three years as he can. And so, in his latest attempt at mea culpa, A-Rod has released a handwritten note to baseball fans everywhere, apologizing "for the mistakes that led to my suspension for the 2014 season."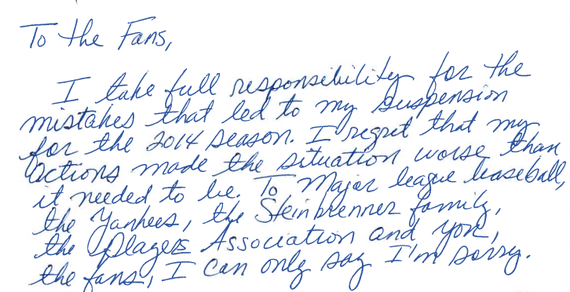 The apology in the three-page letter is abject, but not detailed. A-Rod does not say what exactly he is sorry for, whether it's his repeated steroid use, his association with Biogenesis owner Tony Bosch (who, coincidentally, was sentenced to four years in prison on Tuesday), his reported attempt to obstruct the investigation into Biogenesis, or his multiple lawsuits against the Yankees and Major League Baseball. It is but one stop on a tour that included a January meeting with the new MLB commissioner, Rob Manfred; a meeting with the Yankee higher-ups last week; a phone call to the third baseman the team hired to replace him, Chase Headley; and, inevitably, a vocal apology that will be delivered to fans through the hoard of reporters who will surround his locker starting next week in Tampa.
Yet the handwritten note is significant, in that it is clearly aimed at capturing the one thing Rodriguez has always sought but never come close to attaining: authenticity. The "A-Fraud" signs that have dotted the stands in recent years refer most directly to his use of performance-enhancing-drugs, but they also speak to an aura of insincerity that has long clung to Rodriguez, the sense that's been been more a persona than a person. (Aside from the PEDs, this was best exemplified when he submitted to a photo shoot in Details that showed him kissing an image of himself in the mirror.) Rodriguez at least demonstrated a minimum of self-awareness in his letter, writing that he knew, and accepted, "that many of you will not believe my apology or anything that I say at this point." But he clearly still hoped that the physical act of sitting down, taking out a pen, and scribbling a personal note would win back some of his embittered fans. And perhaps it will.
The outcome for Rodriguez will be determined, as it usually is, on the field. "I'm ready to put this chapter behind me and play some ball," he wrote. If he is healthy, and he hits, he'll get a chance to play, and even the angriest of Yankee fans probably won't boo a home run. But his plea to move on is probably too much to ask. Whether it's this March, or April, or a full season or two from now, A-Rod's ignominious career will soon be over, and the Yankees, their fans, and the game of baseball as a whole will be happier for it.