Annie Lennox, the New Grammy Idol
Younger pop stars should take note—a performer has to actually perform.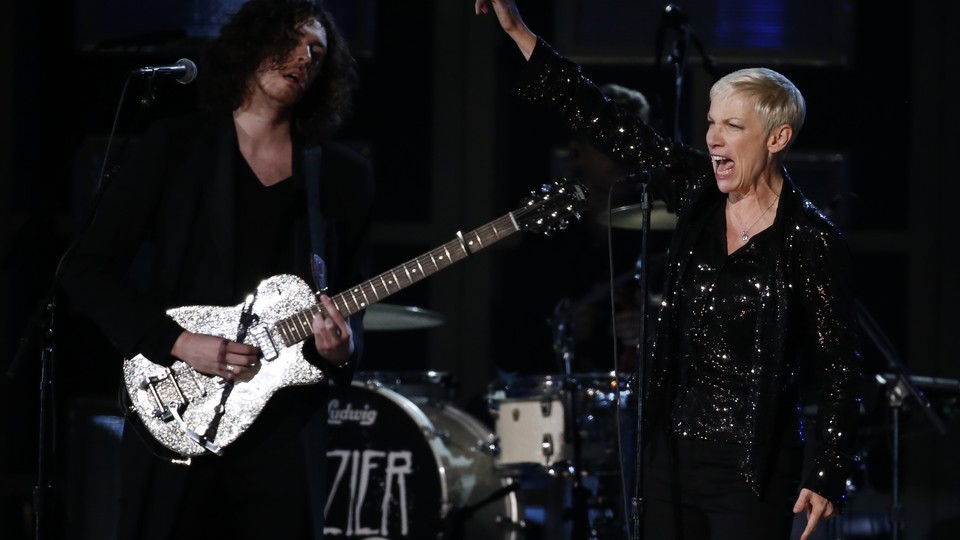 The logic of pairing younger artists with older ones at an event like the Grammys is fairly simple. The newcomer gets some gravitas, the veteran gets some relevance, and fan bases can cross-pollinate. But there's also something else: the potential for a teachable moment in being awesome.
I can't stop thinking about how great Annie Lennox was on Sunday night. When the 60-year-old former Eurythmic joined the young Irish rocker Hozier for his hit "Take Me to Church" and her cover of Screamin' Jay Hawkins's "I Put a Spell on You," she not only bested her young counterpart—she shined a light on just how phoned-in most of the night's other performances were. It helps to watch on full screen, and feel free to skip to 1:56, when Lennox comes in:
As soon as she shows up, she injects intensity and sharpness that "Take Me to Church" otherwise lacks; the chorus takes on the pleading, pained quality that the lyrics have always suggested. She flashes a mischievous look as "I Put a Spell on You" begins, before going on to give full-body performance with the commitment of a method actor gunning for an Oscar: shimmying, pointing, play air harmonica. Playful, fearsome, utterly unique.
Anyone who's seen Lennox's "No More I Love You's" video recognizes this devilish, arched-eyebrows routine. In other words, it's no surprise that she's an incredible performer. But it is remarkable in comparison to the rest of the Grammys, where so many other performers underachieved by performing ballads with deadening faux-dignity.
Think about how meek Adam Levine and Gwen Stefani seemed, as if afraid that putting too much life in their sad, string-laden duet would remind people that the main reason they're famous is for silliness like "Hollaback Girl" and "Moves Like Jagger." Revisit how Sam Smith acted like a mannered choirboy while letting Mary J. Blige embody the longing that "Stay With Me" documents. Rihanna boasted a little bit of Lennox-style smolder in her face while singing "FourFiveSeconds," but her would-be dance-pop heir Ariana Grande stood still and barely opened her eyes while doing "Just a Little Bit of Your Heart." If the demonic matador spectacle from Lennox's contemporary Madonna wasn't exactly musically impressive, it at least was memorable. Most of the young Grammy performers, by contrast, seemed to forget that pop is about drama, fun, and taking things too far. Annie, please, put a spell on them.