There's Cheating in Little League Too
A familiar scandal is just another reminder that in sports, the rule breakers are everywhere.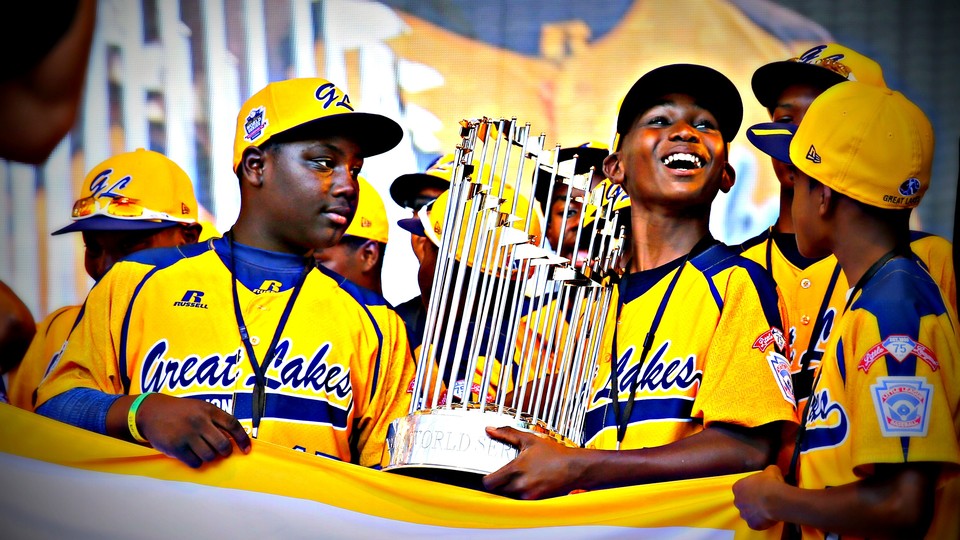 Charles Haley knows a thing or two about winning. The former defensive end for the San Francisco 49ers and the Dallas Cowboys has five Super Bowl rings, the most of any player in NFL history. He also knows a thing or two about what teams are willing to do when they believe in winning at all costs.
Last week, shortly after being elected to the Hall of Fame, Haley declared that all of Tom Brady's Super Bowl wins are "tainted." The New England Patriots quarterback is threatening Haley's mark after winning his fourth Super Bowl this year, and is also threatening one of Haley's teammates, Joe Montana, for the title of greatest quarterback ever. The reason Brady's victories are not as pure as Haley's or Montana's? His team might have won a key playoff game while using footballs that did not meet league regulations for air pressure.
A minor point to some, but rules are rules and those who break them should not be rewarded for it. That's why Little League International announced on Wednesday that they have stripped the 2014 U.S. Championship from the Jackie Robinson West All-Stars. You may remember Jackie Robinson West as one of the biggest feel-good sports stories of last year. Based on the South Side of Chicago, they were the first all-African-American team to win the U.S. championship at the Little League World Series (after beating a team lead by Mo'ne Davis, the other biggest feel-good story of last year). However, an investigation has found that a team that was supposedly cobbled together from kids from the city's mean streets actually used players from outside its district, in violation of Little League rules.
Little League teams are supposed to be locally built, using kids from the same schools and towns, and not simply the best 13-year-olds you can round up. As a result, all of Jackie Robinson West's victories in last year's tournament have been erased and their defeated opponents elevated to their vacated state and regional titles. In addition, LLI has taken over the management of the local organization, suspending the team's coach and the district manager who signed off on his roster.
Don't expect the New England Patriots to receive such a punishment. They have yet to face any discipline by the league, but there's little reason to think their championship trophy or their record will be expunged. Yet, the motivation of Jackie Robinson West and the Super Bowl champs comes from the same source. Winning is the goal of sports, and if someone sees a chance to break the rules and believes they won't get caught, they'll take it.
There's also the motivation of seeing others break the rules (or thinking others have broken the rules) and believing that if you don't follow suit, you can't possibly win. The "everyone does it defense" is as powerful as any.
After all, this is not the first scandal to cost a Little League team its glory. Twice before, teams have been punished for using players who were above the league's age limits. And during a long run of dominance in the '70s and '80s, foreign teams were often accused of using over-age players, practicing out of season, or building illegal "all-star" teams using the best players in their nation. Though they were never stripped of any of their titles, it's clear that Chinese Taipei's greatest crime was taking winning more seriously than anyone (or anything) else.
While no one is shocked that the Patriots—a team of millionaires, owned by a billionaire—would seek any edge to further their lucrative business, we expect amateurs and people working with kids to uphold a higher standard. (To be perfectly clear, it's the adults who are at fault here, not the players.) Yet it's often when the stakes are lowest that people fight hardest for any gain. No one is losing any million-dollar endorsements if they get caught rigging a Little League team, but the glory of a national championship game on ESPN lasts forever.
Besides, what might be considered a scandal today can turn into a virtue tomorrow. Gaylord Perry is a Hall of Fame baseball pitcher whose actual fame derives mostly from his unique talent for doctoring baseballs. Jerry Tarkanian, who died on Wednesday at the age of 84, is a beloved figure in the world of college sports, not just for his coaching ability, but his challenges to NCAA authority and its treatment of minority players. But all three schools he coached for received sanctions for rules violations under his watch (perhaps because his agitating made him an easy target.)
Then there's Jerry Rice, another football Hall of Famer who called the Patriots' deflation of footballs cheating—even though in another interview he admitted to using "stickum" on his hands while playing wide receiver, a substance that was banned before he even entered the league. But if "everyone" is cheating, then is no one cheating?
Oh, and Rice was also a teammate of ... Charles Haley. So are his five Super Bowl rings tainted now too? Could Joe Montana have won without the aid of his wide receiver's sticky hands? Are impressionable, but over-age little leaguers just following in the footsteps of their heroes? Or is doing anything possible to gain a competitive advantage just human nature? It seems that in sports, rules really are made to be broken and the occasional scandals like #DeflateGate and Jackie Robinson West are just another game within the game.