It's Been 15 Years Since Leonardo DiCaprio Took a Risk on a Movie
Hot on the heels of Titanic, The Beach was a critical and commercial failure, but it also featured a remarkable performance from an often-predictable actor.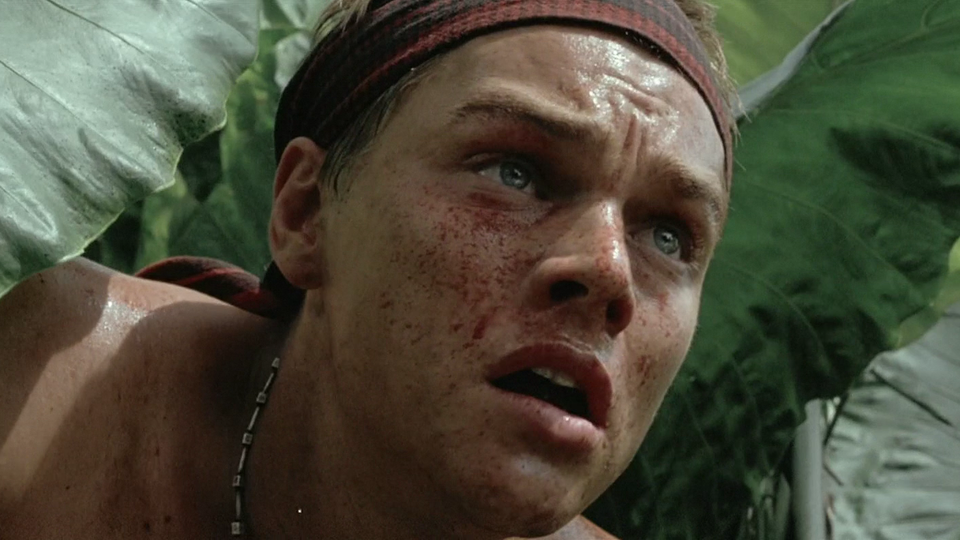 On February 11, 2000, Leonardo DiCaprio launched himself back into movie theaters with a splash and a dive off a high cliff, playing traveler-turned-utopia-chaser Richard in The Beach. Two years prior, he'd been breaking box-office records and teen hearts in Titanic, and this was only his third feature film since. The first, The Man in the Iron Mask, was released at the height of Leo-mania (and nearly unseated Titanic in its debut weekend), while the second, Woody Allen's Celebrity (in which Leo played a pampered, misbehaving movie star), was seen as an against-type anomaly as opposed to a real change in career direction.
As the first truly post-Titanic Leonardo DiCaprio movie, there were a lot of expectations associated with The Beach, as well as a decent amount of controversy. Director Danny Boyle reportedly wanted to cast his Trainspotting and A Life Less Ordinary star Ewan McGregor in the lead role, but (possibly thanks to studio pressure) the part went to DiCaprio instead. There were reports of a boat accident while filming in Thailand, as well as charges of damaging the environment while filming. Later, the Thai government would call for the film to be banned because of its poor depiction of the country. But the real buzz surrounding the film was what it would mean for DiCaprio's career. The aftermath of Titanic created a young male movie star, the like of which arguably hasn't been seen since. Certainly not in the guise of a pure actor (not an actor/singer) who became a massive box-office draw through a grown-up dramatic motion picture and whose aspirations lay in further dramatic motion pictures. Add to that the fervency of his (mostly teenage, mostly female) fan base, as well as persistent media attention (it's worth revisiting: Nancy Jo Sales' New York article "Leo, Prince of the City"), and the expectations couldn't have been higher.
And yet, in The Beach, DiCaprio was taking a huge chance. For one thing, the only thing the movie had in common with Titanic was its proximity to water. Titanic succeeded as an action spectacle wedded to a heart-on-its-sleeve romance, and The Beach was decidedly neither. Based on a novel by Alex Garland, it tells the story of an American college-aged kid traveling abroad in Thailand who hooks up with a couple of French tourists and seeks out an urban legend about a secluded island paradise. They find the titular beach, along with a lost community of fellow travelers led by the Earth Mother-ish Sal (Tilda Swinton). Much is discussed about freedom and anti-commercialism and human beings' most basic desires. The movie in some ways is similar to Fight Club (which had debuted a few months prior as a vehicle for another heartthrob, Brad Pitt, to expand his horizons), except that the first rule of Beach Club is don't get bit by a shark, because the community will cart you out into the jungle to die rather than risk exposure by calling for medical help.
The other major question mark heading into the film was the director. Danny Boyle had garnered acclaim in 1996 with Trainspotting, after which he immediately became a young filmmaker to watch. But his 1997 follow-up, a kidnapping caper with McGregor and Cameron Diaz titled A Life Less Ordinary, was a huge disappointment, tanking both critically and commercially. All told, The Beach was a remarkably un-safe choice for the brightest movie star in America at the time, and in most ways, the gamble didn't pay off.
The Beach was savaged by critics. The film was bashed as trivial, self-important, silly, and confused. And while Boyle certainly wasn't let off the hook, much of the criticism took aim at DiCaprio, for both his performance and his persona. "The movie doesn't want to insult its target demographic group or dilute DiCaprio's stardom by showing the character as the twit that he is," said no dimmer a luminary than Roger Ebert. "Mr. DiCaprio wants to stand his image on its head and give the members of his young fan club something to think about as they slip on their retainers and doze off with visions of Leo dancing in their heads," said Elvis Mitchell at The New York Times. And even when DiCaprio wasn't being targeted specifically, his demographic was. Entertainment Weekly's Lisa Schwartzbaum noted that The Beach seemed "structured for an audience more familiar with MTV's Road Rules than with Joseph Conrad's Heart of Darkness."
It's tempting to write those reviews off as grousing at a celebrity phenomenon that had grown tiresome. Rewatching The Beach this week, I found it certainly more compelling than most 18-percent-on-Rotten-Tomatoes movies. Boyle has an eye for presenting the cracks in the idyllic without being very obvious about them, and Darius Khondji's cinematography is undeniably gorgeous at times (plus, Tilda Swinton). But the final third of the film really does fall apart rather disastrously, with any kind of ideas about anti-commercialism and the frailty of man in the face of nature falling prey to goofy chase scenes and a trumped-up showdown.
What remains interesting about The Beach, however, is DiCaprio's performance. Positioned squarely between the boyishness of his 1990s work and the calcified smugness of his Scorsese-and-beyond adult period, The Beach sits at a fascinating crossroads of youth and respectability for the actor. His performance pulls from all corners of his arsenal; it's sexy and brave and wild-eyed and, eventually, exceedingly vulnerable. I can't say whether it was the failure of The Beach that did it, but DiCaprio has never been this adventurous on screen since. And he's certainly never been this risky when it comes to selecting projects.
Directors DiCaprio has worked with since The Beach include Steven Spielberg, Martin Scorsese (five times), Edward Zwick, Ridley Scott, Sam Mendes, Christopher Nolan, Clint Eastwood, Quentin Tarantino, Baz Luhrmann, and Alejandro González Iñárritu (the upcoming The Revenant). Each one of those directors was firmly established by the time the actor signed on to a project. They were known quantities who'd had breakthrough hits and backed them up with further success. The closest any of these choices came to risky was Luhrmann (having recently finished the poorly-received Australia), but how risky can any project be when it's an adaptation of The Great Gatsby, America's 10th-grade reading material of choice?
None of this is all that unusual, really. Why wouldn't an A-list actor make a beeline for the most A-list directors? But with very few exceptions (Django; The Departed), there's been a disappointing safety to DiCaprio in his roles and his performances. Even someone as outré as Jordan Belfort in The Wolf of Wall Street comes across as the kind of routine chest-puffing DiCaprio and Scorsese have been delivering for years.
How exciting would it be to see DiCaprio take a chance like the one Scarlett Johansson took this year with Under the Skin? Or the ones that Brad Pitt has taken with Andrew Dominik and Steve McQueen? Or Matthew McConaughey with Jeff Nichols and Jean-Marc Vallée? If he could lend his considerable star power to a director whose product might require a bit of risk, he could help elevate some real talent, not to mention push himself artistically. For as much of a mess as The Beach turned out to be for all involved, it was an act of cinematic bravery by DiCaprio and Boyle, the likes of which Leo has been reluctant to undertake again. We could do with more failures like it.